It simply isn't possible to put it all in perspective just yet.
Especially when it might not be over.
Sure, Rob Gronkowski announced his retirement through social media Sunday, telling us he will be "retiring from the game of football today." It is an incredible legacy he's left behind, as one of the best to have ever played the position of tight end in the football universe. His unique talents – toughness, athleticism, speed, footwork, blocking ability – clearly set him apart from the remaining mere mortals playing the position in the NFL throughout his nine-year career.
Gronk redefined the position. No one will look at the "TE" on a depth chart or on a field in the same way since he entered the league. Gronkowski forced NFL teams to figure out ways to defend him, and then, they've tried to find guys like him for themselves. 
And anytime your name becomes a verb, an adjective or an adverb – as in getting "Gronked" – you know you've surpassed all reasonable, earthly expectations.
For the naysayers, doubters and non-Gronked fans from the far reaches of the NFL outside of New England, and others who may not be convinced of Rob Gronkowski's Pro Football Hall of Fame worthiness, I'd simply ask what have you been watching over the past nine seasons? As mentioned above, his abilities re-defined the position, and his results are fairly astounding:
Only tight end to lead the league in receiving touchdowns (in 2011)
Only tight end with 1000+ career postseason receiving yards (1163)
Most TD receptions by a tight end in a season (17, 2011)
Only tight end to have 3 seasons with 10+ touchdowns and 1000+ receiving yards (2011, 14-15)
Most seasons with 1000+ yards receiving by a tight end with 4 (tied with Tony Gonzalez and Jason Witten)
Consecutive seasons with 10+ touchdowns by a tight end, 3 (2010-12)
Most seasons with 10+ touchdowns by a tight end, 5 (2010-12, 14-15)
Most receptions by a tight end in Super Bowl history, 23
Most receiving yards by a tight end in Super Bowl history, 297
Most career postseason receiving yards by a tight end (1163)
And these are only some of the records that have been Gronked into the NFL record books. It is true he only played nine seasons (more on that in a moment), as the wear-and-tear upon his physical being has become more prevalent over the past few years. I would also remind you that one of the greatest running backs of all-time, Earl Campbell, also plied his trade of blasting the opposition on a weekly basis for a mere nine seasons.
And the Tyler Rose is fondly remembered as one of the greatest to have played his position, too, now residing in the Hall of Fame. Or have you not YouTubed his highlights recently?
Another guy you've probably heard of, Jim Brown, also decided to hang up his cleats at age 29.
Let's simply leave it like this, for perspective's sake: Rob Gronkowski is one of the greatest tight ends to have ever played the game – something that Tony Gonzalez, Mike Ditka, Mark Bavaro, Kellen Winslow, Antonio Gates, John Mackey, Ozzie Newsome and maybe one or two others would have to agree with. 521 receptions for 7861 yards, 79 touchdowns in nine seasons are solid evidence of that.
And not all of them full seasons, mind you. His lingering injuries from the physical nature of being ridden like an amusement park ride (three back surgeries, four arm surgeries, concussions, an ACL tear, a ruptured Achilles and a herniated disc) have taken a definitive toll on his talents. As football fans, we're blessed to have had those talents to watch and to admire. 
As Patriot fans and observers, we've also been able to experience the entire "Gronk" persona – Yo soy fiesta? – and exhibiting a little Gronk-goofiness has become an acceptable trait or behavior in the mainstream. Cool, even. His likeable personality has only added to his soon-to-be legendary abilities.
But might those abilities – those talents – also eventually show there's a little gas left in his tank? While Gronk has always been coy about what might lie ahead for him (the WWE? Or an acting career?), others have recently suggested that once he's healed and relatively healthy – after being away for a while – the lure of the game could bring him back.
He is only 29 years old, you know. 
"I think Gronk is going to take a break for a while," former Patriot Willie McGinest said recently on NFL Network. "I don't think he's initially going to start off and come back. I think he's going to figure it out. I think later on – and this is just my own assessment – later on, deep in the season he could possibly come back and play."
His agent, Drew Rosenhaus, knows of the unpredictable nature his client possesses. And while there isn't anything indicating a comeback is in store, he doesn't rule one out as he told Peter King's Football Morning in America. Rosenhaus also told ESPN Monday "if the team was struggling or they needed him at some point next year, and let's just say hypothetically Tom Brady gave him a call and said 'Rob, I need you,' I wouldn't be shocked if he came back to play a few games."
Jason Witten just returned from a year in TV to play for the Dallas Cowboys again. Technically, if there is a need and he's healthy, the Patriots could keep that door open until Week 13 of the 2019 season. 
There's a lot of real estate to cover between now and then. You know the nature of the Patriots is to move "onto Cincinnati," or wherever they're heading next. They've been preparing for Life After Gronk and will proceed with Life After Gronk in the coming days and weeks. 
But until that flickering flame of a possible comeback is extinguished once and for all…
Nah.  What a career. Thanks for everything, Gronk. You've gone out on top. Hope you enjoyed playing it half as much as we did watching you play it. Good for you that it's finally over.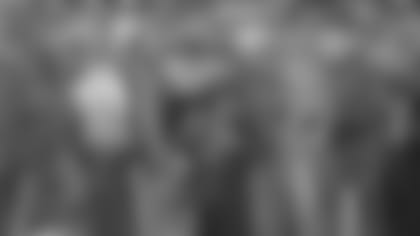 Is ch-ch-ch-change on the way?
Don't be surprised if new rules are on the front-burner as NFL owners cook up ways to keep their teams competitive this week in Phoenix, AZ.
The league's competition committee has met three times since the Super Bowl to discuss possible rule changes, including making pass interference, roughing the passer, and illegal hits on defenseless players subject to replay review.
The one change that isn't likely to occur, however, is the one that would allow coaches to challenge a call that isn't or wasn't made. That's not likely to settle well in New Orleans, considering what happened in the NFC title game this past January.
Messing with replay is tough. Taking something that wasn't originally a foul and making it a foul, is tougher. And unlikely to happen – at least this week.
But one move that might gain favor is the suggestion by the Denver Broncos that teams get the option to convert a 4th-and-15 play, rather than try an onside kick if they score late and are coming from behind. The competition committee voted 7-1 to put it up for a vote, with only the Giants' John Mara going against it.
"What are we, the Arena Football League?" Mara said of the proposed rule, after the vote, according to NBC. 
Kinda with ya' on that one, Mr. Mara. Any change will require positive votes from 24 of the 32 owners in order to be ratified. 
What's next? Making sure both teams get to possess the ball in overtime?
John Rooke, an author and award-winning broadcaster, is entering his 27thseason as the Patriots' stadium voice. Currently serving in several media capacities - which include hosting "Patriots Playbook" on Patriots.com Radio - Rooke has broadcast college football and basketball locally and nationally for more than 30 years and is a member of the Rhode Island Radio & Television Hall of Fame and RI's Words Unlimited Hall of Fame.