FOXBOROUGH, Mass. – The NFL announced the 2016 preseason pairings today and the Patriots learned that they will host the New Orleans Saints (Preseason Week 1) and the Chicago Bears (Preseason Week 2) at Gillette Stadium for preseason and travel to play the Carolina Panthers (Preseason Week 3) and the New York Giants (Preseason Week 4) to close out the slate. The dates and times of those games will be mutually decided upon between the two teams and announced at a later date.  The NFL schedule for the 2016 regular season will be announced by the league later this spring.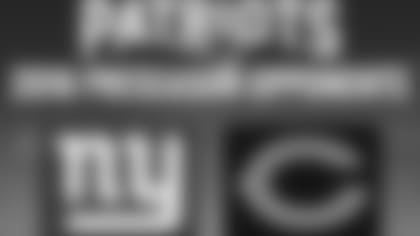 New England will play the first two games of the preseason at home for the first time since 2012. The Patriots and Giants will play each other in the preseason finale for the 12th straight season and for the 26th time overall, the Patriots' most frequent preseason opponent. The Patriots played three of the four 2016 preseason opponents last season. The Patriots practiced against the Saints at their training camp site at The Greenbrier in White Sulphur Springs, W. Va., prior to a 26-24 win at New Orleans on Aug. 22, in the second week of the preseason. The Patriots then traveled to Carolina on Aug. 28, claiming a 17-16 win against the Panthers. The Patriots closed out the 2015 preseason when they hosted the Giants at Gillette Stadium, a game won by the Giants, 12-9, on Sept. 3.
Patriots Chairman and CEO Robert Kraft's first game as owner of the team was a 1994 preseason game at Foxboro Stadium against the Saints. The Patriots won that game, 24-6. The Saints held joint practice sessions at the Gillette Stadium practice fields prior to their last two preseason visits to New England in 2010 and 2012.
New England will play against Chicago in Week 2 of the preseason. It will be the first preseason meeting between the two teams since 2003, when the Patriots hosted the Bears in the preseason finale, a 38-23 Patriots win on Aug. 27. It will be just the third preseason meeting ever between the clubs.
The Patriots and Panthers will face off in a preseason game for the third straight season. In 2014, Carolina traveled to Foxborough on Aug. 22, a game the Patriots won, 30-7. Last season, the Patriots played at Carolina in the third preseason game of the season and prevailed, 17-16, against the eventual NFC Champion Panthers.
The Patriots and Giants started to meet in the preseason finale in 2005 and have alternated hosting the preseason finale since then. The Giants lead the all-time preseason series with a 16-9 record and have won the last two games, including a 12-9 win in the 2015 matchup at Gillette stadium on Sept. 3.
2016 PATRIOTS PRESEASON SCHEDULE
| date | opponent | time | tv coverage |
| --- | --- | --- | --- |
| Week 1* | New Orleans Saints | TBA* | WBZ and Patriots Preseason Network |
| Week 2* | Chicago Bears | TBA* | WBZ and Patriots Preseason Network |
| Week 3* | at Carolina Panthers | TBA* | WBZ and Patriots Preseason Network |
| Week 4* | at New York Giants | TBA* | WBZ and Patriots Preseason Network |
*-Specific date and time TBA