It's easy to look at Indianapolis Colts QB Andrew Luck's impressive 26 touchdowns and 3000 yards thus far in the 2014 season and slurp on nuttin' but 'Wow!' soup. As the Patriots prepare to take on the Colts on Sunday Night Football in the premier AFC showdown of the week, they'd be wise to wade through the bowl and gobble on the piece that matters most: his 9 interceptions. Interceptions lose games. Touchdown passes sometimes win them.
First, the obligatory gushing on the front end of any discussion about Andrew Luck:
He's as talented as any QB in the NFL right now. He's a great leader. He's the future of the NFL. And on and on.
All that may be true, but as a defense there are unquestionable vulnerabilities with Luck that can be taken advantage of on this particular Sunday in November. In the micro view, none of the other stuff matters.
Not surprisingly, Luck threw interceptions in each of his team's losses this season. In accumulating those 9 picks, he's had 3 games this season with multiple interceptions. Two of these were losses, and the other the lowest offensive output for Indy this season, a 20 point outing against the Ravens.
In defensive game-planning, this is the kind of nugget that leads your preparation. What are the kind of situations that have led Luck into his interceptions? And most importantly, how do we get him there?
BEWARE THE ARM FAITH
Pressuring Andrew Luck is of secondary importance to forcing his critical mistakes. Beware the football sage that says otherwise. The overwhelming majority of Luck's interceptions both this season, as well as last year in his dismal playoff performance against the Patriots, weren't pressure related.
When teams commit to pressuring Luck, he has a knack for eluding extra rushers for short conversions or dump offs, or sliding and resetting the pocket to pick apart a secondary that's now a defender or two short.
What gets Luck in trouble is his extreme "arm faith," by which I mean his well-earned confidence in his arm ability to squeeze passes into windows that humans throwing things usually can't. He has a highlight reel of redonkulous guided missiles that lead him to attempt some unnecessarily dangerous throws. Curiously, he taps into those "arm faith" throws most often when he's got the time and pocket space to try them.
Although he'll complete some and they do their share of damage, the ones he misses on do exponentially more harm to his team.
One great example is in the first series of the AFC Divisional Playoff game last season against the Patriots. The Colts spread their formation on 3rd and 2, and the Patriots responded by playing inside leverage across the board with their DBs to eliminate any inside throws (below, left). Alfonzo Dennard did a great job of jamming WR LaVon Brazill and not allowing the slant route to occur.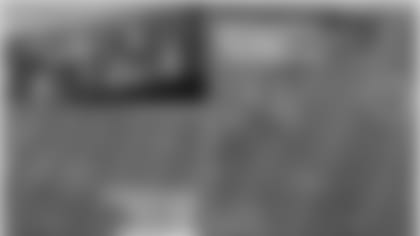 The relevant-now part of this, is Luck continued to press the ball to that route despite it being dead in the water...without any pressure on him whatsoever. It was Luck's first read, so he attempted to howitzer the ball in there. But Dennard picked it off and ran it back for a near-pick 6.
Physical coverage that defends the field from the inside-out is the formula that forces the most mistakes from Luck. He's one the best quarterbacks in football at rifling in that ball outside the numbers, but it's still a low percentage throw. Finding a way to invite more throws like this should guide the Patriots' defensive approach.
THE TOM BRADY FACTOR
Guiding an offense to score more points than Tom Brady's is something that has to weigh on every mortal quarterback, even one as talented as Andrew Luck. You could see this clearly in the playoff game against the Patriots, as Luck made many out-of-character throws as the Patriots efficiently went about scoring on seemingly every possession, including touchdowns on 3 of their first 4 trips to start the game.
You could obviously throw Peyton Manning into that same category, as Luck began to force things in much the same way in a loss earlier this season to the Broncos. Trailing early in the game by a modest 3-0 margin, Luck turned down an easy sticks conversion (below left, blue circle), instead going for a no-chance seam route to a receiver who was topped & bottomed, leaving little more than a doll house window. The predictable result was an interception (below right). It's worth noting pressure wasn't an issue at all on this throw either.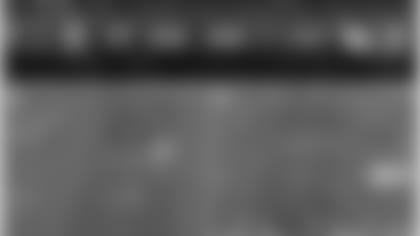 It will be interesting to watch in this Patriots/Colts matchup the decisions that Luck makes with the ball early, and how those decisions track with what's happening with the Patriots' offense. Has Luck learned to take only what's available? Or will he press for highlight balls that wouldn't be necessary if there were a lesser offense on the other sideline?
Again from the Patriot defensive perspective, this means not only defending inside-out, but also top-down. There's no reason to run a coverage that invites a deep throw...Luck will throw it there without the invitation. And when he does, you have to make a play...
START FAST & DUMB LUCK WILL FOLLOW
This final point is somewhat tied to the previous Brady/Manning idea, but something that causes a perceptible shift in offensive philosophy from the Colts' offense. When Indianapolis has gotten themselves into a trailing position--for whatever reason--they have a tendency to abandon their effective two-tight end groupings with Coby Fleener and Dwayne Allen. Instead, they're apt to go for more 3 WR personnel groupings, basically eliminating any traditional run game production by turning to a spread & shotgun game... "comeback personnel."
As a defense, an impatient Colts offense is a blessing, because even when trailing they have plenty of firepower to slowly make their way back through table-setting run plays and play-action work to their back and tight ends. When the Colts panic and go to a wide-receiver game focus, the Patriots faithful should say a prayer of thanks.
This is when Andrew Luck is at his best...and also his worst. He can sling it. To his guys and yours. The example below shows both the game situation (circled in red) and the personnel grouping of 3 WRs (yellow dots) and a single TE (red dot). Coupled with Luck in the gun, this approach eliminates a giant portion of the Colts run-game playbook.
In this example, while trailing by 11 early in the 2nd quarter, Luck attempts one of those patented outside the number lasers, but the DB sits on the route and returns it for a pick-6.
Defensively, the Patriots aren't going to be able to control what their offense does, but in the event that they get the lead, awareness for these kinds of throws should reverberate throughout the secondary.
Below is another example of a similar situation from last year's divisional playoff game. Although this is a later game spot than previous examples, there's plenty of time for the Colts to mount a comeback. As Luck scans the field, he has time and open receivers (below left, blue dots), but opts for the 'hell-no!' option (red dot) that gets predictably intercepted by a roaming Jamie Collins.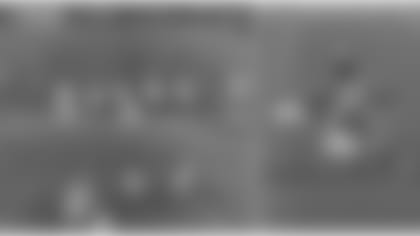 Dumb Luck doesn't come out very often, but his appearances are largely exclusive to trailing situations. This is an aspect of the game the Patriots can influence by capitalizing early on offensive opportunities. If they don't, and Luck is able to lead his team to early points, you may not get to see Dumb Luck at all.
Don't be surprised if much of what inevitably happens in this game is dictated by the action early on. Andrew Luck is a beast. But he's a beast that can be slayed if you play him a certain way, staying hyper-focused on when the pouncing opportunities will most likely be available.
This Patriots/Colts game should be as entertaining a football game as there is on the NFL docket this week. That said, the Patriots' script for a victory over a Luck-led Colts team shouldn't come as a surprise to anyone...
*FootballByFootball.com is a football analysis website providing unique player-writer generated content; owned & operated by experienced football players. *