By nature, the Patriots are a competitive bunch. They challenge each other on the field and, as we've learned, literally any chance they get. So on Monday, this meant they were taking their competitions to the bowling alley.
Patriots players, both current and former, came out to the eighth annual Mayo Bowl at Kings at Legacy Place in Dedham, Mass. Proceeds from the event benefit Boston Medical Center, and while in years past, Jerod Mayo has played host at the event, this year the reigns were handed over to James White.
"It's definitely an honor for me to take this over. I want to do what I can to keep this running and keep it being a great event," James said. 
Though the Mayo Bowl was in new hands, Jerod and his entire family weren't going to miss the huge community event and overall fun night. He wasn't alone, either. As expected, Patriots players came out to support the cause, including Devin McCourty, Duron Harmon, Dion Lewis, Phillip Dorsett, David Andrews, Nate Ebner and Brandon Bolden. Patriots alumni Joe Andruzzi, Tedy Bruschi, Scott Zolak, Sebastian Vollmer and Rob Ninkovich also attended the event.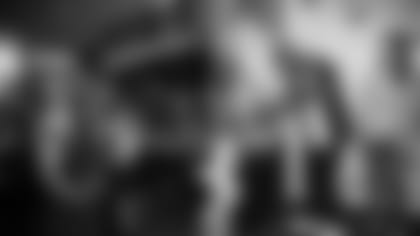 Even Olympic gymnast Aly Raisman made an appearance. 
"It's really great to come to these events and see great people giving back," Aly said. "It's really inspiring."
The Mayo Bowl has raised more than $2 million for Boston Medical Center over its eight years, and Patriots always mark it on their calendars. It's a fun night for a cause, and while Phillip Dorsett may be new to the Patriots, he and James go way back. There was no way he was going to miss it. 
"I've known James since high school. We went to high school together," he said. "As soon as I heard he was having an event, the first thing in my mind was that I definitely want to go."
Though Phillip gave his bowling skills a solid "B+," some of his teammates weren't quite as confident.
"I haven't been practicing," Devin said. "I'll probably throw a couple down the lane. I won't embarrass myself too much." 
Ok, so the guys might not be pro-bowlers any time soon, but they are experts when it comes to supporting the community. 
For more pictures from the Mayo Bowl, check out the gallery below.
FULL GALLERY
Patriots RB James White hosted the 8th annual Mayo Bowl at Kings in Dedham, Mass. on Monday, Sept. 25, 2017. The previous seven years, former Patriots LB Jerod Mayo had hosted the event, which raises money to support Boston Medical Center. Many current and alumni players attended, including Devin McCourty, Nate Ebner, Dion Lewis, Rob Ninkovich, Tedy Bruschi and Mayo.