The Patriots may have been granted the gift of an off-day on Monday, but rather than kick back and relax after a cross-country flight from San Francisco, some players got to work and did some light lifting in the name of giving back.  
The Patriots participated in the 23rd Annual Thanksgiving-in-a-Basket Event to provide local families at Morgan Memorial Goodwill with donated supplies to ensure a complete Thanksgiving dinner. Alongside volunteers from Morgan Memorial Goodwill, Robert Kraft, current and former Patriots and cheerleaders met 220 families, who participate in the organization's programs, and carried the baskets full of supplies to each car. Local business supported the event by donating turkeys, fixings, fresh and canned vegetables, desserts and cookie supplies for each family.
The event has been a part of the Patriots community involvement since Mr. Kraft bought the team, and he said being active in the Greater New England community has been crucial to how Patriots players develop both on and off the field.
"We were the first team to have all our players have to do 10 community appearances for non-financial reward. I remember [former Patriots Head Coach Bill] Parcells was not happy that we were including that in the contracts, but he bought in," Mr. Kraft said. "In a way it's made our players much richer because they get exposed to something that is very meaningful, important to our family and our whole community."
Devin McCourty, James White, Duron Harmon, Stephen Gostkowski, Joe Thuney, Nate Ebner, Chris Hogan, Jordan Richards and Cameron Fleming all lined up to bring the fully loaded baskets out to the parking lot.
Nate said this was his first year being able to volunteer for "Thanksgiving-in-a-Basket," and he was excited to see it in action for himself. The experience didn't disappoint.
"The families are just so thankful. It's awesome when you can just give back to people in any situation and do something for someone who might not necessarily be able to do anything back for you," Nate said. "It's a good feeling, and just the gratitude that you see, you know you're making a change in their day."
That gratitude was expressed in smiles and hugs throughout the night. Naomi Crumb works as a mentor for Goodwill's After-School Academy and was picking up a basket for a family who couldn't make the event. She said an event like this spreads "pure joy," while providing families with something they need.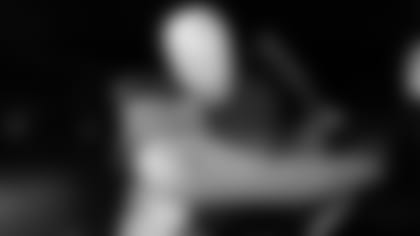 "It's awesome. A lot of people can't afford Thanksgiving dinner," she said. "This is joy. It's fun ... These kids are smiling, and they're just happy and their parents are happy."
Devin said seeing the reactions of gratitude and happiness make events like this special for him and his teammates. 
"It's a great experience just to come out here and do something. You see right away the expressions on everybody's faces, the 'thank yous' you get and how much they appreciate it," Devin said. "I'm just happy to be here and happy to be a part of something that's a lot bigger than what we do on Sundays."
For more pictures from "Thanksgiving-in-a-Basket," check out the photo gallery below.
The Kraft family donated 220 Thanksgiving meals during the the 23rd annual Thanksgiving-in-a-Basket giveaway at the Goodwill Headquarters in Boston on Monday, Nov. 21, 2016. Many Patriots players and alumni helped distribute the baskets.