FOXBOROUGH, Mass. (Dec. 15, 2017) - Over the past seven years, the Kraft family and the New England Patriots Foundation have placed a strong emphasis on celebrating volunteerism and honored hundreds of volunteers in the process. Throughout the 2017 season, the foundation continues its mission of teaming with nonprofit organizations to educate fans about the need for volunteering, highlight deserving volunteers from across the region and seek to inspire Patriots fans to become lifelong volunteers.
Every week throughout the season, the Kraft family and the foundation present the "Patriots Difference Maker of the Week" award, which recognizes deserving volunteers who go above and beyond to support their local community and nonprofit organizations.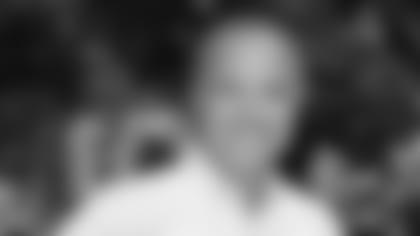 "So many nonprofit organizations rely on the work of volunteers," said Patriots Chairman and CEO Robert Kraft. "We encourage everyone to volunteer and like to highlight those who do the most to positively impact their communities. It's nice to give credit to those who are most deserving and to reward the nonprofits they represent."
Bahjat Sharifffrom Lincoln, R.I.was selected as a Patriots Difference Maker of the Week for his commitment to Children's Friend and Service.
Back in 2001, Shariff was interested in getting involved in his local community and began researching local nonprofits in the area. He came across Children's Friend and Service, a Rhode Island based nonprofit that serves the most vulnerable children including those who are homeless, in foster care, living in extreme poverty or victims of domestic violence, and wanted to support their efforts.
As the VP of Operations for Howley Bread Group, a franchisee of Panera Bread, Shariff actively promotes the nonprofit in the stores that he manages. He has played a critical role in supporting their fundraising initiatives including their annual auction and road race.
"I love what Children's Friend stands for, their values and what they do for communities in Rhode Island," said Shariff. "I have been volunteering with them for 17 years now and collectively with Panera we have raised more than $500,000 to support their programs."
Shariff also spends time reading to children, promoting their toy collection during the holidays and has actively recruited volunteers at the 33 cafes that he operates.
"It is a responsibility I have to give back and to contribute to our communities in every way possible," Shariff continued. "When you meet the children they serve, the parents and the foster parents you can't help but appreciate everything that Children's Friend does."
Shariff will join 14 other outstanding volunteers for a special in-game ceremony at the Patriots Dec. 31 game against the New York Jets. He will also be featured in the* Patriots Football Weekly* newspaper, Patriots GameDay magazine and on www.patriots.com/community.
For more information about the Celebrate Volunteerism initiative, including pictures and videos of Patriots players giving back to the community, resources and information about volunteering, or the "Patriots Difference Maker of the Week" award, visit www.patriots.com/community.