FOXBOROUGH, Mass. (Dec. 22, 2017) - Over the past seven years, the Kraft family and the New England Patriots Foundation have placed a strong emphasis on celebrating volunteerism and honored hundreds of volunteers in the process. Throughout the 2017 season, the foundation continues its mission of teaming with nonprofit organizations to educate fans about the need for volunteering, highlight deserving volunteers from across the region and seek to inspire Patriots fans to become lifelong volunteers.
Every week throughout the season, the Kraft family and the foundation present the "Patriots Difference Maker of the Week" award, which recognizes deserving volunteers who go above and beyond to support their local community and nonprofit organizations.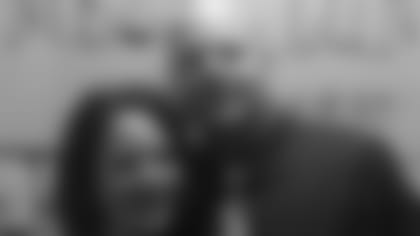 "So many nonprofit organizations rely on the work of volunteers," said Patriots Chairman and CEO Robert Kraft. "We encourage everyone to volunteer and like to highlight those who do the most to positively impact their communities. It's nice to give credit to those who are most deserving and to reward the nonprofits they represent."
Craig Poirier from Buzzards Bay, Mass. was selected as a Patriots Difference Maker of the Week for his commitment to the Homeless for the Holidays program for the Bourne Council on Aging.
Poirier has a long history of public service and back in 1998, he became a firefighter and paramedic in Bourne, Mass. Through his work, he noticed that there were lots of families that were struggling to make ends meet during the holidays.
In 2002, he started collecting food and toys to give back to the community but he wanted to go one step further to support people experiencing homelessness. That winter, he created a program now known as "Homeless for the Holidays" and he spent 103 consecutive hours outside, living on the streets to help collect funds and non-perishable foods for those in need.
"The holiday season can be enjoyable to some families, but not so good for others," said Poirier. "That is why we created Homeless for the Holidays. It is a great feeling to give back during the holiday season."
Poirier has continued this tradition for the past 16 years and has actively recruited 13 other fire and police departments to support the cause. Through his dedication, Poirier has raised more than $300,000 to support people experiencing homelessness.
"I believe in a strong community," Poirier continued. "People helping people is an amazing thing."
Poirier will join 14 other outstanding volunteers for a special in-game ceremony at the Patriots Dec. 31 game against the New York Jets. He will also be featured in the* Patriots Football Weekly* newspaper, Patriots GameDay magazine and on www.patriots.com/community.
For more information about the Celebrate Volunteerism initiative, including pictures and videos of Patriots players giving back to the community, resources and information about volunteering, or the "Patriots Difference Maker of the Week" award, visit www.patriots.com/community.