FOXBOROUGH, Mass. (Dec. 1, 2017) - Over the past seven years, the Kraft family and the New England Patriots Foundation have placed a strong emphasis on celebrating volunteerism and honored hundreds of volunteers in the process. Throughout the 2017 season, the foundation continues its mission of teaming with nonprofit organizations to educate fans about the need for volunteering, highlight deserving volunteers from across the region and seek to inspire Patriots fans to become lifelong volunteers.
Every week throughout the season, the Kraft family and the foundation present the "Patriots Difference Maker of the Week" award, which recognizes deserving volunteers who go above and beyond to support their local community and nonprofit organizations.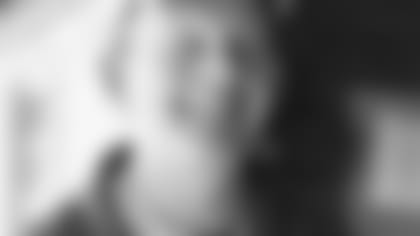 "So many nonprofit organizations rely on the work of volunteers," said Patriots Chairman and CEO Robert Kraft. "We encourage everyone to volunteer and like to highlight those who do the most to positively impact their communities. It's nice to give credit to those who are most deserving and to reward the nonprofits they represent."
Mark Rozelle from Easton, Conn.was selected as a Patriots Difference Maker of the Week for his commitment to *The Hole in the Wall Gang Camp. *
Since 2009, Rozelle has been volunteering at The Hole in the Wall Gang Camp, a nonprofit that's dedicated to providing a "different kind of healing" to seriously ill children and their families throughout the northeast, free of charge. Over the past nine years, he has volunteered at more than 100 events for the organization.
"I am honored and humbled to be recognized for my volunteer efforts at The Hole in the Wall Gang Camp," said Rozelle. "The reason I volunteer so much is simple, my life is enhanced every time I engage with our campers and their families. I get way more out if it than I put in."
Rozelle has committed 17 full weeks as a summer program counselor and 58 full weekends for one of their family weekend programs. His support has been an instrumental part of many of the organizations events and programs, including Strides, for 16-year-old campers who are too medically fragile to participate in their traditional programs. He's also made visits to local area hospitals to spend time with children who are too sick to attend camp.
Rozelle is always checking in with the participants and their families during programming, helping to ensure that they have an enjoyable experience. By giving so much of himself, he has created a mutually beneficial experience for participants and volunteers that is rooted in generosity and compassion.
"The strength, courage and determination these kids and their family members face on a daily basis is awe-inspiring," Rozelle continued. "Knowing that I can help make their day just a little bit brighter makes it all worthwhile."
Rozelle will join 14 other outstanding volunteers for a special in-game ceremony at the Patriots Dec. 31 game against the New York Jets. He will also be featured in the* Patriots Football Weekly newspaper, *Patriots GameDay magazine and on www.patriots.com/community.
For more information about the Celebrate Volunteerism initiative, including pictures and videos of Patriots players giving back to the community, resources and information about volunteering, or the "Patriots Difference Maker of the Week" award, visit www.patriots.com/community.