FOXBOROUGH, Mass.(Nov. 3, 2017) - Over the past seven years, the Kraft family and the New England Patriots Foundation have placed a strong emphasis on celebrating volunteerism and honored hundreds of volunteers in the process. Throughout the 2017 season, the foundation continues its mission of teaming with nonprofit organizations to educate fans about the need for volunteering, highlight deserving volunteers from across the region and seek to inspire Patriots fans to become lifelong volunteers.
Every week throughout the season, the Kraft family and the foundation present the "Patriots Difference Maker of the Week" award, which recognizes deserving volunteers who go above and beyond to support their local community and nonprofit organizations.
"So many nonprofit organizations rely on the work of volunteers," said Patriots Chairman and CEO Robert Kraft. "We encourage everyone to volunteer and like to highlight those who do the most to positively impact their communities. It's nice to give credit to those who are most deserving and to reward the nonprofits they represent."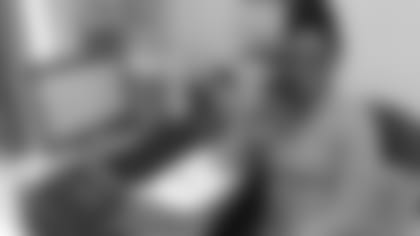 Patria Driscoll from Hyde Park, Mass.was selected as a Patriots Difference Maker of the Week for her commitment to theBoston Housing Authority. Patria has been volunteering at the Boston Housing Authority (BHA) for more than four years and her commitment to helping others has not wavered.
She first joined as a volunteer interpreter for Spanish speaking clients of the BHA and helped to answer phone calls and translate documents for clients in desperate need of housing services. Without Patria's help, those vital services would have been inaccessible for some of the people who needed them most.
Even after four years, Patria still approaches every interpreting job with thought and care. She also travels to housing residences and assists non-English speaking residents with daily tasks that need translation. Patria helps residents to read their mail, which includes aiding them in understanding their benefits.
"Volunteering means a lot to me. I used to see my mother volunteering in my country and I always wanted to be like her as I admired her work in helping others," said Patria. "When I came to the United States I started taking ESL classes to improve my English. I knew that one day I wanted to honor my mother's legacy and help people who did not speak English. My goal in taking those ESL classes was to one day utilize what I had learned and interpret for people in my community in need. I like helping people, so being able to volunteer is a dream come true."
Despite having difficulties sitting and using her hands for prolonged periods of time, Patria's determined disposition has pushed her to work through the mobility issues that have plagued her in the past. The grace in which Patria handles herself through her pain in order to help others is something to be admired.
"Being nominated and then receiving the Patriots Difference Maker of the Week Award was a complete surprise for me," Patria continued. "I never expected anything back from the help I've provided over the past four years. I volunteer with all my heart because helping people in need makes me feel satisfied."
Patria will join 14 other outstanding volunteers for a special in-game ceremony at the Patriots Dec. 31 game against the New York Jets. She will also be featured in the Patriots Football Weekly newspaper, *Patriots GameDay *magazine and on www.patriots.com/community.
For more information about the Celebrate Volunteerism initiative, including pictures and videos of Patriots players giving back to the community, resources and information about volunteering, or the "Patriots Difference Maker of the Week" award, visit www.patriots.com/community.