FOXBOROUGH, Mass. (Oct. 6, 2017) - Over the past seven years, the Kraft family and the New England Patriots Foundation have placed a strong emphasis on celebrating volunteerism and honored hundreds of volunteers in the process. Throughout the 2017 season, the foundation continues its mission of teaming with nonprofit organizations to educate fans about the need for volunteering, highlight deserving volunteers from across the region and seek to inspire Patriots fans to become lifelong volunteers.
Every week throughout the season, the Kraft family and the foundation present the "Patriots Difference Maker of the Week" award, which recognizes deserving volunteers who go above and beyond to support their local community and nonprofit organizations.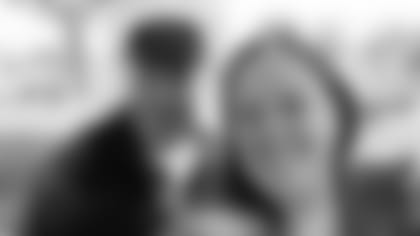 "So many nonprofit organizations rely on the work of volunteers," said Patriots Chairman and CEO Robert Kraft. "We encourage everyone to volunteer and like to highlight those who do the most to positively impact their communities. It's nice to give credit to those who are most deserving and to reward the nonprofits they represent."
Roger Nolte from Windsor, Conn. was selected as a Patriots Difference Maker of the Week for his commitment to Mary's Place.
Roger's late wife Susan lost her battle with breast cancer in 1994, leaving Roger with a broken heart and a four-year-old daughter to raise. That fall, Roger and his daughter visited Mary's Place, a non-profit that provides a safe place in which children, teens and families who are grieving a death share their experiences, receive support and find comfort. He found comfort in attending the Young Widow and Widowers Support Group as the group members shared memories, stories, tears and laughter.
"Mary's Place was founded by Mary Keane, an oncology nurse-clinician, and The Carmon Funeral Home to provide a center where the healing from a death can begin," said Roger. "My daughter, Jenny attended the program for years and we later returned to volunteer in many ways at Mary's Place. The organization allowed Jenny to be with kids experiencing the same feelings."
Roger is now the longest tenured volunteer at Mary's Place with more than 20 years of experience.
His subtle acts of thoughtfulness can be seen throughout Mary's Place. From the beautiful flowers on the ramp that change each season to the handyman jobs that seem to magically get done, to the holiday gift drive that he manages to the support he offers at every event, Roger's endless dedication has been a beautiful tribute to his late wife Susan.
"I've been honored to be able to volunteer at Mary's Place and in a small way help the staff and facilitators make the difficult journey a little easier," said Roger. "It's never too late to start volunteering for an organization that you believe in. You meet the nicest people with big hearts and have great memories to share. It's an honor to receive the Patriots Difference Maker Award."
Roger will join 14 other outstanding volunteers for a special in-game ceremony at the Patriots Dec. 31 game against the New York Jets. He will also be featured in the Patriots Football Weekly newspaper, Patriots GameDay magazine and on www.patriots.com/community.
For more information about the Celebrate Volunteerism initiative, including pictures and videos of Patriots players giving back to the community, resources and information about volunteering, or the "Patriots Difference Maker of the Week" award, visit www.patriots.com/community