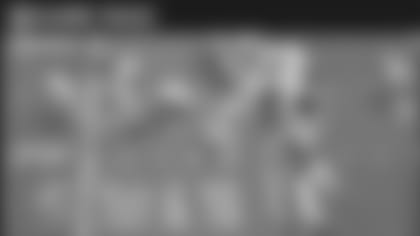 …An otherwise stagnant game, for both teams, came down to several big plays that helped set up scores. The first came on Miami's second possession, when RB Lamar Miller ripped of a 29-yard run on the first play. LB Jerod Mayo actually anticipated QB Ryan Tannehill's cadence and timed his blitz perfectly to get into the backfield just as Miller took the handoff. Mayo would have had a clean hit on Miller to drop him for a loss, but as Mayo shot the gap, he tripped over RB Billy Turner's outstretched leg as Turner was blocking down on another Patriot defender. Mayo stumbled into the backfield as a result, allowing Miller to hop out of the way and dash through the hole that his o-line had opened up.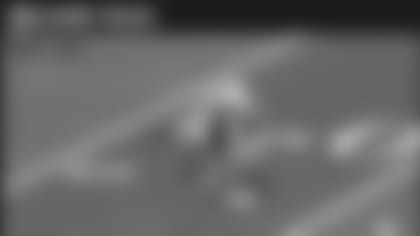 …Pro Bowl LB Jamie Collins showed great athleticism on the opening drive, playing like a cornerback against WR Jarvis Landry, who ran a slant pattern that Collins defended in textbook fashion. Collins reached in front of Landry and knocked the pass down without making contact with the receiver. Great play. On the second Miami series, though, Collins took a poor angle on RB Damien Williams on 3rd-and-8, allowing Williams to spin away from Collins after making a catch short of the sticks and diving for the first down. Collins should have had Williams dead to rights and made an easy tackle to force a Dolphins punt. Instead, the drive continued, resulting in a field goal for Miami.
…New Patriots RB Steven Jackson looked a little more comfortable this week in his second game for New England. Despite not having huge lanes through which to run, Jackson ran hard and showed signs that, if the o-line can do a better job of blocking, he'll be a valuable addition to this offense during the playoffs.
…One of the most underrated aspects of Pro Bowl TE Rob Gronkowski's skill set is his ability to run-block. This was on display at the end of the second Patriots possession when he threw a great block for RB Brandon Bolden on 3rd-and-8 from the NE 33. Gronk came in motion from the right flank and just shoved aside DT Jordan Phillips as he shot through the middle of the line. This allowed Bolden to continue his up-the-middle run, but he still fell short of the sticks, as his downfield blockers didn't do an adequate job of clearing out the remaining Dolphins in the second tier of the defense. The Patriots had to punt, but Bolden wouldn't even have been close to the marker had it not been for Gronk's fantastic block.
…Pro Bowl CB Malcolm Butler had a nice opening quarter, both in coverage and open-field tackling.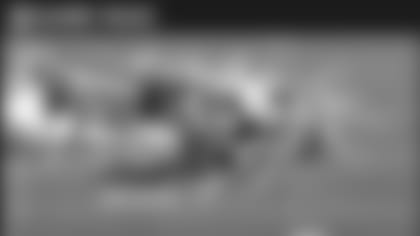 …On the third Dolphin drive, rookie DE Geneo Grissom registered his first NFL sack when he brought down Tannehill for an 8-yard loss on 1st-and-10 from the NE 48. A slight fake was what helped Grissom get to the QB. At the snap, Tannehill, from the gun, was looking to throw to his left. Grissom, on the right edge of the o-line, and DT Akiem Hicks provided pressure against Miami's center, RG (Turner), and RT Jason Fox. The center engaged Hicks, while Fox took on Grissom. Turner, while backpedaling, had to choose which player to double-team. Grissom made a feint like he was going to Fox's outside, so, Turner elected to help his center with Hicks. Grissom then cut to the inside, across the face of Fox, who was had now lost the leverage battle. Grissom essentially had a free run at Tannehill at this point and made the most of his opportunity.
SECOND QUARTER
…Collins atoned for his earlier tackling misfire when he shot through a gap to bring down RB Jay Ajayi for a 3-yard loss. Collins' speed was evident on this play as he diagnosed it and launched after Ajayi. Three Dolphins blockers could have slowed him down at any point, but he just ran right past them all.
…Josh Kline started at left guard for the Patriots this week, and his holding call early in this quarter was more than justified. After Phillips, the DT, had  beaten him cleanly and was charging into the backfield, Kline dove at his legs and grabbed hold. Phillips fell to the ground and was taken out of the play. Proper call by Ed Hochuli's crew.
…Jackson did a nice job of reading his blocks on a screen pass from Brady that gained 20 yards on the ensuing play. If he can continue to make progress in the coming weeks, as I said earlier, he's going to be an interesting and exciting component in this offense, which is exactly what it needs right now.
…More excellent run-blocking by Gronk on a 10-yard run by Bolden to the tight end's side. This time, Gronkowski manhandled LB Damontre Moore as Bolden followed Gronk's lead into the hole he created.
…RT Marcus Cannon's illegal hands to the face penalty was also a warranted one, and it came on the play where Brady injured his right ankle. Dolphins DT Ndamukong Suh was unblocked off the right edge of the Patriots' o-line, and when Cannon finally realized this, he reached out and tried to take Suh down by the facemask. It didn't work. In fact, what it did was cause Suh to fall forward as he continued after Brady. Suh essentially used Brady's legs to break his fall, and Brady's right ankle took the brunt of the impact. Brady stayed in the game and admitted Monday that he was sore, but that he'd be fine for the Divisional round playoff game at Gillette on Jan. 16.
…Another of those big plays I mentioned earlier, which led to scores, was Tannehill's 31-yard toss to WR Greg Jennings just before halftime. Facing 3rd-and-8 from around midfield, Jennings was lined up as the left flanker. He faked like he was going to run outside of CB Leonard Johnson before putting a swim move on the corner and beating him to the inside. Jennings then get a step ahead of Johnson and Tannehill fired a precise pass to hit his receiver in stride down at the NE 15.
…Two plays later, Tannehill hit WR DeVante Parker for an easy touchdown. From the 15, New England was playing a zone defense and Parker, from the left slot, ran unchallenged to the goal line. Johnson could have jammed him at the line, but didn't, and safety Devin McCourty, playing 10 yards behind Johnson, was late in reacting to the fact that Parker was uncovered. By the time McCourty arrived, the ball already had and Parker made the catch falling backward into the end zone.
THIRD QUARTER
…A third big play that lead to a score was RB James White's 68-yard catch-and-run for New England. On 3rd-and-4 from the NE 26, White was split wide right in an empty backfield set. He and WR Brandon LaFell, in the slot right, ran criss-crossing patterns, with White being the deeper of the two. White made the catch 9 yards downfield. Safety Reshad Jones, who was manned up on White, fell to the ground trying to make a diving tackle and safety Shamiel Gary over-pursued at a shallow angle, which allowed White to sidestep him.  Turning up-field, White would have taken it the distance but for CB Tony Lippett chasing him down. WR Keshawn Martin got turned around looking for where White was and failed to deliver a key block on Lippett, who brought White down at the Miami 6.
…Martin did help out with a crucial block two plays later when Jackson ran the ball in from 2 yards out. The Patriots' o-line, plus Gronk, were blocking down (that is, to the inside) to the right as Jackson took the handoff to the left. At the edge, Martin took on Gary, leaving CB Brice McCain as the only defender left to attempt to bring Jackson down. Jackson simply ran through McCain and continued behind Martin into the end zone. Nice, powerful run, and another example of what the veteran ball carrier can bring to this offense.
…Collins came oh-so close to picking off Tannehill on the ensuing Dolphins drive when he timed his jump to bat a pass into the air. From his standing position a few yards back from the line of scrimmage, Collins stepped forward as if blitzing before holding up at the line of scrimmage. Tannehill fired over the middle and Collins leapt to deflect the ball. He was falling backward as he came to the ground, though, and as a result, was just a foot or two away from the ball as it came down. Patriots would have had the ball deep in Dolphin territory. Instead, Miami punted.
…Jackson also showed against Miami that he can help in pass protection for Brady. He may not have had huge numbers to show for it, but overall, Jackson had a good, complete game in his second outing.
…ESPN reported Monday that in addition to his bum right ankle, Brady is suffering from bruised ribs. This second injury may have occurred when Brady took a blatant cheap shot from behind from DE Olivier Vernon. On a 3rd-and-11 from the NE 19, Brady uncorked a deep pass to Martin that CB Brent Grimes knocked incomplete. A full second after Brady released the ball, Vernon threw his left shoulder into the left side of Brady's chest, a very vulnerable and exposed area. Little consolation that Vernon at least was flagged 15 yards for his indiscretion, but Brady now has another ailment to overcome in the next couple of weeks.
…New England's D came up with a nice 4th-down stop at the end of this quarter, thanks in large part to a strong play by DT Alan Branch. Miami handed the ball to Miller, who ran into Fox, his right tackle, because Branch had driven Fox into the backfield. Miller may have been trying to run inside, but that lane was clogged as well because Hicks did a nice job of holding up his blockers at the line of scrimmage. Miller tried to bounce outside of Fox, but a swarm of Patriots defenders converged on him and stuffed him to turn the ball over on downs.
FOURTH QUARTER
…Big play No. 4 came midway through this last quarter. It was a miracle-like catch that the Patriots normally experience against them in the Super Bowl. On 1st-and-10 from about midfield, Tannehill launched a deep ball to Parker, who was well guarded by CB Logan Ryan. It looked like Ryan was actually in position to pick off the pass, but the ball went just inches above Ryan's outstretched hands. It hit Parker's hands and bounced off, and Ryan missed again as he flailed in an effort to knock the ball down. Parker juggled it with one hand, then the other, before securing it with his left shoulder pad. McCourty knocked him out of bounds at the NE 6. A freak reception that was very nearly a turnover.
…Tannehill then converted with his second TD pass when he hit TE Jordan Cameron in the end zone. Cameron was in a two-man stack behind Parker on the left side. Cameron ran a slant to the outside and McCourty was again late in getting to the spot. Very easy pitch-and-catch for the Dolphins.
…Brady was sacked for the first of two times with just under 6 minutes to play. Facing just a four-man rush, Brady quickly found his pocket collapsing around him, particularly from in front of him. Kline got driven back badly by DE Derrick Shelby, and as Brady tried to release the ball, the two men were in his face. Shelby reached out a hand and knocked the ball loose, but Brady managed to recover it as he fell to the turf.
…Two plays later, Brady was hauled down again. This time, White was helping out in pass protection on the right side, but he was overpowered by a combination of Suh and Jones, the safety. The Dolphin duo thrust White backward into Brady, while Vernon came in from Brady's left to clean up.
…The final big play was Tannehill's 19-yard scramble on 3rd-and-11 from the NE 46. DEs Rob Ninkovich and Jabaal Sheard brought pincer-like pressure from either side of Tannehill as he took the shotgun snap, with Ninko coming closest to getting a hand on the QB. But Tannehill stepped up and the last moment, eluding Ninkovich, and had nothing but green grass in front of him for the next 20 yards. Miami would later add a field goal to put the game out of reach.