In a courtyard in Boston's South End, Jordan Matthews hunched over a tablet as a group of kids watched on. Even after the kids cleared out, he worked get his drawing on an animation app perfect. 
When he was done, Jordan held up his creation: a moving cartoon of his teammate, Tom Brady. Though he didn't get a chance to add a receiver to his masterpiece, it was alright. 
"We all know he throws to everybody, so it's all good," Jordan said showing off the tablet artwork.
On Wednesday afternoon, the tablets were used by the kids of United South End Settlements to draw pictures of their own with Jordan, Malcolm Mitchell, Nicholas Grigsby and Jason King. In another life, these tablets, which were donated to the organization's early education and after school programs, were used by the Patriots to watch film and study the playbook.
And now, they have a new home with the staff and kids of United South End Settlements. The donation and celebration comes just more than a week after the organization reopened its youth building, which closed for nearly six months due to flooding. The Patriots Foundation helped provide emergency financial support to help United South End Settlements renovate and open its doors as soon as possible.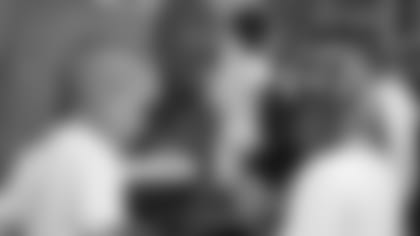 "It does feel like the Patriots and the Kraft family has been supporting us through this journey," President and CEO Maicharia Z. Weir Lytle said. "From financial support to the tablets given to our organization and having this celebratory moment, it feels like they've been with us this whole journey."
These tablets will be used as part of the organization's curriculum, focusing on STEAM -- science, technology, engineering, arts and math. The applications the kids and players tested out together will help bring art and animation into the world of technology, according to Maicharia. 
While the donation itself was welcomed by the kids and staff in attendance Wednesday afternoon, the kids' enthusiasm about practicing their art skills with the Patriots was unbridled. 
"Purest reactions ever," Malcolm said. "I think it's super cool that the tablets we were actually using are going to be donated to a community of people that can actually use them for their benefit."
Even though their artistic abilities were put to the test, Jordan said it was a great day to spend in the community, but the real impact of this donation for the kids of United South End Settlements will go far beyond this event. 
"I think obviously the impact of things like this and these type of activities and events, I don't think you really see them come to fruition until later on. These kids are going to get a lot older and realize how fortunate they are to have adults in their lives that are here serving them every day," Jordan said. "For us to come out for one day, it's really not as pivotal as the people who are here all the time, but any time we get the opportunity from the Patriots to come out here and do this, it's kind of hard to pass up. Just the smiles and how fun it is to actually spend time with the kids." 
You can check out more photos from the event in the gallery below.
On June 13, Patriots players and cheerleaders visited the United South End Settlements in Boston to donate 90 tablets. All of the tablets had been previously used by Patriots players to study film, but they will now be used for educational opportunities for preschool and elementary school students.