Seems the Patriots wanted to go in a different direction.
Not only did New England not feel content to stay put at 22, when they eventually did make a first-round pick (the 27th overall), they took a player at a position most observers didn't expect.
Just before the Patriots officially went on the clock at around 9:30 p.m. Eastern, they engineered a trade with former offensive coordinator Josh McDanielsand the Denver Broncos. In addition to swapping first-round picks (the Pats dropped to 24), the Broncos threw in a fourth-round selection (113 overall).
When they went back on the clock a few minutes later, Bill Belichickand his personnel department used up nearly all of their 10-minute allotment to swing another trade, this time with the Dallas Cowboys. The two clubs changed places in the first round, meaning the Patriots fell further, to 27, while also giving Dallas their original fourth-round pick (119 overall). But New England acquired a third-round pick from the Cowboys as well – something they didn't originally have entering the evening.
It appeared that Belichick and his staff were fielding even more offers, as they nearly used up all their time again. However, they instructed their representatives at Radio City Music Hall in New York (site of the draft) to send a card to the Commissioner.
For the second year in a row, a pass-rushing outside linebacker was almost universally perceived (by those outside the Belichick inner circle, at least) to be New England's most pressing need. However, the name on the card took most was that of Rutgers cornerback Devin McCourty, which took most of Patriot Nation and those who cover it by surprise.
At the conclusion of the first round, just after 11 p.m., Belichick addressed the media inside Gillette Stadium's press box.
"At the end of the round there," he explained, "things came out about as well as we could have hoped for … we felt that by backing off a little bit, we would still be able to make that pick."
Belichick confirmed, when asked, that he would have selected McCourty at 22 if he thought other teams between there and 27 were considering him. He added that he and his staff talked about trading up, but didn't see many opportunities that were advantageous for New England to do so.
In assessing Belichick lauded not only McCourty's skills as a defender and special teams contributor, but also the coaching he received at the Rutgers program.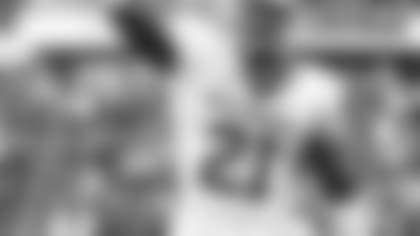 ]()"Devin comes from an outstanding program at Rutgers … He's fast, very tough, he's a good four-down football player. I think Devin has a real good understanding of his defense, the techniques, the calls … not just what he's doing, but what the defense is doing, big-picture. It's obvious that he's well-coached, studied hard, and is well prepared."
Given that the Patriots have drafted numerous cornerbacks in the past few drafts, Belichick was asked if he fears a logjam of young players at the position.
"I think we have good depth at that position, hopefully they'll all contribute," he replied.
This being the first year of the NFL's new draft format (three days instead of two, with the first three rounds in prime time), Belichick said he and his staff would reset their draft board in anticipation of rounds two and three on Friday, get a good night's sleep, and report back to the office bright and early first thing tomorrow morning.
"Just like you," he joked.
Round two commences at 6 p.m. Friday, with New England holding a dozen more picks. For now, at least.