Just because Bill Belichick said his team was five weeks behind in terms of building toward 2017 doesn't necessarily mean it's accurate. The truth is Belichick's staff has been hard at work formulating a plan of action for quite some time, working toward the start of the new league year on March 9.
The first part of that plan will involve self-evaluations for the significant amount of free agents the Patriots are dealing with. While it's easy to get carried away after winning a title, opening the door to the possibility that the core of the team must remain intact, reality dictates there will likely be a fair amount of change.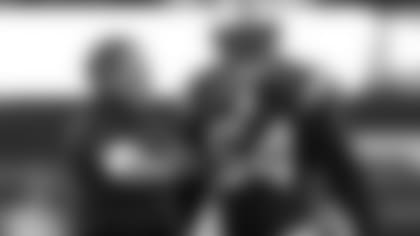 New England is projected to have more than $60 million is cap space, which is much more than the team normally carries into the offseason and is among the most in all of football. With that amount of financial flexibility, the team has the ability to pick and choose as it sees fit, and there are plenty of players that will require some serious thought.
Not all of the 16 projected free agents (including a trio of restricted variety) are key players but more than a few fall into that category. Here's a look at how the Patriots might deal with some of those decisions. (The year indicates the season the player will enter in 2017).
Martellus Bennett, TE, 10th year  –The veteran tight end dealt with injuries throughout the season but managed to gut his way through all 19 games including the postseason. He finished with 55 catches for 701 yards and seven touchdowns – solid if unspectacular production for a guy who ably filled the role of second tight end.
Bennett spoke immediately after the Super Bowl of his satisfaction with hitting the market as a champion, which he claims often leads to overpayment. It's hard to imagine the Patriots getting into any bidding war for his services, and even though his one season in New England went without a hitch, it's doubtful he'll return. If that's the case, the Patriots will be the fourth team Bennett entered the final year of his contract with and failed to re-sign.
LeGarrette Blount, RB, 8th year –Blount enjoyed a career year with 1,161 yards and 18 touchdowns in 2016, but his production dropped dramatically over the second half of the season. Part of that had to do with Tom Brady's return from, suspension, which obviously led to his diminished role, but his performance suffered as well. He failed to average 4 yards per carry in any of the final six games (including playoffs) and was below 3 yards per carry in four of those. Blount loves being a Patriot, however, and it's easy to envision a return on an incentive-laden, low-risk contract that gives the Patriots an option in case they are unable to find a suitable lead back in the draft/free agency.
Brandon Bolden, RB, 6th year –Long one of the Belichick's reliable core special teamers, Bolden won't likely attract much attention on the market as a running back. Therefore, it would be a mild surprise to see him walk away from New England.
Alan Branch, DT, 11th year –The veteran enjoyed the best season of his career in 2016, finishing with 49 tackles and 1.5 sacks as the team's premier run-stuffer up front. He seemed to very much enjoy himself throughout the season and through the playoffs, and based on his play would seem to be a no-brainer to return. But at this age he may view this offseason as his last chance to cash in, and if Branch is looking for serious money he won't find it in New England. With youngsters Malcom Brown and Vincent Valentine in place, the Patriots won't need to overspend. The feeling is Branch will find some money on the market and leave Foxborough.
James Develin, FB, 5th year – Develin is in a similar category as Bolden only with slightly more to offer on offense as the fullback. He's a solid if unspectacular lead blocker but offers little as a receiver and/or ball carrier with just five touches (all receptions) in 19 games. It won't take much to retain him, and his leadership and professionalism are a plus in the locker room.
Michael Floyd, WR, 5th year – The controversial wideout didn't get many chances to show what he could do in New England and the feeling is he won't be around long enough to do so in the future. Floyd had his off-field troubles in Arizona but stayed out of the limelight in New England. He was claimed as insurance with Danny Amendola and Malcolm Mitchell both nursing injuries, but with the full corps available in the playoffs he was a healthy scratch. If there's no market for his services he could return on a one-year, low-money deal but that's hard to envision.
Duron Harmon, S, 5th year –The Patriots defense used a variety of personnel groups so Harmon was ostensibly as starter as the third safety. He's a steady performer who won't break the bank to retain, making him more affordable than his former Rutgers teammate Logan Ryan. Assuming Ryan will land big money somewhere, the Patriots may want to hold onto Harmon to help the continuity in the secondary.
Dont'a Hightower, LB, 6th year –And then there was one. Two years ago the Patriots faced the prospect of having Chandler Jones, Jamie Collins and Hightower all due to become free agents in 2017. Jones and Collins were traded, and now Hightower is left looking for a big-money deal. He certainly could argue that he's due more than the four-year, $50 million deal Collins inked to stay in Cleveland considering New England hung on to him and let Collins go. Durability concerns (he dealt with shoulder and knee problems this season) are a factor and could scare the Patriots away from making a long-term commitment. The franchise tag in expected to be in the $15 million neighborhood, which would be less than ideal, but losing Hightower would result in a virtual overhaul defensively. It will cost plenty of dough but what good is cap space is it goes unused? Re-signing Hightower is clearly the top free agent priority for the Patriots, but will it get done?
Chris Long, DE, 10th year – The classy veteran seemed to enjoy every minute of his time in Foxborough but truth be told he didn't perform all that well on the field. In a scheme that favors versatility, Long doesn't provide much in terms of coverage. He's enjoyed a solid career and could call it quits after winning it all. If not, he won't likely be back.
Barkevious Mingo, LB, 5th year –Mingo wasn't able to crack the lineup on defense but was a core special teams player and could be back in a similar role for short money. Otherwise, he'll be looking for work elsewhere.
Logan Ryan, CB, 5th year –As mentioned earlier, Ryan could fetch quite a contract on the open market as a starter on a Super Bowl champion defense. The problem for him in Foxborough is the pending restricted free agent status of Malcolm Butler. Assuming Butler is in line for a big play day, the Patriots may not want to pay both corners top-of-the-market dollars. Ryan is a steady No. 2 and no doubt there will be a team willing to pay him No. 1 money. If/when that happens his days in New England will likely end.
Greg Scruggs, TE, 5th year –Scruggs is a complete unknown after injuring his knee and winding up on IR shortly after arriving in New England.
Jabaal Sheard, DE, 7th year –Sheard was a disappointment for much of the season but took his demotion well and returned as a productive role player. He finished with 33 tackles and 5 sacks and would be a welcomed part of the defensive end rotation if he returns. More than likely he'll attract some attention on the market, however, and he'll look for a team where he can be a full-time player.
Malcolm Butler, CB, 4th year –Butler is set to become a restricted free agent and even a first-round tender (around $3.7 million) won't ensure his return. He will attract some offers on the market and that could force the Patriots to match a deal they're not comfortable with. Instead the Patriots may make a run at getting him signed to a long-term pact now, perhaps saving some dollars in exchange for doing the deal a year early. Regardless, Butler is the type of No. 1 corner the Patriots have been searching for since allowing Asante Samuel to leave in 2009. The team doesn't want to repeat that scenario, but Butler is in line for a significant contract and will likely get it sooner than later.
Cameron Fleming, T, 4th year – Another restricted free agent, Fleming served as the extra blocking tight end most of the season. The team has already cut him in the past so don't expect many resources to be used to keep him
Michael Williams, TE, 4th year – Another restricted free agent blocking tight end, Williams tore his ACL during the spring and like Fleming won't cost much to keep.