The Patriots will host their Salute to Service game on Sunday, but the organization didn't wait until then to welcome a very special group. 
The Kraft family honored Vietnam veterans in a pinning ceremony on Tuesday morning at Gillette Stadium. Robert Kraft and Josh Kraft welcomed more than 50 veterans and gave them a lapel pin to commemorate their service. The ceremony is part of an initiative by  United States of America Vietnam War Commemoration to present everyone who served in the Vietnam War a lapel pin. 
"I have long said that the most underappreciated people in this country are the men and women of our service industries, like firefighters, police and nurses," Mr. Kraft said at the ceremony. "Quite simply, they don't get the credit or the financial reward they deserve for the roles they play in our society. Similarly the most underappreciated veterans in our country are the soldiers who fought in the Vietnam War."
Navy Lieutenant Junior Grade Joe Cardona, Brandin Cooks, Matthew Slater, Jordan Richards and Defensive Coordinator Matt Patricia were all on hand to pin the veterans. 
The gratitude of the veterans was visible as they received their pins, met the players and spent time with others who truly understood their difficult journey.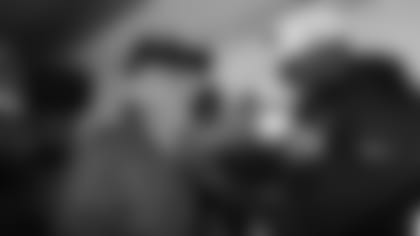 For Brandin, it was a special morning. Both his father and uncle served in the Vietnam War as Marines, so when the opportunity presented itself to honor this generation of veterans, Brandin knew he had to be there.
"It was a special moment to be able to come here and to be able to thank them for what they have done. Sometimes it feels like they're forgotten about and it's just been a blessing to see their smiles, see the joy that they get from meeting us and them understanding that we really thank them for their support," Brandin said. 
Joe echoed this, saying those who fought in Vietnam deserve this recognition.
"To get to honor a generation of veterans that returned from Vietnam years ago but are in a lot of ways are finally getting the appreciation they deserve, I can't thank the Kraft organization enough for having the opportunity to come out and thank them personally," he said. 
You can see more photos from the ceremony in the gallery below.
FULL GALLERY
The Kraft family and the New England Patriots Foundation hosted more than 60 Vietnam War veterans during a special ceremony at Gillette Stadium on Tuesday, Nov. 21. Patriots players Brandin Cooks, Matthew Slater, Joe Cardona and Jordan Richards, along with Patriots defensive coordinator Matt Patricia, greeted the servicemen and servicewomen and presented them with veteran lapel pins.