In a suite at Gillette Stadium on Thursday, a handful of women watched from the window as the text on the video board switched every few seconds. One by one, they reached for their phones and cameras as their name flashed on the screen. It was just one of the many ways they were reminded that, despite what else was going on in their lives, this day was for them. 
Just more than a week after Patriots players invited breast cancer patients from Massachusetts General Hospital, Dana-Farber Cancer Institute and through the NFL's Crucial Catch Partnership with Dannon, the women were treated to surprises and relaxation at the New England Patriots Charitable Foundation's second annual Day of Pampering
After a breakfast in the suites, the group participated in a light yoga class and received massages, manicures and a reiki session. Members of the Patriots Women's Association also came out to welcome the women for the event, including Haley Grissom, Michelle McCourty, Christine Harmon, Shahrzad Slater and Alyssa Cannon. The day wrapped up with a visit to Muse Paintbar at Patriot Place and a chance to walk on the Gillette Stadium field.
When they regrouped for lunch, Robert Kraft paid them a visit with yet another special invitation. This time it was for each woman and a guest to attend Sunday's game against the Bengals. 
"That was a total surprise. I never expected that," Kellie MacDonald said. "It'll be my first game ever."
While Kellie said she was excited for a chance to cheer for Tom Brady on Sunday, she couldn't have imagined that, minutes later as she stood on the field, she would snap a selfie with Tom and give him an enthusiastic hug.
As the women, many of whom had just met that morning, shared stories of strength and compassion at midfield before they parted ways, they were unsuspecting of one final surprise before the day ended. Right from practice, Rob Gronkowski and Tom walked, then ran, to meet the group, show their admiration and give the women one more thing to smile about.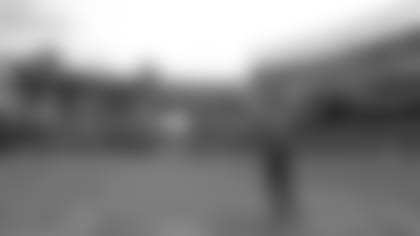 For all, the Day of Pampering was an opportunity to focus on themselves, not the cancer. Katie Marvinney was diagnosed earlier this year and said the Day of Pampering was relaxing and something she had been looking forward to.
"To be honest, this year for me has been full of a lot of scary unknowns that are fearful, and you don't know what's coming next. Today we were told it would be a day of surprises, and I've been so excited for this day," Katie said. "I just feel so fortunate for the Patriots and the Kraft family. I can't believe it. I kept thinking, 'Is this all for me?' I can't believe it. It's been the best day ever."
More than memories and fresh coat of nail polish, the Day of Pampering brought 12 women together, and while their battles may differ, they are all a part of the same army.
"I met so many new people, and everybody's journey is different but you feel like you're united by this cause … As much as it's so hard and it's a long journey, it brings people together, and I just feel so lucky," Katie said. 
For more pictures from the Patriots annual Day of Pampering, check out the gallery below. 
FULL GALLERY
The Patriots treated 12 breast cancer survivors to a special "Patriots Day of Pampering" at Gillette Stadium on Thursday, Oct. 13. The women received manicures and massages and took part in relaxation yoga. They also visited with Patriots Chairman and CEO Robert Kraft and QB Tom Brady and TE Rob Gronkowski.