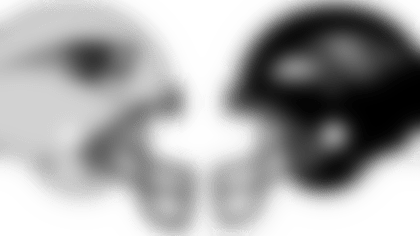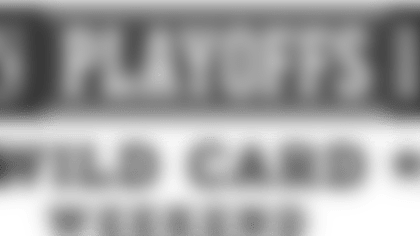 PATRIOTS(10-6) vs.RAVENS* (9-7)
*Sunday, Jan. 10, 2010 - Gillette Stadium (68,756)
1:00 p.m. EDT
The 2009 AFC East Champion New England Patriots will host the Baltimore Ravens in a Wild Card playoff matchup this Sunday. The Patriots have won 11 consecutive home playoff games and have not lost at home in the playoffs since Dec. 31, 1978. The Patriots closed out the 2009 regular-season home schedule with a perfect 8-0 record at Gillette Stadium. The first three times the Patriots went undefeated at home in the regular-season (2003, 2004 and 2007) they advanced to the Super Bowl.
HOME SWEET HOME
The Patriots are 11-1 at home in the playoffs in their history and own an 11-game home winning streak in postseason play. Eleven of the franchise's 12 home playoff games have taken place since Robert Kraft purchased the team 16 years ago.
NEW ENGLAND PATRIOTS - 2009 AFC EAST CHAMPIONS
The Patriots won the AFC East Championship and have now qualified for the playoffs 17 times in their 50-year history. The Patriots have earned 11 playoff berths in the 16 seasons since Robert Kraft purchased the team in 1994, a dramatic contrast to the six total playoff berths that the team earned in its first 34 years of existence. New England has won 12 division crowns and has qualified as a Wild Card team on five occasions.
TELEVISION:This week's game will be broadcast to a national audience by CBS and can be seen in Boston on WBZ-TV Channel 4. Jim Nantzwill handle play-byplay duties with Phil Simms providing color.
NATIONAL RADIO: This week's game will be broadcast to a national audience by Westwood One. Kevin Harlan and Mark Malonewill call the game with Steve Tasker handling the sideline reporting.
RADIO:98.5 FM, The Sports Hub, is the flagship station for the Patriots Radio Network. A complete listing of the network's 36 stations can be found here. Play-by-play broadcaster Gil Santos is in his 33rd season as the voice of the Patriots and will call the action along with Patriots Hall of Famer Gino Cappelletti. Santos and Cappelletti are celebrating their 26th season as a tandem.
SERIES HISTORY
The Patriots and Ravens have squared off five times in the regular season since the Baltimore franchise was founded following the Cleveland Browns' move to Baltimore in 1996. New England owns a perfect 5-0 record over Baltimore, including a 27-21 victory at Gillette Stadium in Week 4 of the 2009 season. This week's game will be the first time the teams will be meeting in postseason play. The Ravens' first trip to Gillette Stadium came on Nov. 28, 2004 with the Patriots claiming a 24-3 victory. Baltimore's first visit to Foxborough was the final game of the 1999 regular season, a 20-3 New England win. The first meeting between the teams came during the Ravens' first season in Baltimore, when the Patriots prevailed 46-38 on Oct. 6, 1996. The 84 total points scored by both teams in that game rank as the second-highest total number of points in a game in Patriots history.
SEASON'S BEATINGS
Since Bill Belichick became head coach in 2000, the Patriots have had consistent late-season success, winning 24 of their 29 games played between Dec. 25 and the end of the NFL postseason. New England's record includes a 14-3 playoff mark and an 10-2 regular-season record over that span.
Jarvis Green scored his only NFL touchdown when he scooped up a QB Kyle Boller fumble in the end zone to give the Patriots a 24-3 lead in their win against Baltimore in 2004.
Laurence Maroney registered a career-high 79 receiving yards and a career-long with a 43-yard reception vs. Baltimore (12-3-07).
Fred Taylor had a career-high nine receptions vs. Baltimore (9-20-98) when he played with Jacksonville.
Ravens President Dick Cassgraduated from Yale Law School in 1971.
New England defensive coordinator Dean Pees was Baltimore head coach John Harbaugh's defensive coordinator during the 1983 season at the Miami (OH) University where Harbaugh was a defensive back.
Ravens assistant head coach/special teams coordinator Jerry Rosburgwas secondary coach for the Boston College Eagles from 1997-98.
Ravens defensive line coach Clarence Brooks attended New Bedford (MA) HS and was a guard at the University of Massachusetts from 1970-72 and a team captain in his final season. Brooks earned All-Conference and All-East honors on the O-Line.
Baltimore offensive assistant Jason Brooks (son of Clarence Brooks) was born in Amherst, Mass. and served as UMass' assistant defensive backs coach in the spring of 2007 and wide receivers coach at Vermont's Norwich University in 2008.
Ravens offensive assistant Craig Ver Steeg served as Harvard's passing game coordinator, QBs and WRs coach and recruiting coordinator from 1994-1995.
Baltimore head coach's assistant Matt Weiss was born in Cheshire, Conn. and attended the Hopkins School (New Haven, Conn.) where he quarterbacked the football team to its first ever 12-0 record and New England Prep School Class C Championship.
Ravens director of player personnel Eric DeCosta was born in Taunton, Mass., lettered in football for three years at Colby and from 1993-1995, was an intern and graduate assistant coach at Trinity College (Hartford, Conn.) while earning his master's degree in English.
Ravens scout Mark Azevedo was born in Plymouth, Mass., a four-year contributor at TE for Colby College and a graduate assistant at Springfield College in 2004.
Patriots special teams coach Scott O'Brien served as Ravens special teams coach from 1996-98.
Patriots LB Adalius Thomas played for the Baltimore Ravens from 2000-06.
Patriots S Brandon McGowan and Ravens LB Brendon Ayanbadejo played together for the Chicago Bears from 2005-07.
Patriots LB Rob Ninkovich and Ravens QB John Beckwere teammates on the Miami Dolphins in 2007.
Baltimore C Matt Birk played his college football at Harvard and was teammates with Randy Moss on the Minnesota Vikings from 1998-2004.
Patriots WR Randy Moss and Ravens CB Chris Carr and CB Fabian Washington played for the Oakland Raiders from 2005-06.
Ravens T Jared Gathier and Patriots LB Derrick Burgess both hail from Greenbelt, MD.
Patriots S Brandon Meriweatherand Ravens ILB Tavares Gooden were teammates at the "U" of Miami from 2004-2006.
Patriots CB Jonathan Wilhite and Ravens G Ben Grubbs played two seasons together at Auburn, from 2005-2006.
Patriots LB Gary Guyton, TE Michael Matthews and Ravens S Dawan Landry were teammates at Georgia Tech from 2004-2005.
Ravens LB Matt Lawrence grew up in Bloomfield, Conn. and played his collegiate ball at UConn before transferring to UMass and earning his degree in 2007.
Patriots WR/Special Teamer Sam Aiken and Ravens RB Willis McGahee were teammates on the Buffalo Bills from 2003-06.
Patriots NT Vince Wilfork played football at the University of Miami with Ravens RB Willis McGaheefrom 2001-02. Ravens S Ed Reed was a member of the team with Wilfork and McGahee in 2001.
Patriots DL Mike Wrightand Ravens S Haruki Nakamura were teammates at the University of Cincinnati in 2004.
Patriots rookie S Pat Chung and Ravens DT Haloti Ngata and WR Demetrius Williams were teammates at Oregon in 2005.
Patriots T Nick Kaczur and Ravens RB Jalen Parmele played together at Toledo in 2004.
Patriots LB Derrick Burgess and Ravens TE L.J. Smith played together for the Philadelphia Eagles from 2003-04.
Ravens WR Kelly Washington was a member of the Patriots from 2007-08.
Patriots LB Pierre Woods and Ravens LB Prescott Burgess were teammates at Michigan in 2005. Burgess was also a member of the New England Patriots from 9/22/09-10/4/09.
Patriots LB Rob Ninkovich and Ravens K Billy Cundiff were teammates on the New Orleans Saints in 2006.
PATRIOTS FINISH PERFECT AT HOMEThe Patriots closed the regular-season home schedule with a perfect 8-0 record at Gillette Stadium, earning their fourth overall undefeated record at home. The first three times the Patriots went undefeated at home in the regular season (2003, 2004 and 2007) they advanced to the Super Bowl. Since 2003, the Patriots possess a 54-9 (.857) overall record at home, including a 7-0 record at home in the playoffs. The Patriots own an overall record of 59-12 (.831) at Gillette Stadium. The Patriots are the only AFC team to go undefeated at home in 2009.
PATRIOTS PLAYOFF RECORD BY ROUND
The Patriots will be playing a Wild Card game for the seventh time in team history. The team is 4-2 overall on Wild Card games.
PATRIOTS PLAYOFF RECORD BY ROUND
First Round ................................. 0-1
Wild Card Round ......................... 4-2
Divisional Round .......................... 8-5
AFC Championship ....................... 6-1
AFL Championship ....................... 0-1
Super Bowl ................................. 3-3
Total ................................... 21-13
2010 OPPONENTS
In 2010, the Patriots will play each of the other AFC East rivals twice and will play one game against each of the AFC North and NFC North teams. As the first-place team in the AFC East, the Patriots will play the first place teams of the AFC South (Indianapolis) and the AFC West (San Diego).
Home
Buffalo
Miami
N.Y. Jets
Baltimore
Cincinnati
Indianapolis
Green Bay
Minnesota
Away
Buffalo
Miami
N.Y. Jets
Cleveland
Pittsburgh
San Diego
Chicago
Detroit