If there's such a thing as a breakout training camp practice a month-plus before they play a regular season game, the Patriots offense had a little coming-out party on Wednesday morning.
After showing flashes that the offense was starting to click in Tuesday's session, quarterback Mac Jones and company had their best practice yet with even sharper execution as the group begins to grasp offensive coordinator Bill O'Brien's new playbook. At this stage, the Patriots are reviewing what they've already installed to perfect the plays they already know, with several O'Brien staples hitting exactly how the Pats OC draws them up.
"In the past days and weeks, we've been installing new plays, and now we are finally being able to go out there, and we pretty much know what we know, and we master it," wide receiver JuJu Smith-Schuster told reporters after practice.
Jones opened the 11-on-11 practice periods with similar underneath throws to what we saw yesterday, mainly attacking short zones with quick-game concepts. From there, though, the offense started opening things up to incorporate deeper throws downfield, with completions to tight ends Hunter Henry (twice) and Mike Gesicki, rookie receiver Kayshon Boutte, and then free-agent addition JuJu Smith-Schuster started getting involved.
First, Mac hit Smith-Schuster on a double-dig concept working with teammate Kendrick Bourne out of the slot. Bourne ran an in-cut roughly ten yards downfield as the inside receiver, while Smith-Schuster ran the same route from further outside the formation. The Pats defense was in man coverage with a help defender at the sticks, and when Jones's eyes and the first in-breaking route drew that help toward Bourne, Mac hit Smith-Schuster for a completion.
After working in the middle of the field, the Patriots moved the ball into the red zone to end practice. Following DeVante Parker's jump-ball win over rookie Christian Gonzalez from the high red zone (roughly 20 yards), the Pats inched closer to the goal line. In a perfect example of taking mental reps and turning them into touchdowns, the Mac-to-JuJu connection once again found the end zone for the second time in a four-play sequence.
"The defense, they've been killing us all week trying to combo us in and out. We finally got them on one of them, so it was just good football all the way around. I give it up to the defense for doing their job, and Mac [Jones] called a good play against a good defensive call, and it worked in our favor. It was just good work." Smith-Schuster told Patriots.com.
In the play, Smith-Schuster lined up in the slot with Parker on the outside to Jones's right. Pats defensive backs Jonathan Jones and Jalen Mills appeared to make a 'banjo' call where they'd match the receiver that broke in their direction. Knowing that, Parker released inside, and Smith-Schuster initially broke outside before curling back inside on an angle to the back of the end zone. The faux switch release was the perfect answer to the coverage, with the Pats DBs leaving JuJu open in the back of the end zone for a touchdown.
"To keep that spark in our offense to keep having good plays, especially down in the red zone, those are a lot of points. There is a big difference between putting up three points versus seven points. It's nice that we could score some touchdowns today," Smith-Schuster added.
The touchdown to end the passing portion of practice was another example of the O'Brien and Jones-led side sessions during special teams periods paying dividends, which we documented following Tuesday's practice when a similar connection happened between Jones and Henry.
Offensively, the ability to make checks on the fly and confuse the defense's coverage rules is one of many things that has been impressive about O'Brien's impact on the offense. For Smith-Schuster, bringing back the experienced OC was the final piece to luring him to New England in free agency this past offseason.
"When they got Bill O'Brien, it was kind of like a no-brainer just because I know how this system is and how it works. To bring O'Brien in and Mike [Gesicki] and all these key pieces, it was kind of like wow," said Smith-Schuster. "He's a smart OC. I love his coaching style. He's one of those dudes you want to play hard for because he's doing his best to put us all in the right spot."
The core elements of O'Brien's passing offense are starting to click. The Smith-Schuster completions were two BOB staples, while Gesicki's catch was another instance of a vintage O'Brien concept. With Gesicki as the off-the-line receiver in a stack alongside Bourne, Bourne created a pocket of space for Gesicki to work his route with a vertical release, and the Pats tight end ran a nifty angle route to break away from man coverage.
If the first seven training camp practices are any indication, O'Brien plans to bring back a highly-efficient short and intermediate passing game that'll hopefully produce explosive plays with yards after the catch and supplement that with marrying the run game to shot plays off under-center play-action.
Wednesday's practice was a snapshot into how effective that style of offense can be when the ball is coming out on time and receivers are using the tools at their disposal to create separation, creating healthy competition with a defense that's mostly had the upper hand.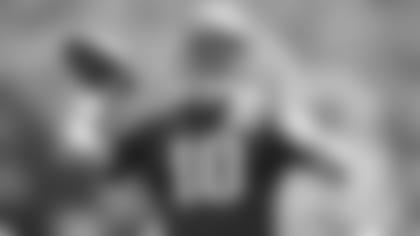 As the highest-paid receiver in the room after signing a three-year deal last March, Smith-Schuster echoed a 'spread the ball around' philosophy that is beginning to form in practice. Although you can argue that the Patriots don't have a true number-one receiver, the Pats big offseason addition is not worried about those narratives.
"Whoever gets the ball, I know they're going to make their plays. I'm not really too big into whose one, whose two, whose three. I'm into whose on that field and who can make plays. All those guys that we can put it can make plays, so it doesn't really matter," the Pats wideout said.
Following two mostly positive practices, now it's all about stacking together good days for a Patriots offense that's starting to put pieces together in training camp.
DISCLAIMER: The views and thoughts expressed in this article are those of the writer and don't necessarily reflect those of the organization. Read Full Disclaimer