FOXBOROUGH, Mass. - The library inside the Foxborough Regional Charter School (FRCS) buzzed with excitement in anticipation of the school's special guest to celebrate the conclusion of its family reading program on Wednesday, April 15. That excitement quickly transformed into an eruption of wild cheers when New England Patriots offensive lineman and Super Bowl champion Cameron Fleming was introduced to approximately 20 families in attendance.
Fleming, who majored in aeronautics and astronautics at Stanford, playfully engaged in a Q&A with students from kindergarten through third grade and fielded questions ranging from his favorite book to how much money he makes to why he wanted to be a football player. Following the Q&A, Fleming read two children's books, "A Chair for My Mother" and "Let's Go, Patriots!", to the students.
"It's always good to get out here and celebrate volunteerism," Fleming said. "I participated in Read Across America in college and this event is similar, so it was an awesome experience. It's awesome that people are getting kids to read at such a young age."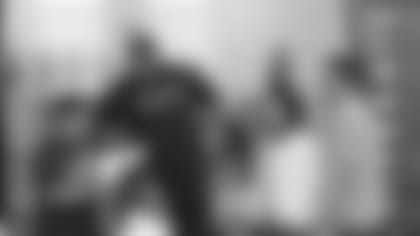 Fleming got everyone involved during his reading of "Let's Go, Patriots!" and called for the room to cheer along with him whenever he read the line, "Let's Go, Patriots!" Much like their hometown heroes on the football field, the students did their jobs.
"These kids have an unlimited amount of energy," Fleming said. "I think that's the best part about events like these. The kids have so much energy, which makes it a lot of fun to be a part of. Every time I raised my hand to let them know it was time to cheer, they yelled, 'Let's Go, Patriots!' with all of their heart. It was really cool."
Following the reading, Fleming signed autographs and helped the FRCS staff present certificates to the families for completing the eight-week reading program, which featured a special male guest each week to promote male engagement in education. Fleming's visit was part of the New England Patriots Charitable Foundation's Celebrate Volunteerism initiative, which aims to inspire Patriots fans to become lifelong volunteers.
"I hope these kids go home and have a genuine excitement for reading because that's something you can't replace," Fleming said. "When you have a genuine excitement for reading, it does so much for you academically and helps you succeed. Reading is the basis of learning."
ABOUT THE NEW ENGLAND PATRIOTS CHARITABLE FOUNDATION
The New England Patriots Charitable Foundation was created by the Kraft family to support charitable and philanthropic agencies throughout New England. This support comes in the form of direct grants and the donation of signed memorabilia to a variety of charitable causes, and from Patriots players who offer their direct support by appearing at charity functions throughout the year. The Foundation's primary goal is to support programs that aid the youth and families of New England while underscoring the Kraft family's deep commitment to philanthropic activities in the community. The Foundation actively supports non-profit groups focusing on health, education, youth fitness and community enrichment while also implementing its own programs in those areas of focus. The Foundation's Celebrate Volunteerism initiative aims to recognize deserving volunteers and inspire Patriots fans to become lifelong volunteers. For more information about Celebrate Volunteerism, click here.