Thanks to Tennessee's Saturday evening upset win in Kansas City combined with Jacksonville taking care of business against Buffalo at home on Sunday, the Patriots (13-3) will host the No. 5 seed Titans (10-7) in the Divisional Playoff Saturday night at Gillette Stadium.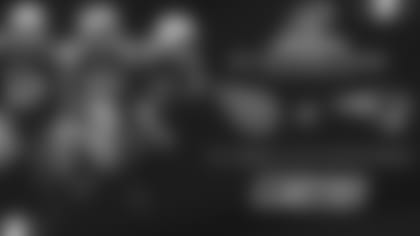 Tennessee made the postseason as a Wild Card team with a 9-7 record. Marcus Mariota then led the Titans to an exciting comeback 22-21 win in Kansas City, including a rare touchdown pass to himself on a ball batted back by former Patriots cornerback Darrelle Revis. Mariota, the third-year quarterback and former Heisman Trophy winter, also had a key block on a late Derrick Henry 22-yard first-down run that sealed the win.
Tennessee limped into the postseason, though, winning only three of its final seven games of the season after a 6-3 start to the year.
The Titans had the NFL's 23rd offense (15 run/23 pass) and 13th defense (4 run/25 pass) based on yards during the regular season. The team was 19th in terms of points scored and 17th in points allowed. Due in part to Mariota's 15 interceptions, Tennessee was tied for 23rd in the league with a minus-4 turnover differential.
Henry, who helped key the comeback from a 21-0 deficit with 23 attempts for 156 yards and a touchdown, led the Titans during the regular season with 744 yards on 176 attempts. DeMarco Murray, who missed the Wild Card game with a knee injury, added to the run-heavy attack with 184 carries for 659 yards and a team-best six touchdowns.
During the regular season Mariota had a career-low 79.3 passer rating thanks to the career-high 15 picks compared to just 13 touchdowns. He did finish third on the team with 312 yards on 60 rushing attempts with five touchdowns. He ran for 52 yards on five carries (with kneel-downs removed) in the win over K.C.
Tight end Delanie Walker led the Titans with 74 catches for 807 yards in the regular season and with six catches for 74 yards against the Chiefs. Veteran wide receiver Eric Decker was Mariota's second-favorite target with 54 catches for 563 yards, one of three Titans to catch more than 50 passes and one of five to catch 30-plus.
Defensively the Titans are led by first-team All-Pro safety Kevin Byard and his eight interceptions. The unit also sports a pass rush led by Derrick Morgan (7.5 sacks) and Brian Orakpo (7 sacks) that finished 13th in the NFL sacks per pass play. Defensive tackle Jurrell Casey leads a front that held opponents to just 3.6 yards per rush during the regular season, fourth-best in the NFL.
Tennessee will also bring former Patriots cornerback Logan Ryan back to Foxborough to take on his ex-teammates. Another New England connection is Titans G.M. Jon Robinson, who worked in the Patriots front office under Bill Belichick from 2002-2013.
The last time the Patriots played the Titans, New England won 33-16 in December of 2015 at Gillette Stadium.
The teams last met in the postseason in January of 2004, the Patriots pulling off a 17-14 win in Foxborough over the Steve McNair-led Titans on the way to a Super Bowl title.
Interestingly, there had been reports that Tennessee might have fired Mike Mularkey and could have had interest in Josh McDaniels as the team's next head coach had the Titans not prevailed on Wild Card Weekend. But the organization seemingly put those rumors to rest after the upset win in Kansas City with a statement issued by owner Amy Adams Strunk.
"Our mantra all season has been to take things week by week and not get ahead of ourselves and it obviously has served us well. I regret that outside rumors gained a life of their own. No one has been a bigger supporter of Mike Mularkey than I have over the last two plus seasons. Mike and Jon have changed the culture of our team and organization and I am so happy we have been able to bring success on the field to our fans - winning 19 games over the last two seasons, including our first playoff win in 14 years. Just to eliminate any distractions moving forward, Mike Mularkey is our head coach and will be our head coach moving forward. We still have work to be done, including this week, but I am looking forward to the journey."
The next step in that journey is a trip to New England to take on Tom Brady and a well-rested Patriots team that should be as healthy coming out of the bye week as it's been all season. Belichick's squad saw Rex Burkhead (knee) and Alan Branch (knee) return to practice during the bye, while James White (ankle) and Chris Hogan (shoulder) may be ready to return to game action after missing the season finale.
While the Patriots will host the Titans, the other AFC playoff matchup next weekend will see the Jaguars (coming off an ugly 10-3 win over Buffalo) travel to Pittsburgh to take on the Steelers.