BB: It's Pittsburgh week, and this is, as usual, a very impressive team to watch. Their organization has done a great job for a long, long time. Once again, it looks like they have a real strong football team. Watching them last year when we didn't play them, but it was a possibility we could have played them there at the end of the year. We did a little work on them, it didn't materialize and then this year, we watched them in preseason, go back over their 2014 tapes, and they're a really explosive team offensively and in the kicking game, can score from anywhere, have a lot of different guys that can do it. [They are] a very experienced team offensively and they have a real good group of core guys on special teams. Defensively, they're in a little bit of a transition there with some younger guys. It looks like they've modified their scheme a little bit to incorporate some of Coach [Mike] Tomlin's and Coach [Keith] Butler's - little bit different philosophy from what they did last year, though there is a lot of carryover from last year, too. They're a very multiple group, but a good football team all the way around. They play hard, they're tough, they're a physical team in all three phases of the game, so we're going to need to be at our best here on Thursday night, and we can't afford to make any mistakes. We're going to have to play a tough, physical game. We can't afford some of the bad penalties that we had last week against the Giants and take advantage of our opportunities. It's always good to be working on a real opponent now. Roster moves are always challenging at this time of year, and we talked about that the other day. It's difficult to tell players after they've worked as hard as they have for such an extended period of time that there is not a spot for them on the team, but unfortunately that's the rules of the road. We all have to adhere to them. We'll move past that and try to get things established as quickly as we can here over the weekend relative to the practice squad and the final assemblage of the roster and so forth. But right now really we've got all of our attention on Pittsburgh other than some roster moves that we're required to make.
Q: Tom Brady released a long statement on his Facebook page regarding his reaction to the judge's ruling. What was your reaction?
BB: You should talk to Tom about any of that.
Q: I know you're not a big fan of social media, but he said that to an extent, he feels like we've all lost. What are your feelings about the judge's decision?
Q: Do you have a feeling about it, though?
BB: Right now my feelings are on Pittsburgh, trying to get our team ready to play the Steelers. We've got a big game on Thursday night. That's what my job is; that's what I'm focused on.
Q: What are your thoughts on running back Dri Archer? It seems like he's a pretty dynamic back. In addition to using him at running back, do they split him wide?
BB: Absolutely. They've used him a lot in preseason. He's gotten quite a few touches both in the backfield and out of the backfield, so he's somewhere between a back and a receiver. Very, very fast, explosive player, dynamic with the ball in his hands, but shows some toughness in blitz pickup and times where there is contact involved he's willing to get in there and try to do it. He's not the biggest guy in the world, but I wouldn't say he lacks courage.
Q: Without Le'Veon Bell, do they still have a lot of speed in the backfield?
BB: Well they do when he's back there. He's probably the fastest player on the field. I mean, this guy is in the 4.2 [40-yard dash] range. I don't know that there is a faster player on the field than him, period. He's not in there all the time, but he's been in there quite a bit. They've used him a lot in preseason.
Q: You guys added cornerback Justin Coleman yesterday. Why did you decide to bring him in and how difficult of a position is it for him to come in right before roster cuts to try to make the team?
BB: In the NFL, there are a lot of transactions at this time of year, this week, next week, last week. It's that time of year. We have people on and off the roster. It's going to be that way for a while. We're trying to find the most competitive team, the best mix that we can find, whether that's based on maybe a need that we have or just a player that we like that we want to take a look at. It's a combination of all those things, but now is the time to do it.
Q: When you're looking at a guy like Travaris Cadet, is it hard to get a true evaluation of him because you didn't get to see him play in preseason?
BB: Sure. We would have loved to have him out there every day, so we're going on less information with some players than others, but there is nothing we can do about it. We have to go with what we have and try to figure it out the best we can.
Q: With the Super Bowl banner being revealed on Thursday, do you tell the players to revel in it a little bit, or do you tell them to stay in game character?
BB: Right now our focus is on the Steelers, that's it, so whatever else happens- It's nice, it's good, but we're in 2015.
Q: Is Tom Brady going to be available to speak this week like he normally is in weeks leading up to a game?
BB: You'd have to talk to our PR department about that. I'm just the coach, just trying to coach the team.
Q: Whenever we talk about Ben Roethlisberger, there is always the topic of the struggle to bring him down, as he's around 241 pounds.
BB: Yeah, he's probably that in the eighth grade. He's all of 241, trust me.
Q: Where do you rank him among quarterbacks that are tough to bring down?
BB: He's a huge challenge. He's big, he's strong, he's got good balance, and he can, even when guys are grabbing him and pulling him and hanging on him, he still has the strength to throw the ball and throw it accurately. It's tough. It's tough to get to him and it's tough to get him down. We saw that two weeks ago with [Cam] Newton. It was different, but similar kind of problem. There are a few guys like that and we'll just have to play them accordingly. But he's a big challenge. He does a great job with that and he makes a lot of plays with guys hanging all over him.
Q: What are your thoughts on him as a competitor? You guys have had some high-stakes games against him.
BB: He's killed us the last two, three times he's played us. He's thrown for over 400 yards and a whole bunch of touchdowns. I lost track of what the numbers are, but it was a lot. Just going through the tapes, he made a lot of plays, made a lot of plays against us the last two, three games we've been watching. He's been very productive against us.
Q: Have they pretty much moved on from the Dick LeBeau approach, or did they keep a lot of his schemes and system?
BB: Yeah, absolutely. He coached for them for 11 years.
Q: Do you still see a lot of his influence?
BB: I think you see a mix - 4-3, 3-4, some of Coach Tomlin's philosophy or defense when he was at Minnesota and some of what they've done in the past – whether you want to call that with LeBeau or Butler, who was also there or Tomlin, who was also there. I don't know. You'd have to ask them how all that works. I'd say they mix zone, man, blitz zone, 4-3, 3-4, plus their nickel packages. They do several different things to try to keep you off balance with that and they do a good job of it. I don't think you can say they do just one thing. That's definitely not them.
Q: Cameron Heyward didn't play in a starting role his first two years in the league, but then started for them in his third year. What have you seen from his development?
BB: Solid guy. He's big, strong, more of an inside pass rusher, defensive end in the 3-4 scheme to really more of an inside guy in passing situations with their outside linebackers – [James] Harrison or [Jason] Worilds last year, [Arthur] Moats, [Bud] Dupree, whoever it happens to be, then those guys kind of move inside, whether it be him, [Stephon] Tuitt or the guys they've had in the past like [Aaron] Smith and [Brett] Keisel. It's still kind of that role I would say. He plays hard, tough, physical, strong, hard to move, hard to move off the line of scrimmage. He's a good power rusher, pretty instinctive player. He's a good player. They have a good front. The guys are young, they're big, they're strong, they're young, and the inside linebackers are all fast – [Lawrence] Timmons, [Sean] Spence, and [Ryan] Shazier – they all run well, they cover a lot of ground, they pursue well, they're good in pass coverage. They have a lot of team speed at the inside linebacker spots and then they have a lot of athleticism, whether it's outside linebacker, defensive end – whatever you want to call it, with that group of players, with [James] Harrison, [Bud] Dupree, [Arthur] Moats, Jarvis Jones.
Q: How do you feel about the play of your offensive line moving forward?
BB: I think we'll all find out where we are in every place once we get into the regular season games. We'll keep working on everything and we'll see how it all shakes out once we get to the regular season competition. The preseason is preseason. The regular season will be a whole different test.
Q: Tre' Jackson and Shaq Mason got a lot of looks in the preseason. Did they do enough to get in the regular rotation?
BB: I think we've improved. We'll put the guys out there that we think give us the best chance, like we always do. Those guys have played a lot of football, they've gotten better, and they've improved a lot. It's what they need.
Q: When you go into Week 1, you have to be ready for the unexpected because you don't have a lot of tape on teams and teams haven't shown you much of their game plan. How important is it to have experienced players on the field to be able to react to things that they haven't seen?
BB: Yeah, totally. Well, a combination of experienced players and experience within your scheme so that … We have adjustments for everything just like everybody does, so if they do this then we do that, but you have to be able to execute that. You have to know what it is and you have to be able to recognize the situation and then apply it and execute it. All those things come into play, so experienced players but not experienced in the system, you don't have that same level of being able to make adjustments or adapt to whatever is different as you do when everybody has been in that system and then they can all kind of hopefully recall or be able to transition to those adjustments even though you haven't spent a lot of time on them. We have to be ready to do that. I'm sure those things will come up in the game for us and them on both sides of the ball and the kicking game. That's what opening day is. That will be key for us to be able to handle those situations as smoothly as possible and experience is a big factor there. But, so is playmaking ability and performance. Putting guys in there that know what to do, but can't really do anything – that's not really the answer either. Me and a couple of the coaches could go out there and maybe we know what to do, but I wouldn't want that.
Q: How good has Jerod Mayo been at that type of thing?
BB: Good. I think that's a big strength of his. He's really good at understanding the overall concept of the game, the total – the line, the linebackers, the secondary, how it fits together, what trumps what, what overlaps, what we can do here, but we can't do it if another player or another part of the defense is involved. He's a good communicator. He knows who he's talking to. He can direct his calls to a particular individual or know who the call applies and make sure that person has it. Maybe the other guys don't even care what it is, but it's got to be communicated to that specific part of the defense – one, two, three guys – whatever it happens to be. He's very good at that.
Q: Is this week even more challenging than a traditional opening week, with all the other stuff going on?
BB: We have the same amount of time as they do. It's time to play. We'll be ready to go. They'll be ready to go. In a couple days, both teams will be maybe a little marginally better prepared, but it's the same for both teams. We work backwards. Tell us when the game is, and then we work backwards in terms of our preparation. That's what we've done. We'll take the time that we have and do the best we can to be ready to go at game time, whenever the games are scheduled, and go out there and compete.
Q: Do you still get excited about opening day? Is it your favorite day of the year?
BB: I don't know about that, but it's definitely an exciting day. A lot goes through your mind, like all the things we just talked about – should we have prepared more for this, are we ready for that, how's this going to go, how's that going to go. Then once the ball is kicked off, you just start coaching or playing – whatever your role is. It's always good when that ball is kicked off the tee, we really start the game. What did General Eisenhower say, "Before the battle, preparation is everything. Once the battle starts, preparation doesn't mean anything. You're fighting the battle." I think that's kind of the way it is in football. Once the game starts, you're kind of all out of all that you've done, now it's unfolded, [and] now you're reacting to what you're seeing. There is still an element of preparation for certain situations, but the game unfolds pretty quickly. Once that happens, then we'll just get to work.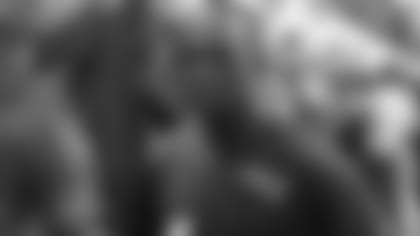 DEFENSIVE BACK DEVIN McCOURTY
(On what makes Ben Roethlisberger a difficult quarterback to face)
"I think everyone knows. Obviously, he reads coverages. He knows where to go with the ball like a lot of the other great quarterbacks in this league, but he's able to escape pressure. He's able to break tackles in the pocket, and he has one of the biggest arms in the NFL. So you put that together with the type of skill players they have on the field, and it's a tough matchup I think. They did some historic things last year as an offense, and they really have everyone back. So we kind of expect nothing different from what they were able to do last year. It's going to be a huge challenge for us."
(On how nice it is to finally have a ruling from Judge Berman)
"For us, we've just been focusing on what's here, and I don't think anything really changed from that standpoint. We've all been doing what we need to do as a team. Last week it was guys all preparing for different things, and I think we've continued to do that. So nothing has really changed with that decision."
(On how you prepare for the season opener when you don't know what to expect)
"In all NFL games, that adjustment is there, but especially in the opener. You're planning for so many things whether it's from last season, this preseason, past games we've played with them, and then you get in the game. It becomes something. Maybe it's like a game back in 2013, or maybe it's like last season. Or maybe it's something we haven't seen yet. I think that's huge – having guys just being ready to adjust. I think that's the good thing about training camp. You have so many guys do so many different things throughout training camp, so hopefully, at any moment you can pull those guys up and be able to use them."
TACKLE SEBASTIAN VOLLMER
(On the challenge of facing Pittsburgh's defense)
"I think it's always a tough matchup. When we've played them historically, we know their defense is always good. So they've got some new guys in there, but we expect it to be a tough matchup."
(On finally having an opponent to prepare for)
"Well, we had four opponents in preseason, so we prepared for that a little bit. We kind of approach every game we have the same, whether it's preseason or regular season, so it doesn't really change."
(On how excited he gets for the season opener)
"It's always nice. You get to see your fans and hopefully put on a good show and hopefully come away with a win. I would say it's good to get the season going. You've been working hard in the offseason and training camp and all that stuff, so it'll be exciting."
(On having Tom Brady back)
"Yeah, again, he was there for preseason, so nothing really changes for us. That's what who we're going with."