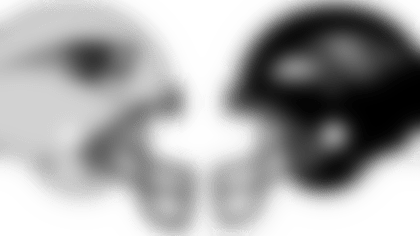 * PATRIOTS (3-1) vs. RAVENS (4-1)
*Sun., Oct. 17, 2010 - 1:00 p.m. EDT
Gillette Stadium (68,756)
The New England Patriots return from the Bye Week to face the Baltimore Ravens at Gillette Stadium. Last season, the Patriots beat Baltimore in the regular-season, 27-21, but suffered their first home loss in a postseason game at Gillette Stadium when Baltimore beat the Patriots, 33-14, in a Wild Card matchup.
The Patriots improved to a 3-1 record following a 41-14 victory on Monday Night Football against AFC Division rival Miami on Oct. 4. The Patriots have started the season with at least three wins in their first four games for the fifth straight season and are the only NFL team to begin each of the last five seasons with a record of 3-1 or better through their first four games. With the 41 points against Miami, the Patriots are first in the NFL with an average of 32.8 points per game. Against Miami, the Patriots became the first team in NFL history to score a touchdown five different ways with a rushing touchdown, a receiving touchdown, a kickoff returned for a touchdown, a blocked field goal returned for a touchdown and an interception returned for a touchdown.
Safety Patrick Chung became the first NFL player to block a field goal and a punt in the same game since CB Ramon Walker of Houston accomplished the feat vs. New England on Nov. 23, 2003. He added to his impressive game against the Dolphins with an interception that he returned 51 yards for a touchdown in the fourth quarter.
THE PATRIOTS WANT TO HELP KICK CANCER IN 2010
Through the New England Patriots Charitable Foundation's "Kick Cancer" campaign, a season-long initiative to increase cancer awareness among Patriots fans, the team will promote breast cancer awareness during the month of October. In partnership with Re/Max of New England, Susan G. Komen for the Cure and American Airlines, the Patriots will honor 10 breast cancer survivors at the Oct. 17 game against the Baltimore Ravens. Patriots fans who donate to Susan G Komen will receive a pink game towel and fans will be able to donate airline miles through American Airlines to support breast cancer causes. The Patriots are also supporting the NFL's league-wide breast cancer awareness initiative called "A Crucial Catch: Annual Screening Saves Lives." Patriots players and coaches will wear pink apparel during each October game, including LB Gary Guyton, whose mother is a breast cancer survivor. For more information, visit www.patriots.com/community.
TELEVISION: This week's game will be broadcast to a regional audience by CBS and can be seen in Boston on WBZ-TV Channel 4. Jim Nantzwill handle play-byplay duties with Phil Simms providing color.
NATIONAL RADIO: This week's game will be broadcast to a national audience the Westwood One Radio Sports. Howard David and Tony Boselli will call the game.
RADIO:98.5 FM, The Sports Hub, is the flagship station for the Patriots Radio Network. A complete listing of the network's 36 stations can be found here. Play-by-play broadcaster Gil Santos is in his 34th season as the voice of the Patriots and will call the action along with Patriots Hall of Famer Gino Cappelletti. Santos and Cappelletti are celebrating their 27th season as a tandem.
SERIES HISTORY
The Patriots and Ravens have squared off five times in the regular season since the Baltimore franchise was founded following the Cleveland Browns' move to Baltimore in 1996. New England owns a perfect 5-0 record over Baltimore, including a 27-21 victory at Gillette Stadium in Week 4 of the 2009 season. The Patriots and Ravens played in their first postseason meeting last year with Baltimore taking a 33-14 win in a Wild Card matchup at Gillette Stadium on January 10, 2010.
The Ravens' first trip to Gillette Stadium came on Nov. 28, 2004 with the Patriots claiming a 24-3 victory. Baltimore's first visit to Foxborough was the final game of the 1999 regular season, a 20- 3 New England win. The first meeting between the teams came during the Ravens' first season in Baltimore, when the Patriots prevailed 46-38 on Oct. 6, 1996. The 84 total points scored by both teams in that game rank as the second-highest total number of points in a game in Patriots history.
PATRIOTS VS. RAVENS' PREDECESSORS
From 1970-83, the Patriots faced the Baltimore Colts 27 times, recording a 12-15 record in those games. The Colts moved to Indianapolis prior to the 1984 season and Baltimore was without an NFL team until the Cleveland Browns moved to Baltimore and became the Ravens in 1996. Prior to the move, the Patriots were 4-11 against the Browns, including a 2-4 record against Cleveland while Bill Belichick was the Browns' head coach from 1991-95.
PATRIOTS VS. AFC NORTHThe Patriots are 13-2 all-time against the AFC North in the regular-season since it was founded in 2002. The only AFC North losses for New England were to the Steelers, with a 34-20 loss at Pittsburgh (10/31/04) and vs. Pittsburgh (11/30/08). This week's game is New England's second against AFC North opponents.
PASSING PERFORMANCES
Tom Brady is slated to start against the Ravens in the regular season for just the fourth time in his career.
Tom Brady vs. Baltimore (3-0)
Baltimore linebackers coach Dean Pees was a member of the Patriots coaching staff for six years, including four seasons (2006-09) as New England's defensive coordinator.
Baltimore WR Donte' Stallworth caught passes for the Patriots in 2007.
Ravens LB Prescott Burgess was a member of the New England Patriots from 9/22/09-10/4/09.
Patriots special teams coach Scott O'Brien served as Ravens special teams coach from 1996-98.
Patriots TE Alge Crumpler and Ravens CB's Chris Carr and Cary Williams played together for the Tennessee Titans in 2008.
New England RB Sammy Morris and Baltimore RB Willis McGahee both played for the Buffalo Bills in 2003.
Pats LB Tracy White has played with Ravens S Ken Hamlin on the Seattle Seahawks from 2003-04 and G/T Tony Moll on the Green Bay Packers from 2006-08.
Patriots LB Jerod Mayo and Ravens rookie LS Morgan Cox were Volunteers at Tennessee from 2006-07.
New England S Pat Chung and Baltimore TE Ed Dickson were teammates at Oregon from 2006-08. Chung was also a Duck with Ravens DT Haloti Ngata in 2005.
Patriots NT Vince Wilfork and S Brandon Meriweather were teammates at the "U" of Miami with Ravens ILB Tavares Gooden in 2003. Wilfork was also a member of the Hurricanes with Baltimore RB Willis McGahee from 2001-02.
Patriots rookie CB Devin McCourty and Ravens RB Ray Rice played together at Rutgers from 2006-07.
Pats LB Gary Guyton and Ravens S Dawan Landry were teammates at Georgia Tech from 2004-2005.
New England CB Jonathan Wilhite and Ravens G Ben Grubbs played two seasons together at Auburn, from 2005-2006.
New England backup QB Brian Hoyer and Baltimore DT Brandon McKinney were Spartans at Michigan State in 2005.
Pats LB Rob Ninkovich and Baltimore K Billy Cundiff were teammates on the New Orleans Saints in 2006.
Patriots DL Mike Wright and Ravens S Haruki Nakamura were teammates at the University of Cincinnati in 2004.
Patriots T Nick Kaczur and Ravens RB Jalen Parmele played together at Toledo in 2004.
New England P Zoltan Mesko Baltimore and OLB Prescott Burgess were teammates at Michigan in 2006.
Pats OL Mark LeVoir and Ravens S Tom Zbikowski played together for Notre Dame from 2004-05.
Patriots rookie DL Brandon Deaderick and Ravens rookie DL Terrence Cody played together at Alabama from 2008-09.
Ravens President Dick Cass graduated from Yale Law School in 1971.
Ravens assistant head coach/special teams coordinator Jerry Rosburg was secondary coach for the Boston College Eagles from 1997-98.
Ravens defensive line coach Clarence Brooks attended New Bedford (MA) HS and was a guard at the University of Massachusetts from 1970-72 and a team captain in his final season. Brooks earned All-Conference and All-East honors on the O-Line.
Baltimore offensive assistant Jason Brooks (son of Clarence Brooks) was born in Amherst, Mass. and served as UMass' assistant defensive backs coach in the spring of 2007 and wide receivers coach at Vermont's Norwich University in 2008.
Baltimore head coach's assistant Matt Weiss was born in Cheshire, Conn. and attended the Hopkins School (New Haven, Conn.) where he quarterbacked the football team to its first ever 12-0 record and New England Prep School Class C Championship.
Ravens director of player personnel Eric DeCosta was born in Taunton, Mass., lettered in football for three years at Colby and from 1993-1995, was an intern and graduate assistant coach at Trinity College (Hartford, Conn.) while earning his master's degree in English.
Ravens scout Mark Azevedo was born in Plymouth, Mass., a four-year contributor at TE for Colby College and a graduate assistant at Springfield College in 2004.
Ravens offensive assistant Craig Ver Steeg served as Harvard University's passing game coordinator, QBs and WRs coach and recruiting coordinator from 1994-1995.
Baltimore C Matt Birk played his college football at Harvard from 1994-97.
WINNINGEST COACH/QB TANDEM
Bill Belichick and Tom Brady have the winning percentage among a head coach-starting quarterback tandem since the 1970 merger.
2The number kickoff returns that WR Brandon Tate has returned for a touchdown in 2010 after he returned a 97-yard kickoff for a touchdown vs. Cincinnati (9/12) and a 103-yard kickoff for a touchdown at Miami (10/4). Tate is the first Patriots' player to return two kicks for a touchdown in a season since Kevin Faulk returned two for a touchdown in 2002. The Patriots' record for most returns in a single season is three by Raymond Clayborn in 1977.
2The number of second half kickoffs returned for a touchdown by Tate. Both of his 2010 kickoff returns for a touchdown were on the second half kickoff.
2
The number of blocked kicks recorded by S Patrick Chung in 2010 after he blocked a punt and a field goal in the Patriots win at Miami (10/4). He is the first NFL player to block a field goal and a punt in the same game since CB Ramon Walker of Houston blocked a field goal and a punt vs. New England on Nov. 23, 2003.
2
The number of interceptions that the Patriots have returned for a touchdown in 2010 after LB Gary Guyton returned an interception 59 yards for a score vs. Cincinnati (9/12) and S Patrick Chung returned an interception 51 yards for a score at Miami (10/4).
3
The number of seasons that Welker has reached 100 receptions and 1,000 receiving yards to join Marvin Harrison (4), Jerry Rice (3), Herman Moore (3) and Brandon Marshall (3) as the only players to catch 100 passes and have 1,000 receiving yards in three consecutive seasons.
6The number of times in NFL history a team has had two players go three straight seasons with 1,000 yards receiving after Welker and Randy Moss completed their third straight season with over 1,000 yards receiving in 2009.
7
The number of seasons that Tom Brady has passed for more than 3,000 yards to tie the team record with Drew Bledsoe.
11
The number of 10-plus reception games by Wes Welker. He has the most 10-plus reception games in Patriots' history.
22
The number of consecutive regular-season starts that Tom Brady has won at Gillette Stadium. The NFL record for most consecutive home wins by a starting quarterback since the 1970 AFL-NFL merger is held by Brett Favre, who won 25 straight games for Green Bay (1995-98).
38The number of points the Patriots have scored in each of their two homes games in 2010 after a 38-24 win vs. Cincinnati (9/12) and a 38-30 win vs. Buffalo (9/26). The Patriots lead the NFL in 2010 with an average of 32.8 points per game.
67
The number of consecutive regular-season games that Welker has caught at least one reception. He has caught at least one pass in all 53 games as a member of the Patriots, including three postseason games.
72The number of times that Brady has thrown two or more touchdowns in a game. The Patriots are 61-11 when he throws for two or more touchdowns.
100
The number of wins that Brady has as a starting quarterback. He reached the milestone in the fewest number of starts (131) among all quarterbacks in the modern era.
3
The number of Super Bowl championships the Patriots have won since Robert Kraft purchased the team in 1994. That mark is the highest total in the NFL over that span. Only Denver (2; 1997 and 1998) and Pittsburgh (2; 2005 and 2008) have won multiple Super Bowl titles since 1994.
5The number of conference championships the Patriots have won since Robert Kraft purchased the team in 1994. That mark is the highest total in the NFL over that span. Pittsburgh is second with three conference titles since 1994.
17
The number of playoff games the Patriots have won since Robert Kraft purchased the team in 1994. That mark is the highest total in the NFL over that span. Pittsburgh ranks second with 15 playoff wins over that span.
25The number of playoff games the Patriots have appeared in since 1994. The mark is the highest in the NFL, ahead of the 23 games played by Pittsburgh.
174The number consecutive home games the Patriots have sold out, a streak that includes every preseason, regular season and playoff game since the 1994 regular season opener.
4
Bill Belichick is one of just four coaches to win three championships since the Super Bowl era began. Belichick joins three members of the Pro Football Hall of Fame in the exclusive club (Chuck Knoll 4, Joe Gibbs 3 and Bill Walsh 3). Belichick is the only coach to win three Super Bowls in the post-1993 salary cap era and the only one to ever win three in four years.
110-38The Patriots' regular season record since 2001 under Head Coach Bill Belichick. Under Belichick, the Patriots have won 74.3 percent of their regular season games, recording the highest winning percentage of any major American professional sports team over that span.