The Patriots came back to Foxborough on Monday for an offseason workout program, and it didn't take long for some to jump right back into the community. To celebrate the Month of the Military Child, Patriots players and alumni hosted the first Football for You clinic of the year at Hanscom Air Force Base in Bedford, Mass.
Brandon Bolden, Joe Thuney, Eric Rowe, Joe Cardona, Jonathan Freeny, Jordan Richards, Ted Karras, Justin Coleman and Geneo Grissom, along with alumni Pete Brock, Vernon Crawford and Ronnie Lippett, led a group of about 150 kids through football drills and skill stations on Tuesday. Patriots cheerleaders also taught a group of kids a new dance routine.
Smiles and laughter were a common sight on the field, but serious skills were being honed as well. Though it's only been a few short months since Super Bowl LI, Brandon said helping the players through running back drills was fun while getting him back in the football mindset.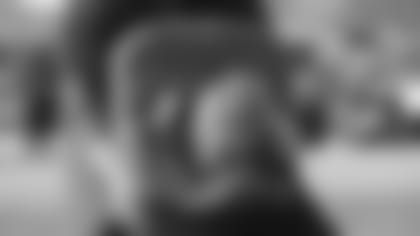 "I actually have real fun. I get to interact with a lot of great kids who enjoy the game of football, and it helps me work on my own game, as well," Brandon said. "I'm coaching them and trying to remember everything Coach Ivan Fears teaches us as running backs. It's kind of repeating and coaching myself as I go on."
In his first year with the Patriots, Joe Thuney learned exactly what it means to "Celebrate Volunteerism," and he said the first Football for You clinic was an excellent chance to have fun while reaching out to military children.
"It's great to be able to come to Hanscom Air Force Base. April is the Month of the Military Child, and it's great to be able to serve our communities. These kids have so much fun just interacting and playing," Joe said. "I remember when I was a kid, getting the chance to be around NFL players was the highlight of my day, highlight of my month, so being able to give back just means everything."
You can check out more pictures from the clinic in the gallery below.
Full gallery
Patriots players Justin Coleman, Brandon Bolden, Eric Rowe, Geneo Grissom, Jordan Richards, Ted Karras, Joe Thuney, Joe Cardona and Jonathan Freeny joined Patriots cheerleaders and alums in leading a Football For You clinic at Hanscom Air Force Base on Tuesday, April 18, 2017.