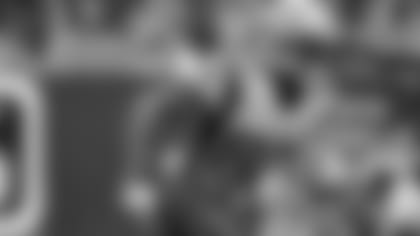 FOXBOROUGH, Mass.** – The New England Patriots announced that they have signed 10 players to the practice squad: DL Jake Bequette, QB McLeod Bethel-Thompson, WR Josh Boyce, LB Ja'Gared Davis, S Kanorris Davis, RB Jonas Gray, DL Charley Hughlett, OL Chris Martin, DL Deonate Skinner and DB Daxton Swanson.
Bequette, Boyce, Ja'Gared Davis, Kanorris Davis, Gray, Martin, Skinner and Swanson all were in camp with the Patriots this season. Hughlett spent part of the offseason with the Patriots this year.
Bethel-Thompson, 26, is a third-year player out of Sacramento State, who has been with Miami (2011), Minnesota (2012-2013) and San Francisco (2013). The 6-foot-3, 230-pounder, was originally signed by San Francisco on July 28, 2011, as a rookie free agent. He was released by San Francisco at the end of training camp and joined the Miami practice squad in late December. Bethel-Thompson spent the entire 2011 season as the third-string quarterback for Minnesota. He was released by Minnesota in October of 2013 and was claimed and awarded to San Francisco, where he spent time on both the 53-man roster and the practice squad.
Hughlett, 23, originally entered the NFL as a rookie free agent with the Dallas Cowboys out of Central Florida on April 30, 2012. The 6-foot-4, 251-pounder was released by Dallas on Aug. 27, 2012. He was re-signed by Dallas on Jan. 7, 2013 and released for a second time on May 29, 2013. After being released by New England in May, Hughlett was signed by Jacksonville on June 19, 2014 before being released on Aug. 25, 2014. He handled all long snapping duties for four seasons at Central Florida.