Under the Friday night lights of Harvard Stadium, a football game finished with a final score of 112-112, but the final score didn't matter much to the athletes competing on the field. It was all smiles throughout the game, and though competitive, the football game was about much more than a win, loss or tie.
Tom Brady hosted his annual Best Buddies Football Challenge at Harvard Stadium on June 1, and it was a night of football and fun for the participating buddies, as well as the current and former Patriots in attendance. Julian Edelman, James White, David Andrews, Ted Karras, Tedy Bruschi, Troy Brown, Christian Fauria and Dan Koppen all joined Tom and Best Buddies on the field.
Tom launched passes downfield to his favorite targets – new and old – like Julian, Troy and the buddies who were more than ready for their moment to shine. The game brought out everyone's competitive nature. Ted Karras caught a pass and ran for a few yards. Tedy Bruschi tossed the ball to himself for a touchdown, and Julian was relentless, breaking up a pass to James.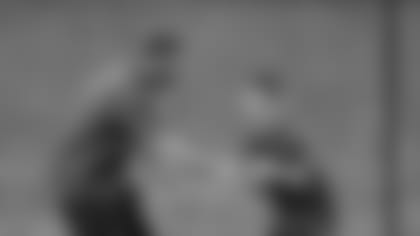 "He consulted me a couple plays before, asked how hard I was going and I said I wasn't going to go that hard and then he did that. It's all fun and games though," James said with a smile. "He's a little flying squirrel. He gets very energetic. We're just having fun out here. It's a great event. It's about the buddies. It's good to see all the people coming out and supporting such a great cause."
For guys like James and Julian, Tom's Best Buddies Football Challenge is a highlight on their calendar. They've come out year after year and built relationships with the buddies who look forward to this event.
James got involved with Best Buddies because his uncle worked in the same building as Anthony Shriver, the organization's founder. Since then, he's been a regular, sharing laughs with buddies every year.
"It's always a special time, meeting the buddies again, seeing them run around and have fun, putting a smile on their faces," James said. "It's a great turnout, a great cause."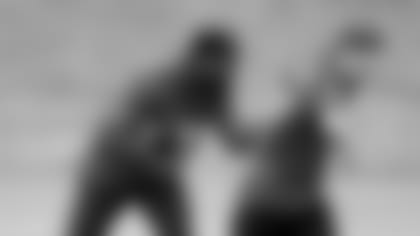 And though the game was for fun, James said the buddies came to play. They were tearing it up on the field, he said.
"I'm having a blast. They're doing better than me out there. It's fun," James said. "They're happy as can be. There's no better feeling in the world."
You can check out more photos from Friday's football challenge in the gallery below.
Patriots QB Tom Brady teamed up with current and former teammates during a charity football game for Best Buddies International at Harvard Stadium on Friday, June 1, 2018.