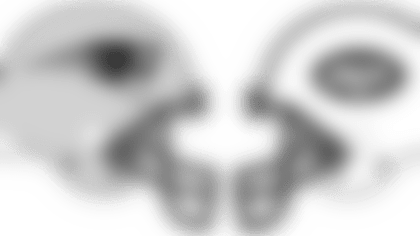 PATRIOTS (1-0) at JETS (0-1)*
*Sun., Sept. 19 2010 at 4:15 p.m. EDT
New Meadowlands Stadium (82,500)
The New England Patriots will begin a three-game AFC East Divisional set this week when they travel to the New Meadowlands Stadium to face the New York Jets. The Patriots return to Gillette Stadium to face the Buffalo Bills next and then travel to Miami for a Monday Night Football game.
The Patriots will look to take the lead in their all-time series against New York, with the teams entering this week deadlocked at 50-50-1 all-time, including two postseason games. The team's split the annual series last season. The Patriots are 1-0 after a 38-24 win against Cincinnati, while the Jets are 0-1 after a 10-9 loss vs. Baltimore on Monday Night Football.
The game is the second of two September visits to the New Meadowlands Stadium for the Patriots. New England closed out the 2010 preseason against the Giants at the new stadium on Sept. 2
The Patriots ended their history at Giants Stadium (1976-2009) with a 17-10 overall record against the New York Jets, a 2-1 record against the Giants in the regular-season and a 1-3 record against the Giants in preseason play.
TELEVISION:This week's game will be broadcast to a regional audience by CBS and can be seen in Boston on WBZ-TV Channel 4. Jim Nantz will handle play-byplay duties with Phil Simms providing color.
NATIONAL RADIO:This week's game will be broadcast to a national audience by the Westwood One Radio Sports. Howard Davidand Tony Boselliwill call the game.
RADIO: 98.5 FM, The Sports Hub, is the flagship station for the Patriots Radio Network. A complete listing of the network's 36 stations can be found here. Play-by-play broadcaster Gil Santos is in his 34th season as the voice of the Patriots and will call the action along with Patriots Hall of Famer Gino Cappelletti. Santos and Cappelletti are celebrating their 27th season as a tandem.
DIVISIONAL DOMINANCE
The New England Patriots own a 43-13 (.768) record in regular season AFC East games since the beginning of the 2001 season, compiling the best intra-division record of any team in the NFL over the last eight seasons. The Patriots finished 4-2 in the division in 2009.
SERIES HISTORY
The Patriots and Jets will meet for the 102nd meeting since the series between the AFC East rivals began in 1960. The series is tied at 50-50-1. The teams split the season series in Jets beating the Patriots 16-9 at the Meadowlands last season and the Patriots beating the Jets, 31-14, at Gillette Stadium last season. The Patriots have won 12 of their last 15 games against the Jets (including one playoff game). The Patriots have swept the season series 13 times, including four times under head coach Bill Belichick (2003, 04, 05, and 07). New England is 21-12 against the Jets since Robert Kraft purchased the team in 1994. New England's 50 victories over the Jets (including two playoff wins) are the second most over any single opponent, trailing only Buffalo with 59 all-time wins.
SERIES BREAKDOWN
NEW YORK 50, New England 50, 1 Tie
(Including New England 2, New York 0 in Playoffs)
Home Record: 26-24-1 (incl. 1-0 in playoffs)
Record in Foxborough: 22-18
Gillette Stadium: 6-3
Foxboro Stadium: 16-15
Record in Boston: 4-5-1
Record in Birmingham, Alabama: 0-1
Away Record: 24-26 (incl. 1-0 in playoffs)
Giants Stadium: 17-10 (incl. 1-0 playoffs)
Shea Stadium: 5-14
Polo Grounds: 2-2
Seasonal Sweeps: Jets 14 (most recent '00), Patriots 13 ('07)
Bill Belichick vs. N.Y. Jets: 15-8 (14-7 with New England)
RECENT PATRIOTS-JETS GAMESThe Patriots and Jets have played 19 times since 2001, with New England holding a 14-5 advantage in those games. Since 2003, the Patriots are 12-3 against the Jets and have allowed New York to score more than 17 points in a game just two times over that span.
PASSING PERFORMANCESTom Brady owns a 13-3 record against the Jets as a starting quarterback including regular-season and playoff games. Brady's 13 overall victories over the Jets are his second highest total over a single opponent, trailing only his 15 wins over the Buffalo Bills.
NFL'S BEST ROAD WARRIORS THIS DECADESince the start of the 2000 season, the Patriots have the third best road record with a 51-29 record, behind Indianapolis. (55- 26) and Philadelphia. (51-28-1), despite a 2-6 road record in 2009.
Jets Quarterbacks Coach Matt Cavanaugh began his NFL playing career as a quarterback with the Patriots from 1978-82.
Jets Wide Receivers Coach Henry Ellardspent part of the 1998 season playing for the Patriots.
Jets OL Damien Woodywas drafted by the Patriots out of Boston College with the 17th overall pick in the 1999 NFL Draft.
Patriots LB Marques Murrell was a member of the Jets defense for the 2007-09 seasons.
Patriots WR Wes Welker, RB Sammy Morris and Jets DL Jason Taylor were standout performers in the AFC East for the Miami Dolphins from 2004-06.
Patriots RB Fred Taylorand Jets QB Mark Brunellwere key offensive weapons for the Jacksonville Jaguars, where they played as teammates from 1998-2003.
Patriots P Zoltan Mesko and Jets LB David Harris teammates at Michigan in 2006.
Patriots OL Quinn Ojinnaka and Jets TE Ben Harstock were teammates on the Atlanta Falcons in 2008
Patriots DT Myron Pryor and Jets FB John Connerspent four years as teammates at Kentucky from 2005-08.
Patriots S Patrick Chung and Jets QB Kellen Clemenswere teammates at Oregon for the 2004-05 seasons.
Patriots LB Rob Ninkovichand Jets TE Dustin Keller spent the 2004-05 seasons as teammates at Purdue University.
Patriots QB Brian Hoyerand Jets S Eric Smith were teammates at Michigan State for the 2004-05 seasons.
Patriots CB Devin McCourtyand Jets LB Jamaal Westerman were defensive teammates at Rutgers from 2005-08.
Jets OL Vladimir Ducasse was an All-American lineman at UMass from 2006-09, while S James Ihedigbowas also an All-American for the UMass football team from 2003-06.
Jets P Steve Weatherford and Patriots RB Fred Taylor played together for the Jacksonville Jaguars in 2008.
Weatherford also played in Kansas City with Patriots S Jarrad Page in 2008 and in New Orleans with LB Rob Ninkovich in 2006.
Moss is in sixth place on the NFL's all-time receiving yards list with 14,524 yards and needs 685 receiving yards in 2010 to move into second place all-time, behind Jerry Rice (22,895). He needs 476 receiving yards to become the fourth player in NFL history with 15,000 receiving yards. Jerry Rice (22,895), Isaac Bruce (15,208) and Terrell Owens (15,004) are the only three other players to accomplish the feat.
Moss is 10th place on the NFL's all-time list for receptions with 931. He needs 69 receptions to become just the seventh player in NFL history with 1,000 career receptions.
Moss is in fourth place in NFL history with 149 overall touchdowns. He needs one more touchdown to become the fourth player in NFL history with at least 150 touchdowns. He needs two to join Jerry Rice (197) as the only players to top 150 touchdown catches.
Moss has recorded 1,000 receiving yards in a season 10 times in his 12-year career. Moss can join Jerry Rice (14) as the only players in NFL history with 11 seasons with 1,000 receiving yards.
Brady is 30th on the NFL'S all-time passing yard list with 31,102 yards. He needs 2,360 yards to move into the top 20.
Brady has 98 wins and needs two wins to become the 11th NFL QB to reach 100 wins.
Welker has caught at least one pass in each of his 50 games as a Patriot. The last time Welker did not catch a pass in a game was 12/24/05 when he played for the Dolphins. He has a current streak of 64 straight games with at least one reception.
3
The number of consecutive seasons Randy Moss has recorded 10 or more touchdown catches to become the first Patriots player with three seasons of 10-plus TD catches. He had 23 in 2007, 11 in 2008 and an NFL-leading 13 in 2009. His nine seasons of 10 or more touchdowns tie Jerry Rice for the NFL record.
3
Wes Welker and Randy Moss became the first Patriots to have back-to-back 1,000-yard receiving seasons in 2008 and stretched that to three straight 1,000-yard seasons after both went over 1,000 yards in 2009.
3
The number of seasons that Wes Welker has reached 100 receptions and 1,000 receiving yards to join Marvin Harrison (4), Jerry Rice (3), Herman Moore (3) and Brandon Marshall (3) as the only players to catch 100 passes and have 1,000 receiving yards in three consecutive seasons.
3
The number of consecutive seasons that the Patriots' offense has finished in the top five after finishing third in 2009, fifth in 2008 and first in 2007.
6
The number of times in NFL history that a team has had two players go three straight seasons with 1,000 yards receiving after Randy Moss and Wes Welker completed their third straight season with over 1,000 yards receiving in 2009.
7
The number of NFL receivers who have reached 14,000 receiving yards. Randy Moss became the seventh player to reach the milestone in 2009 and now has 14,524 receiving yards.
7
The number of seasons that Tom Brady has passed for more than 3,000 yards to tie the team record with Drew Bledsoe.
9
The number of consecutive seasons in which the Patriots have won nine or more regular-season games. They are the only team in the NFL to have won at least nine games in each of the last nine seasons entering 2010.
70
The number of times that Brady has thrown two more touchdowns in a game. The Patriots are 60-10 when he throws for two or more touchdowns.
173
The number of consecutive home games the Patriots have sold out. The streak includes every preseason, regular-season and playoff game since the 1994 regular-season opener.
3The number of Super Bowl championships the Patriots have won since Robert Kraft purchased the team in 1994. That mark is the highest total in the NFL over that span. Only Denver (2; 1997 and 1998) and Pittsburgh (2; 2005 and 2008) have won multiple Super Bowl titles since 1994.
5The number of conference championships the Patriots have won since Robert Kraft purchased the team in 1994. That mark is the highest total in the NFL over that span. Pittsburgh is second with three conference titles since 1994.
17The number of playoff games the Patriots have won since Robert Kraft purchased the team in 1994. That mark is the highest total in the NFL over that span. Pittsburgh ranks second with 15 playoff wins over that span.
25
The number of playoff games the Patriots have appeared in since 1994. The mark is the highest in the NFL, ahead of the 23 games played by Pittsburgh.
4
Bill Belichick is one of just four coaches to win three championships since the Super Bowl era began. Belichick joins three members of the Pro Football Hall of Fame in the exclusive club (Chuck Knoll 4, Joe Gibbs 3 and Bill Walsh 3). Belichick is the only coach to win three Super Bowls in the post-1993 salary cap era and the only one to ever win three in four years.
108-37
The Patriots' regular-season record since 2001 under Head Coach Bill Belichick. Under Belichick, the Patriots have won 74.5 percent of their regular-season games, recording the highest winning percentage of any major American professional sports team over that span.