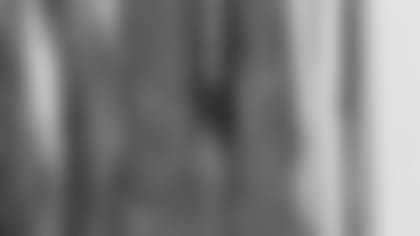 ]()
             As usual, New England had a chance to tie the game with its final possession of the fourth quarter. Throwing a new twist into the mix, the Patriots finished a touchdown drive to knot the score and set up a 29-26 overtime victory.  

Trailing 26-16 with less than nine minutes left in regulation, Tom Brady led two scoring drives to tie the score. Starting at his own 26, Brady orchestrated a field goal drive keyed by a 13-yard pass to Terry Glenn, a 12-yard swing pass to Kevin Faulk on third-and-one from the Chargers 25-yard line, and a 10-yard pass to Troy Brown. Kicker Adam Vinatieri hit a 23-yard field goal to close the gap to seven points.
New England's defense came up big on San Diego's ensuing possession, stopping LaDainian Tomlinson on a third-and-one play and forcing the Chargers to punt with 2:24 left.
Brown caught the punt at his own 10 and returned it 40 yards to his own 40, but a holding call on Terrance Shaw cost the Patriots 10 yards. Brady had 2:10 to go 60 yards for the tie. A pair of short passes to Brown moved the ball 15 yards to the San Diego 45. After two incompletions, Brady came up big on third-and-10 and hit Brown for a 16-yard play.
Two plays later Brady hit David Patten for a 26-yard gain to set up first-and-goal with 40 seconds to go. A fake sweep left allowed tight end Jermaine Wiggins to get wide open in the right corner in the end zone for the 3-yard touchdown catch
"I was trying to make sure I caught that ball," said Wiggins. "Sometimes when you are that wide open, it can be the toughest catch in the world. I was little surprised to be that open, but it was a play-action and they bit enough. It felt like forever for it to get to me, to tell you the truth."
In overtime the Chargers won the toss, but the Patriots again held Doug Flutie to a three-and-out. Brady and the offense took the field at their own 23. On first down, Brady audibled at the line of scrimmage and sent Patten deep down the right sideline. Despite heavy pressure, Brady got the ball off, and Patten was able to draw a 37-yard pass interference call on cornerback Alex Molden, giving New England a first down at the San Diego 40.
Facing a crucial third-and-5, Brady again tossed to Faulk for a 9-yard gain and another first down. Two plays later kicker Adam Vinatieri drilled a 44-yard field to finish the dramatic comeback. The kick was Vinatieri's third field goal of the game.
The game was a coming out party for Brady. He completed 33-of-54 attempts for 364 yards and his first two career touchdown passes. He spread the ball out to nine different receivers. Brown led the way with 11 catches for 117 yards, followed by Glenn and Patten with seven each for 110 and 73 respectively. Among those catching balls was linebacker Bryan Cox, who caught a 7-yard pass on third-and-1 just two plays before New England's first touchdown of the day.
"We were really able to fight our way out of a bad situation," Brady said. "That is the kind of stuff we try to build on."
Brady looked perfectly comfortable tossing to Glenn in the receiver's first game of the season. Glenn had six of his catches for 97 yards in the first half, and his 21-yard touchdown catch in the second quarter gave New England a 9-3 lead and Brady his first career touchdown pass.
Glenn praised the young quarterback, and said if Brady was more experienced he probably wouldn't have made the play he made.
"It was double-coverage, and I really wasn't that open," Glenn said with a smile. After serving a four-game suspension from the league, Glenn was just glad to be back on the field, and his mates liked having him there.
"Terry made big plays for us, and that really got everyone else going," Patten said. "Him being out there defied the odds, and it really helped take a lot of pressure off the other receivers, which in turn opened up the offense."
On defense, the Patriots came up huge against Tomlinson, holding the rookie sensation to just 74 yards on 24 carries. He did manage a 1-yard touchdown run, but he was largely ineffective against New England's front seven.
"If we stop the run, which was our focus all week in practice, and we force the other quarterback to try and beat us with the pass, we can do a lot of good things," defensive end Bobby Hamilton said. "We just need to keep believing in each other, because these guys here in the locker room is all we have. We can stop a good back, and today is a confidence boost."
The weak area for New England was special teams, where the Patriots gave up a touchdown on a botched punt, had an extra point blocked by former Patriot Ed Ellis, allowed Ronney Jenkins 172 yards on four kick returns, and gave up a 26-yards Tim Dwight punt return. Punter Lee Johnson averaged just 38.8 yards on four punts, and his fumble at New England's 6 was returned for a score by San Diego's Derrick Harris.
Despite the major problems in the kicking game, New England improved to 2-3 on the season. Now the team takes to the road for three straight weeks for a tough stretch.
"That's football," Brown said. "A win is a win. The feeling is unbelievable. It's nerve-wracking, but it was a great football game."