Substantial snowfall has yet to hit New England this winter, but that didn't stop 250 kids from the Salvation Army and local group homes from turning Patriots into snowmen. 
The kids wrapped Lawrence Guy in toilet paper, taped a carrot nose to Matthew Slater's face and put a hat on top of Stephen Gostkowski's head. The players laughed along, trying to stay still and not ruin the kids' creations.
"This is some heavy duty toilet paper," Cameron Fleming said as he tried to move around in his new attire.
The adorable and hilarious decorating was part of the Patriots 24th annual Children's Holiday Party, hosted at Gillette Stadium for local kids in the Salvation Army's program and in local group homes. More than a dozen Patriots came out to play games, serve dinner and get decorated as snowmen and trees, including Rex Burkhead, Matthew Slater,  David Andrews, Stephen Gostkowski, Johnson Bademosi, Eric Rowe, Lawrence Guy, Deatrich Wise, Joe Thuney, Shea McClellin, Derek Rivers, Adam Butler, Marquis Flowers, Andrew Jelks, David Jones, Damarius Travis and Jomal Wiltz.
The night was a chance for the kids, many of whom face difficult circumstances, to enjoy the holiday season, hang out with Patriots and leave with a few gifts.
"It's huge just because you know there are some kids whose families are struggling, especially around this time of year. They want those not necessarily gifts but that family atmosphere, they want to have that feeling that they're loved," Rex said. "Being here, trying to do that, trying to give them a little positive impact, a boost of moral into the holiday season and whatever they may be dealing with." 
Rob Kraft surprised the group and welcomed them to Gillette Stadium and then dinner was served by the players and cheerleaders. From there, it was game after game, and the guys didn't hesitate to jump right in.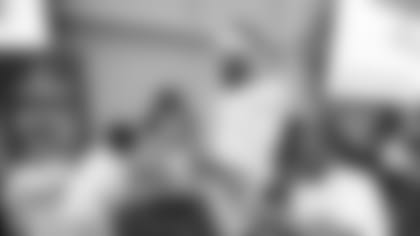 "It's really fun. I always love working with kids, whether it's at Christmas or Thanksgiving," Eric Rowe said. "Whenever I have the opportunity and they say we're playing with kids, I'm all for it."
And the players were good sports as kids draped them in green streamers, hung ornaments on their arms and placed stars on their heads. 
"I think I was the best tree," Eric added with a smile. "I was neatly organized."
You can judge for yourself in the gallery below.
FULL GALLERY
The Patriots hosted their 24th annual Children's Holiday Party on Tuesday, Dec. 5, 2017 at Gillette Stadium. Approximately 250 children in need from the Salvation Army and community centers throughout New England were in attendance for a night of food, holiday-themed games, presents and a visit from Santa Claus.