1st Quarter
…It was curious to see LB Jamie Collins not in the starting lineup Sunday in Buffalo. It was only one play before he was back on the field, however. Still, even more interesting, perhaps, was that New England's game plan against the Bills called for using DEs Rob Ninkovich, Chris Long, and Jabaal Sheard on the field at the same time so often. During Buffalo's opening drive of the game, the Patriots sent that trio on the field five times in nine plays (the 10th play was Buffalo's field goal).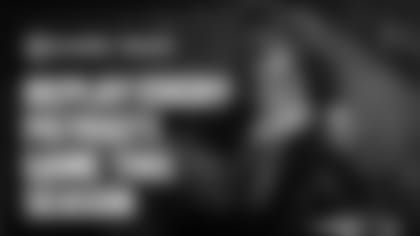 New England also varied what they did with that group of rushers. Sometimes, only one of them rushed the QB, Tyrod Taylor, while the other two dropped into coverage; other times, two rushed and one dropped. We haven't seen much of this troika together on the field since Ninkovich came back from suspension in Week 5, but it is something we speculated during the offseason could happen from time to time. Sunday was one of those times.
…On the second Bills possession, we again saw the Ninko-Long-Sheard unit together, and this time, when Buffalo passed, all three rushed him. Overall, in the opening quarter, New England did a decent job of pressuring Taylor, but his elusiveness made it difficult to bring him down.
…Meanwhile, Collins was only on the field on third down of that three-and-out series. Rookie Elandon Roberts got some playing time in Collins' stead. Collins had been dealing with a hip injury last week, but he was removed from the injury report on Friday. Perhaps the game plan just dictated that Collins be used in certain situations as opposed to every down, as we're used to seeing him.
…WR Julian Edelman is normally a good blocker in the open field, both on running and passing plays. He missed one, however, against CB Ronald Darby on a screen pass to TE Rob Gronkowski in the red zone that led to Gronk being gang-tackled for a loss of yards. Rare miscue in the blocking department for Edelman. Ultimately, that didn't hurt the offense, because on the next play, QB Tom Brady found WR Danny Amendola for the game's first TD.
…New England's offense was very effective on third-down plays yesterday. On their opening drive, the Patriots converted four of them to keep the scoring drive going.
…On the second Patriots possession, Amendola was flagged for offensive pass interference on a long screen pass to RB James White. Looked like Amendola was blocking a Bills defender before the ball left Brady's hands, which is technically a violation, even though the pass wasn't going anywhere near the defender he was blocking.
…RT Marcus Cannon's illegal man downfield penalty was another tough one to swallow, not only because it was also technically an infraction (he was beyond the line of scrimmage before Brady unleashed his pass), but it also wiped out a huge completion to Edelman down at the Bills' 1-yard line. There were actually two other Patriots linemen in  violation there – both guards, Joe Thuney and Shaq Mason were a yard over the line, but Cannon was about three yards past it, so, he got the flag.
…Again, didn't matter in the end, because Brady hit WR Chris Hogan for a 53-yard score on the very next play. Hogan's pattern was a simple go-route, and he did a nice job of shedding the jam by CB Stephon Gilmore near the line of scrimmage to create his separation. Brady then dropped a pass right down the chimney to Hogan for the pretty scoring completion.
…Long-Ninko-Sheard reappeared on the Bills' third drive. They were on the field for the entire three-and-out possession and were effective against the run on the first two plays before all three men rushed Taylor on the third. They didn't get near him, but good coverage downfield forced Taylor to escape the pocket and dump off to his running back, Mike Gillislee, who was stopped just short of the first down by a great tackle from safety Patrick Chung. He's having a solid 2016 season, it should be noted.
2nd Quarter
…Brady started feeling some heat in the early second quarter, which isn't unusual against a Ryan defense. First possession of this stanza, the Patriots went three-and-out after a pair of hurried throws led to incompletions; then, on third down, Brady was sacked as a result of a well-executed stunt by veteran DE Kyle Williams and rookie OLB Shaq Lawson. The latter was line up to the outside, over LT Nate Solder, but at the snap, after his initial steps forward, he ducked behind Williams, with whom Thuney was engaged. As Lawson came inside, Thuney passed off Williams to Solder to deal with Lawson's arrival in an open lane. Solder picked up on the switch, but Williams already had good inside leverage against him and was able to slide between Solder and Thuney to get to Brady.
…LB Preston Brown got Brady on the very next drive, another three-and-out, to force another New England punt. Again, the pressure came from Solder's side. Brown came like a bullet off the edge and Solder couldn't handle his speed in this instance. Brown ducked under Solder's attempt to jam him, which made Solder dive in vain after Brown had gone by him. Now free in the backfield behind an unsuspecting Brady, Brown blind-sided the QB as he tried to escape the pocket to the right side.
…The offense found itself again on the third drive of the quarter. Gronk was in the slot right, along the numbers, with fellow TE Martellus Bennett the flanker and Edelman the inside slot man. Hogan and RB James White were wide left. With all those weapons on the field, the Bills secondary had to pick its poison, and it chose incorrectly to leave Gronk single-covered by CB Nickell Robey-Coleman.
The defender gave Gronk a small cushion and a free release off the line. Buffalo had two deep safeties, and the one to Gronk's side chose to come up to toward the line to assist with Edelman's underneath route.  
Gronk head-faked like he was going outside, but Robey-Coleman didn't bite. However, Gronkowski's speed allowed him to shrug off the flat-footed defender and gain a step downfield. That was all Brady needed to thread a pass to his target. Gronk made a great grab and easily outraced the flailing corner to the end zone.
…The three-DE triumvirate continued in this quarter, with Trey Flowers getting occasional reps in the rotation.
…Tough break for veteran CB Eric Rowe on his first PI call. It looked like good defense at first, but replays clearly show he had his right arm on WR Justin Hunter's left one as the two men tried to make a simultaneous play on the ball.
…It may not have been the prettiest of kicks, but give credit to Stephen Gostkowski for drilling his 51-yard field goal at the end of the half. Yes, it was off the upright, but on a slick surface with a changing wind, the veteran had one of his best days of the season, hitting that kick, another from 32, and all five extra points. Nice confidence boost for him as the team enters the bye week. 
3rd & 4th Quarters
…Amendola's kickoff return to start the second half was the real nail in the coffin for Buffalo. James Develin and Brandon King were the first players to throw key blocks for him on this play. They were the ones closets to Amendola in the return formation. King sent his opponent to the turf, while Develin shoved his man just far enough away from being able to make a tackle.
Amendola then just barely eluding a diving tackle from another Bill and continued up the numbers. He turned inside to avoid K Dan Carpenter's diving attempt, which also took out another oncoming would-be Buffalo tackler, and spun away from them as he reached midfield.
From there, he cut back to the outside and slipped out of the grasp of Robey-Coleman, with an assist from Barkevious Mingo, who knocked Robey-Coleman to the ground. Chung had the last chance to free Amendola, but his just missed walling off the player who eventually took Amendola down from behind. Great team effort overall, however, on the 73-yard return.
…Amendola then delivered a great block of his own two plays later to pave Edelman's path to the end zone on an outlet screen. Edelman did the rest when he maintained his balance as a Bills defender grabbed hold of his legs and dove for the goal line.
…Up 31-10, the Patriots really should have demoralized the Bills on Buffalo's ensuing possession when punter Colton Schmidt dropped the ball as he was trying to boot it away. Down inside his own 10-yard line, Schmidt was dead to rights, but most of the Patriots had already turned upfield in anticipation of the kick. Several of them who remained near the line of scrimmage gave chase, including Mingo, who had the best chance of tackling Schmidt. However, his diving effort came up just short. Schmidt managed to pick up the necessary yardage for a first down.
…Later in that drive, Taylor scampered up the middle for a 26-yard touchdown, but it should have been called back. LB Jamie Collins, blitzing up the middle, was clearly held by the facemask by center Eric Wood. It was an obvious penalty that none of the refereeing crew noticed.
…Great job on the Patriots' final TD by Develin, who was the lead man for LeGarrette Blount. Develin's block up the middle gave Blount just the room he needed to leap over the line of scrimmage and into the end zone.