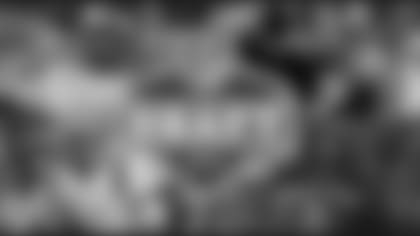 The writers of Patriots Football Weekly have done their homework on all the prospects in this year's NFL Draft. Now, you can download the actual notes they took on all the top players, broken down by position for your convenience. Today, they offer their notes on the quarterbacks.
QUARTERBACKS
1
ZACH METTENBERGER COLLEGE: LSU

HEIGHT: 6-5
WEIGHT: 224
40 TIME: 5.18 ANDY HART:
Coming off ACL. Kicked out of Georgia. Great size and strong, natural arm. Very good accuracy. Gets lazy and doesn't always step into throws. Elite potential.
** PAUL PERILLO:*
Big arm; Throws deep out well; Not mobile; Poised in pocket; Takes occasional chances.
2 *
BLAKE BORTLESCOLLEGE:** Central Florida

HEIGHT: 6-5
WEIGHT: 232
40 TIME: 4.93 ANDY HART:
Big, ideal build but can run. Throws ball up for grabs too often. Solid pocket presence and movement. Not huge arm.
** PAUL PERILLO:*
Great mobility; Throws well on run; Steps into throws well; Playmaker.
3 *
JOHNNY MANZIELCOLLEGE:**Texas A&M

HEIGHT: 6-0
WEIGHT: 207
40 TIME: 4.68 ANDY HART:
Obvious lack of size. Dynamic playmaker. Good but not elite arm. Throws up for grabs and got away with questionable decisions. Quick feet and release.
** PAUL PERILLO:*
Unconventional playmaker; Not always fundamentally sound; Good not great arm.
4 *
TEDY BRIDGEWATERCOLLEGE:** Louisville

HEIGHT: 6-2
WEIGHT: 214
40 TIME: 4.67 ANDY HART:
Frail frame. Polished and accurate. Nice zip on throws. Moves well in pocket and can run. Nice touch on deep balls.
** PAUL PERILLO:*
Moves well; Good but not great arm; Lots of timing patterns; small build, frail looking.
5 *
DEREK CARRCOLLEGE:** Fresno State

HEIGHT: 6-2
WEIGHT: 214
40 TIME: 4.69 ANDY HART:
Good motion and seems to make all the throws. Can throw on run. Gets rid of ball quickly. Struggles vs. pressure (family trait?).
** PAUL PERILLO:**
Moves well; Scrambles to throw rather than run; Not much zip.
BEST OF THE REST
Tom Savage, Pittsburgh
6-4, 228, 4.96
[Andy Hart] Very good size. Decent athlete. Strong arm. Good motion. Questionable accuracy and decisions at times. Can throw on run. Ran from competition at Rutgers.
[Paul Perillo] Good size; Great arm; Makes all throws; Decent escapability; Nice timing; Good velocity but can be erratic.
Jimmy Garoppolo, Eastern Illinois**
6-2, 226, 4.97
[Andy Hart] Good athlete. Nice touch. Lot of short throws with accuracy. Didn't have to go through many reads in offense. Deep arm strength? [Paul Perillo] Accurate; Gives WR chance for YAC; Good mobility; Played well in snow.
A.J. McCarron, Alabama
6-3, 214, 4.84
[Andy Hart] Winner. Throws off back foot too often. Average arm. Throws into traffic deep. Moves pretty well and throws on run. 
[Paul Perillo] Great touch on deep ball; Not a great arm, lacks velocity; Intangibles. 
Jeff Mathews, Cornell
6-4, 223, 5.26
[Andy Hart] Big hands. 4 year starter. Strong arm. Great size. Shows good accuracy and touch most of the time. Lot of shotgun. Will need developing but has great potential. 
[Paul Perillo] Good size; Works from pocket; Good arm; Puts ball into tight windows; Very accurate; Solid. 
Connor Shaw, South Carolina
6-0, 206, 4.66
[Andy Hart] Average arm strength. Short. Accurate on his throws all over the field. Game manager. Can roll out. Takes care of the football. 
[Paul Perillo] Very good deep ball; Not a great arm; Very accurate and productive. 
David Fales, San Jose State
6-2, 212, 4.99
[Andy Hart] Timely delivery. Scans field well. Has to work to put zip on ball. Prety accruate. 
[Paul Perillo] Steps in well; Accurate; Sits in pocket; Good zip on slants. 
Aaron Murray, Georgia**
6-0, 207, 4.84
[Andy Hart] Coming off ACL. Short. Average but good enough arm. Solid touch. OK athlete. Backup potential. 
[Paul Perillo] Good deep ball; Not a huge arm; Accurate/nice touch; Solid but not spectacular. 
Tajh Boyd, Clemson
6-1, 222, 4.84
[Andy Hart] Inconsistent. Short. Lazy delivery. Lot of shotgun. Decent deep touch. Lot of easy throws in college. Aggressive runner. 
[Paul Perillo] God arm; Accuracy inconsistent; Good mobility; Will stand in pocket and rip it; Inconsistent. 
Logan Thomas, Virginia Tech
6-6, 248, 4.61
[Andy Hart] Great size. Raw. Too many mistakes. Lot of short easy throws. Project, maybe even future TE. 
[Paul Perillo] Huge; Big arm; Inconsistent mechanics; Struggles with accuracy. 
Keith Wenning, Ball State
6-3, 218, 5.0
[Andy Hart] Ok size. Questionable arm. Nothing too impressive overall. 
[Paul Perillo] Good size; Lacks speed/mobility; Lots of short/timing patterns.  
Want more Draft video? Check out highlight videos of all the top college prospects entering the 2014 NFL Draft.