Let's assess the damage, shall we?
Darrelle Revis has left us, returning to New York where he began his pro career…and if we are to believe everything we've heard…it's where he wanted to be all along.  I'll just simply say "Thanks."
Brandon Browner is no longer thumping heads in the defensive backfield either, and also not causing most of us to scratch ours at the same time over his uber-aggressive play.  Look, I get the need for having a physical presence on the back end of your defense to set an example, and perhaps send a message to opposing receivers.  But I won't tire of seeing the yellow flags flying his direction from the back judge's pocket.
Vince Wilfork is looking for work elsewhere, and to my way of thinking, this hurts as much as any move we've seen made.  It's because Wilfork has been the quintessential Patriot – strong, hard-working, vocal, a leader, great in the community, active with fans and teammates alike.  But at his age (34) and coming off of a successful season following Achilles surgery, how much gas does he have left in his size XXL tank?
There's some fuel in there, sure.  But the price of that gasoline is too pricey right now in New England, and if he can find a taker at a little more per gallon, he should go get it.  Wilfork has earned the right.  If he cannot find someone to deal with, I'll wager the Patriots would welcome him back on the sideline…and in the locker room…much faster than you can find an attendant at a full-service station.
Shane Vereen is taking his talents to New York as well, but to the Giants instead of the Jets.  He signed a three year deal worth more than $12 million, which is a bit pricey for a running back who is very good at his job…but his primary job is/was to provide pass-catching ability on 3rd downs.  He did that exceedingly well in the Super Bowl win over Seattle, but what he commanded in salary from the Giants was excessive to what the Patriots feel the position (backup RB) might be worth.  Again, good for him – but the comment "This is not a step down. If anything, it's a step up" on his way south?  He had to be talking about the opportunity to play more often, right?  That wasn't a slap at New England, was it?
As Bill Belichick might say, "it is what it is."
Ok, as we're reasoning these moves away, let's also consider that Stevan Ridley's future isn't yet decided…Alan Branch has been re-signed to play on the defensive front…WR Danny Amendola is re-signed to return next season…ex-Patriot-pain-in-the-rear-end TE Scott Chandler is moving east to Foxboro from Buffalo…and there will be specialty players to consider as LB/DE Akeem Ayers inked a new deal with the St. Louis Rams, and Jonathan Casillas found a new home with the NY Giants.
Where does this leave the Patriots right now?  Very much as a "WIP" (Work-In-Progress), as every other team is at the present time in the NFL.  There are clear needs on the defensive side of the ball, absolutely.  Some needs on special teams, sure.  And there are still needs on the offensive line to make sure Tom Brady receives the kind of protection he needs to remain an elite QB in the game for at least another season or two.
Could a trade or two for veteran players be in the future?  What about finding immediate help through the Draft?  And where New England has been so incredibly successful through the years – finding undrafted free agents and unloved free agents cast aside from their former teams – will most certainly be an avenue the Patriots will travel.  I would also add here that in the present day and age of wide open, throw-first NFL offenses…that the former philosophy of simply "outscoring" the other guys will be in vogue once again.
That should make a lot of fans happy, I would think.  The defense can still be ok, provided some key areas are tended to.  The old adage of "defense wins championships" still has merit, but the new moniker of "offense wins fans" is also very true.  Ratings and attention matter.  The Patriots, it seems, may simply be setting up to play the best hand(s) they've been dealt.
Looking at the past couple of weeks this way, the damage doesn't appear to be indomitable, does it?
AFC East foes playing catch-up
Have the other teams in the AFC East improved their lot in life over the past couple of weeks?  Perhaps.  What remains to be seen is how much they've improved their won-loss record in the standings…there's still months to go before anyone plays a meaningful game.
Never at a loss for words, or shy in front of a microphone or camera, Buffalo head coach Rex Ryan was discussing free agency this week during a Toronto radio appearance…and as you might imagine, he threw a few zingers New England's way.  The way Ryan sees it, his Bills are better, the Miami Dolphins are better, the New York Jets are better…and the Patriots are not.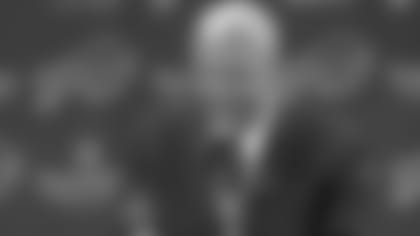 "I feel pretty good about what we've added," Ryan said, originally to ESPN. "So we'll see. I think the conference really got stronger. If anything, it currently doesn't look – if you could say winners and losers in free agency – obviously New England had to cut quite a few players.  So obviously they don't look as strong as they did.  I certainly hope they're not.  I mean, they just got through winning the Super Bowl."
Yes they did, Rex.  But his point about the division improving is accurate.  Championship-caliber teams start with building in the off-season and it still takes play on the field (along with quality depth) during the season to have a shot at a championship.  "I believe the rest of the division really has got stronger," Ryan said. "I don't think there's any doubt about that. I truly believe that we got stronger."
So what is he looking forward to the most for next year?  "Both the New England games," Ryan responded.
Hey Rex?  Keep shootin' straight, brother.  Everyone will be gunning for the champs next season, and rest assured the Patriots know this.  Beating them might be a different story…and that's something you've had experience with, right?
Be careful what you wish for.  Lombardi Trophies aren't handed out in the off-season.  As former Baltimore linebacker Bart Scott once opined, "can't wait!"
*John Rooke is an author and award-winning broadcaster, and has been the Patriots' stadium voice for 22 years.  Currently serving in several media capacities – which include hosting "Patriots Playbook" on Patriots.com Radio – Rooke has broadcast college football and basketball for the past 26 years and is a member of the Rhode Island Radio Hall of Fame.  *
Follow him on Twitter - @JRbroadcaster