For years Bill Belichick had seemingly weekly pregame production meetings with CBS' Jim Nantz and Phil Simms.
As the dominant team of the era in the AFC, CBS often dispatches its "A" team of broadcasters to do Patriots games.
Belichick obviously built up a comfortable relationship with the duo, especially considering he was on the coaching staff with the Giants when Simms was that team's quarterback.
Now, though, with former Cowboys quarterback Tony Romo having replaced Simms alongside Nantz with CBS' top broadcast crew Belichick is getting used to a new feel in those production meetings.
While admitting he does miss seeing Simms a handful of times a year, the New England coach certainly seems to be impressed with what Romo has brought to the job in his first year of media work.
"Tony, I'd say, is similar – a very inquisitive guy with a good history of the game. He's asked a lot of questions about when I was with the Giants or the '70s or the '80s or Tom Landry or so forth," Belichick said. "He's pretty knowledgeable for a player that wasn't in that era that he knows a lot about it and has obviously read and studied it. He sees a lot of things – a lot of fine points of a defensive scheme or a play that, I'd say, a lot of guys that I talk to don't – and asks about those and, 'What was this guy reading on this and why did this guy do that and was this guy's job on this play to do something that is kind of subtle?' He picks up on those things and, I'd say, asks a lot of very detailed, coaching, technical-type questions that you don't get in a lot of those meetings. But, he's good. I've enjoyed working with him."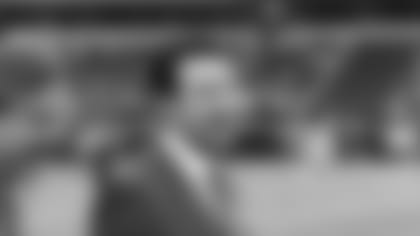 While Twitter and group-think public opinion turned on Simms in his final years on the job for CBS, Belichick says he always respected the work his former practice field foe did in the broadcast booth.
"I think Phil did a great job and I always enjoyed Phil," Belichick said. "Even though I never really coached Phil, Phil was the quarterback and I was the defensive coordinator. We talked a lot. We had, I thought, a real good relationship with the Giants. We talked a lot about coverages and schemes and what do you see and how can I help you, how can you help me type of thing. Phil was great that way, and he's very knowledgeable. Phil was a very knowledgeable player that even things like the kicking game – which as a quarterback, you're not really a part of – Phil was always interested in. I actually involved him in it in different things, facets of that when I was with the Giants. Even though Phil throws the ball right-handed, everything else he does in his life is left-handed, including punt. So, when we had the great right-footed punters at the Giants, Dave Jennings and Sean Landeta, when we went up against a left-footed punter, Phil was my go-to guy there. So, things like that that he was always very accommodating and helpful, but he always had an interest in it, too. So, I thought he – honestly, I didn't hear a lot of the games that he did for us, but I heard other games that he did and I always thought he gave a lot of great insight into the game, not just from a quarterback's perspective but from a team standpoint. So, yeah, I do miss seeing him multiple times during the season when he would have our games."
Beyond Belichick's thoughts on CBS' color commentators, some of the others highlights of the coach's Friday press conference included continued praise for Kyle Van Noy, a look at Jonathan Jones' competitiveness and an explanation of his lack of post-touchdown sideline celebrations.
1. Van Noy's valuable versatility: Kyle Van Noy has carved out a key role for himself on the Patriots defense since arriving via trade from the Lions last season. After starting just two of the seven games he played in New England last fall, the veteran linebacker has started each of the first 11 games this season while leading the team with 70 tackles. He's also second on the Patriots D with five sacks.
Van Noy was apparently a disappointment as a former second-round pick with the Lions, but his versatility and wide-ranging contributions have found a home at Gillette Stadium.
"I think we've had enough experience with Kyle to know the things he does well. We try to put him in those situations," Belichick said. "He does a lot of things well. It's not just one thing, but we try to put him in those situations the best we can."
Belichick went on to acknowledge that Van Noy seems to like being asked to take on new roles and responsibilities on a weekly basis.
"Kyle's a smart guy and it seems like he kind of enjoys that – doing something maybe a little bit different this week," Belichick said He's a good communicator, so he's good at getting other people around him coordinated or in the right spot. Or, if we need to make a call, he'll make the call. He's decisive and will make it with good judgement but also make it decisively so everybody has confidence in it when we go out there and execute it. So, he does a good job of that and that's one of the maybe advantages to having him in different positions and he understands. Because he's played other spots, he understands what that person needs to know or maybe what the stress is on – if he's a defensive end, he knows what the stress is on the inside linebacker and vice versa and so forth. That probably helps him with that process."
2. Big Play J!:Jonathan Jones was used primarily as a special teamer as an undrafted rookie in 2016. Now, though, he's found an expanded role on defense while maintaining a key spot in the kicking game.
One thing that Jones – who teammates have come to call Big Play J – brings to every job he does is a competitive fire and fight to the finish of every snap.
"John plays bigger – bigger than his size, what it looks like – and he plays hard and he does a really good job of finishing plays, like you said, whether that's covering kicks, blocking gunners, playing the deep ball, finishing on the ball when the receiver is in the process of catching it, tackling, all those things," Belichick said. "He does a real good job. I thought the play he had last week was a really good play where he came free on the blitz and then broke down and made a tackle on [Matt] Moore and was under control and came to balance – plays like that where we've all seen guys miss those plays. That was a good example of just a one-on-one open field space tackle that he executed very well, but we've seen him do that on a lot of deep balls this year and in the kicking game over the last two years."
3. "I'm really happy when we score":Sound FX took advantage of audio and video from New England's win over the Dolphins to show Belichick's reactions to each of the Patriots touchdowns. It seemed to surprise many fans and outsiders that the coach didn't exactly cheer or chest bump fellow staffers following the scores but rather remained focused on the job at hand.
Belichick explained his post-score sideline actions and responsibilities to the gathered media on Friday.
"I'm happy when we score. I'm really happy when we score, but there's a decision to be made on the next play and the next play and the next series," Belichick said. "Now the game has changed. Either we narrow the gap or widen the gap or whatever it is. So, then there's something that has to be done going forward. That's really a big part of my job. So, we have a lot of fans that come to the game. They cheer. They do a great job. I feel like a big part of my job is decision making and planning ahead for the next play, the next series, the next situation. There is, sometimes, a little bit of time between a score and the kickoff when you go out on defense or how you're going to kick the ball off or so forth that I feel like I need to do a good job at that. I don't want to let the team down in the responsibilities that I have.