The Patriots conducted their first Super Bowl practice on Thursday but before that commenced Bill Belichick hit the podium for his press conference inside the Gillette Stadium media workroom. Not surprisingly, Belichick was quite complimentary of the Atlanta Falcons, his team's opponent in the upcoming Super Bowl.
"They've done a great job. Coach [Dan] Quinn, [general manager] Thomas [Dimitroff] have put together a very good football team," Belichick said. "They're very explosive, have tremendous playmakers on offense, very fast, and playmakers on defense, turn the ball over, create a lot of negative plays. They're just a solid team that's had a great year.
"They've kind of been on top there wire to wire. They're an impressive team to watch. We've got a lot of work to do."
Belichick continued by explaining how the lack of familiarity with Atlanta creates the need for more preparation time, as well as the fact that the Falcons offer a playing style that is a bit different than most of the Patriots previous opponents.
"We've got a lot of things that we need to understand and how to play Atlanta, how to play them well." Belichick said. "Things that we're going to need to do well in this game are different from any game that we've played here in a little while. We've just played opponents that have a little bit different style of play. These guys have a very good style. It's been a very successful style. We have a lot to get ready for, a lot of work to do, but it's good to be working this time of year.
"We're excited, ready to go and we'll dig into it here, get on the field today and start making some progress."
The Falcons explosiveness remained a theme throughout, but the coach took some time to delve into other areas as well.
Trick or treat – Falcons wide receiver Mohamed Sanu is a versatile player who has some experience throwing the football, stemming from his days as an option quarterback in high school. His original team, the Bengals, used him as a passer from time to time but thus far he has not attempted a pass in his first year as a Falcon.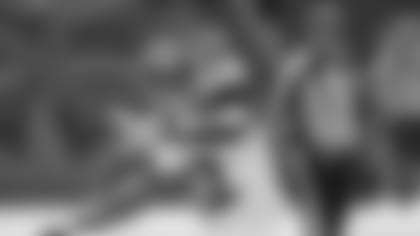 Belichick was asked about preparing for potential trick plays, particularly with Sanu as the trigger man.
"We know he can do it. Look, this is the kind of game where a team could be working on a play like that all year and you're running out of games. I mean it could be a lot of other plays, too; a reverse, a pass, a double pass, some kind of gadget play, so absolutely," Belichick said. "The longer the season goes I think the more you have to be prepared for those kinds of plays because, again, if the team has been working on it then at some point they're probably going to use it and the fewer games there are to call it. If you've been working on a play all year, a lot of coordinators, you might as well call it."
Stick to the plan – With two weeks to prepare, the Super Bowl takes on a different look from most games. But despite the extra time Belichick insisted the manner in which the team prepares for the game really doesn't change much from the normal routine.
"It's just spaced out a little bit more," he said. "Instead of seven days, call it 10 – like we weren't on Monday where we would normally be on a Monday because we didn't know who we were going to play [until Sunday]. In this case it wasn't, so we had to get all the information on Atlanta and that took a while to compile all of that, so once that's done, it's done.
"We have a couple days at the end of the week in Houston that are a little different than our normal two days before the game, so we kind of get squeezed on one end or the other. Let's call it 10 days in the middle instead of six or whatever, nine instead of six. It's just six but spread out. We have to travel and there are some other obligations that just kind of cut into a normal preparation time, but we have more time to do it."
All in the family – Finally, Belichick was asked about the presence of his two sons – Stephen and Brian – in Foxborough as part of the Patriots staff. Stephen is in his first season as safeties coach while Brian works as a scouting assistant.
"Special. Yeah, special – unlike any other, really. It was obviously great to have Steve but to also have Brian too, I mean, it's special."