The finishing touches are being applied and the Patriots are finally ready to play another football game. After enjoying some much-earned rest coming off the bye, New England will host Seattle Sunday night in a much-anticipated matchup between two of the league's best teams.
The recent history between the teams has been well documented but one new element that could be thrust into play is Dion Lewis. The running back is coming off a torn ACL as well as a follow-up procedure on the same knee and has been on PUP all season. But the Patriots released running back Tyler Gaffney on Thursday and various reports indicate Lewis is ready to go.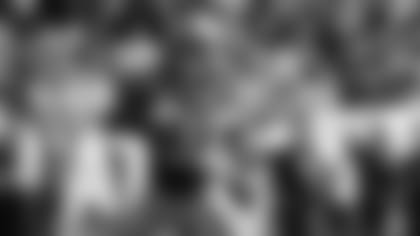 Bill Belichick was asked if there was any change to Lewis's status to lead off his Friday press conference and wasn't ready to commit.
"There hasn't been. Yeah, we'll see how it goes here as we get closer to the game," he said.
"He's working hard. Yeah, he's working hard. I think this is what he needs; to be around football. Rehabbing and running up hills and doing pushups and all that, I mean it's great, but that's not playing football. He's gotten a lot of good football snaps over the last however many days it has been. Yeah, it's good."
The coach was asked a few more Lewis-related questions before touching on a number of other areas Friday morning.
White hot - Lewis' pending return brought the discussion to fellow third-down back James White, who has enjoyed a strong start to the season as his replacement. Belichick was asked if White had shown enough to continue contributing when Lewis does return.
"I think James White is good; is a good player. What he does is good. Could somebody do it better? I mean I don't know. But it would take quite a bit I would say based on where he is and how consistent he's been with what he's done. It would take somebody playing pretty good to be better than him."
High praise - It's not often that Belichick compares players do some of his all-time favorites and former Raven safety Ed Reed would certainly be one of them. The Seahawks have a pair of talented safeties in Earl Thomas and Kam Chancellor, and Belichick was asked about the former's skill set and how it allows Seattle's defense to play in the manner in which it desires.
That's when Belichick made the comparison.
"Well he's more than just a middle of the field player. This is a version of Ed Reed. He makes a lot of very instinctive plays. He anticipates very well. He's got good speed, good range, good ball skills, good anticipation. So he makes plays that maybe the conventional safety wouldn't make because of, like I said, his anticipation, his experience."
A follow-up question then asked how Thomas and Chancellor complement one another and Belichick continued.
"[Chancellor's] the down safety. Earl Thomas plays the way Earl Thomas plays and I guess [Steven] Terrell would back him up if something happened to him, so it's kind of two different positions. But I mean Kam Chancellor is a good football player. He's big, he's long. He's kind of like a linebacker. He's got that kind of size, that kind of hitting ability, but he's a safety so he adds a very physical element to their defense and a lot of experience. This guy's played a lot of football, been in a lot of critical situations, made a lot of big plays for them so he's a good player."
Special day - Finally, the press conference close with a reporter looking for some thoughts on Veteran's Day and Belichick took some time to have some fun after first recognizing the incredible sacrifices our armed forces make.
"Obviously a huge day for our country to recognize the people that defend our freedom. We talked about it this morning. When you go into the service and you take that oath and you say that you'll put your life between the freedom of this country and somebody that's trying to harm us, I mean that's – it doesn't get any more – you can't do much more than that. That's pretty big, a pretty big oath, a pretty big pledge. For people who have done that, we have tremendous respect and appreciation for.
"We're fortunate we have one on our team and I think [Joe Cardona] is a great representative of not only the New England Patriots, but the United States Navy and servicemen in general. I'm glad he's on our side and I know we have a lot of others, any other of the thousands of men and women that are serving this country and have served this country for our freedom. I'm very proud of that, recognize it.
"We'll recognize it today, we'll recognize it obviously on Sunday on the Salute to Service. We had to clear up a couple of years ago that Veteran's Day wasn't a day for players that have played so long in the league being anything special. That's really not what we were talking about. We were talking about the real veterans. There was a little confusion on that a few years ago, but we got that worked out."