[wysifield-embeddedaudio|eid="481126"|type="embeddedaudio"|view_mode="full"]While the story of Sunday's blowout of the Browns in Cleveland was clearly Tom Brady's return to the Patriots, the quarterback's name never really came up Monday morning in Bill Belichick's traditional day-after-game conference call with the New England media.
Productive offensive stars like Brady, Martellus Bennett and Rob Gronkowski garnered plenty of attention in the immediate wake of the 33-13 win over the Browns, but a day later Belichick was asked about contributions from guys fill-in tackle Cameron Fleming and the dominant effort put forth by the entirety of the Patriots run defense in shutting down the league's No. 1 ground attack.
The coach also had a long, seemingly very heartfelt answer when asked about taking his team to visit the statue of Cleveland Hall of Fame running back Jim Brown following Sunday's victory at FirstEnergy Stadium.
Here are a few of the praiseful highlights of Belichick's extremely upbeat conference call with the media as the coach and his team continue to bask in the warmth of victory on this chilly Monday morning in October.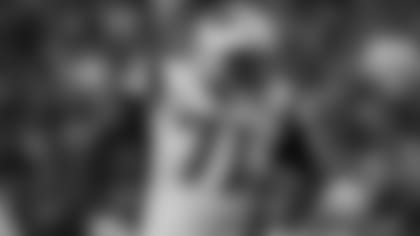 1. Fleming one of the "most dependable" Patriots: Opening day in Arizona third-year tackle Cameron Fleming got the starting nod in the place of injured Nate Solder on the left side of the line. The former fourth-round pick and practice squader out of Stanford did the job well enough for New England to secure an impressive road victory.
Yesterday afternoon in Cleveland, Fleming had to fill in at right tackle for Marcus Cannon, who was inactive with a calf injury. Once again, the quiet backup lineman was more than good enough to allow the Patriots to roll to a road victory.
But the response Belichick gave regarding his young tackle's play and approach was probably even more positive than anyone could have predicted.
"Cam has done a good job for us," Belichick began before picking up the pace of the praise. "He's one of our most dependable players. He's really smart and he works extremely hard. For his size he works very hard on his conditioning and he really doesn't get tired, or at least it doesn't seem like he does. He's right at the top of his group in sprints and works hard in the weight room, both on strength and flexibility, and does a lot of extra things to try to continue to improve.
"He's quiet, but he's probably one of the respected players on the team because of his work ethic and toughness and dependability. We've asked him to do a lot of different things, play multiple positions – guard, both tackles, the jumbo tight end spot – and he works very hard to do all those. As I said, his intelligence is excellent so he has the capacity to handle a lot of things. But he's a flexible guy and nothing really seems to rattle him. He's got a very even temperament. So whether it's to start or come in or change his role or go from one side or the other, or whatever it happens to be, he's been very dependable for us. Again, yesterday was a really solid job (filling in) for Marcus at right tackle. He's helped us out a lot."
2. "Run defense is team defense": The Patriots clearly focused on shutting down the Browns No.1 rushing attack on Sunday. That included plenty of personnel groups with three defensive tackles – Malcom Brown, Alan Branch and practice-squad call-up Woodrow Hamilton – to fill out the front. Boy did it work. Cleveland was able to run for just 27 yards on 22 attempts as a team for a 1.2-yard average that was well below the group's 5.7 yard average coming in. Lead back Isaiah Crowell came in averaging 6.5 yards per attempt, but managed just a 1.7-yard average on 13 rushes against New England.
Belichick and Matt Patricia challenged their defense to stop the run and the unit got the job done in utterly impressive fashion.
"We played some of our calls with three big defensive linemen in there. Most of the time we have two. That also led to Rob Ninkovich playing more as an outside linebacker in certain situations, certain calls. So we really had both ends in there as well as three big guys instead of two ends and two big tackles," Belichick explained. "I thought those guys did a good job. We played the run with good consistency all day. We defeated blocks. This is a very good double-team, down-hill running game with a great back and those guys did a good job on the double-team blocks. We did a good job of staying on blocks and not creating space and gaps for the backs to attack. We tackled well. The linebackers played well too.
"Run defense is team defense. No one guy can stop the running game. Everybody has to have control of their area at the line of scrimmage or a good back like Crowell is going to find it. It was good team effort up front in the running game."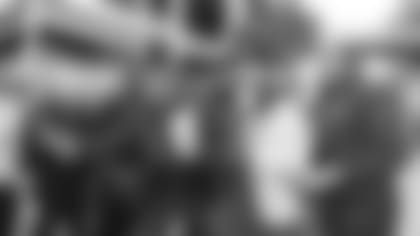 3. "Any person can learn a lot from Jim Brown":After the game Belichick took his players to see the statue of Jim Brown outside the stadium before heading back to New England. A number of players showed photos of the visit on social media. New England's boss, who obviously served as the head coach of the Browns organization for five years and has a personal relationship with the former Cleveland running back, was asked about the mini team excursion which is certainly outside of the postgame norm.
"I think honestly any person, football player or otherwise, can learn a lot from Jim Brown and what he represents and what he stands for," Belichick revealed. "But particularly as it relates to our football team, Jim Brown's, in my opinion, the greatest player that ever played. I had an opportunity to know, I've known Jim for over 20 years now. I met him when I was the coach of the Browns. Just have so much more respect and appreciation for him knowing him well as a person and a friend than I did as just an observer at a distance. He's meant so much to this game. He's paved the way for all of us, players and coaches. Part of many who have made professional football, the game of football, the great game that it is. I just felt like it was an opportunity for us, as a team after the game, to recognize and pay tribute to Jim and all that he stands for both in and out of football. But in particular what he has mean to the game of football and how much he's done for the game, which means for all of us.
"That statue was recently put there…it's kind of remarkable that it hadn't happened sooner, but regardless I'm not sure how many of our players really understand or appreciate what he meant to the game and what he has meant to the game through his continued involvement.
"That's why we did it and I'm glad they appreciated it. Hopefully that's something as part of their football career will be one small memory, is just the recognition of a great player and a great person and somebody who's really made the game better for all of us."