The Patriots have played some of the biggest games in franchise history against Tom Coughlin's Eli Manning-led Giants. And New York is one of the few teams that has had significant success against New England in the era of Bill Belichick and Tom Brady in Foxborough.
Still, as an NFC foe, the Giants aren't a squad that the Patriots play too often in the regular season and therefor this week Belichick and his team will have to spend a lot of time studying and brushing up on the boys in blue prior to Sunday's battle at MetLife Stadium in New Jersey.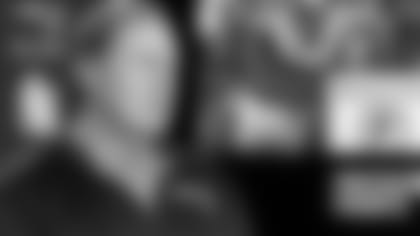 The Giants (5-4) currently sit atop the NFC East and atop the NFL rankings in terms of turnover differential (+12) and takeaways (21). Mix in a star-studded offensive passing attack and Belichick made it clear that his undefeated Patriots (8-0) have a lot of preparation to do in advance of the trip down I-95 this weekend.
Scouting reports on the Giants, their star players and Belichick's very clear thoughts on mid-season awards and report cards filled out the coach's big Wednesday morning press conference inside the Gillette Stadium media workroom.
1. Patriots must get to "know a team that we don't know": The Patriots and Giants have a playoff-rich history, thanks to a couple Super Bowls that have left a lasting, painful memory in New England. Belichick and Coughlin have a rich history as both sideline foes and as co-workers on the Giants staff under Bill Parcells. So in some ways there is a lot that is familiar about a matchup between these two historically successful franchises from the northeast.
But that history isn't necessarily tied into the specific personnel and abilities of the two current rosters, and that's the challenge that Belichick says his team faces this week in getting ready for the trip to the Big Apple.
"Having spent quite a bit of time here on the Giants the last couple days, their ability defensively to create turnovers and get the ball and score is obviously very impressive," Belichick said to open his presser. "By far and away best in the league at that. They've also made a lot of plays in the kicking game – blocked punts, kickoff returns, their overall coverage units and field position have been impressive. Offensively they have a good system, well coached, good skill players. They are big. They are physical. They run the ball. They use all four backs. They have explosive players on the perimeter. Guys who make yards after the catch. Experienced quarterback who makes a lot of good decisions with their no-huddle or up-tempo offense, whatever you want to call it.
"So there is a lot to get ready for this week. They use a lot of different people, particularly defensively. Lot of personnel things to get ready for as well as scheme-wise. They do a lot defensively.
"This will be a big preparation week for us to know a team we don't know."
2. Jason Pierre-Paul and Odell Beckham Jr. bring unique skills:New York has two of the biggest stars in the league, certainly among guys who go by three-letter monikers. Pass rusher Jason Pierre-Paul returned last week after a crazy offseason in which he suffered a severe hand injury during a fireworks accident. An elite, franchise-caliber sackmaster with 12.5 sacks last season, JPP saw a lot of reps in his return and could be a thorn in the side of both Brady and his banged-up, make-shift offensive line.
"I think he played 50-something plays last week against Tampa," Belichick said of Pierre-Paul's playing status. "So his conditioning looks fine. I'm sure he'll be in there most of the time, like he was last week. He'll be there. He's long, he's athletic. He's got good feet, good quickness, good edge speed. So he's definitely a force. We are going to have to do a good job on him."
Odell Beckham Jr. is one of the best young receivers in the game. He's more than just the guy that made the most notable catch of last season. He's in the top 10 in the league in both receptions and yards, while tallying seven touchdowns in his sophomore campaign as New York's top target. He's an impressive challenge for a Patriots secondary that's still very much a work in progress.
"Really quick. Tough kid. Goes inside for the ball. Very good after the catch," Belichick offered in a scouting report of the man known as OBJ. "He makes a lot of plays with the ball in his hands. He's a hard guy to tackle. He has good quickness and a good ability to separate. But I'd say the thing that's impressed me the most about him is his toughness. I mean he's not a big guy, but he competes well. He goes inside, goes after the ball, takes a hit, hangs onto it. He's a tough, competitive player. And every good with the ball in his hands, not just going up and getting it. He's got obviously a bunch of highlight catches, but when he catches the ball he can run with it and make plays with his quickness and his open field running ability.
3. Belichick's first-half grade - "Gimme an F": With the Patriots having played eight games at this point, it's an obvious time for various media outlets to hand out midseason awards and report cards regarding the team's performance from the first half of the 2015 season. But it's not a topic New England's A-plus coach has much time for.
"We're focused on the Giants…not some midseason report card. I don't think…who cares? What difference does it make? Like, gimme an F. Gimme a C-plus. I don't…it's doesn't matter.
"Right now I'm focused on the Giants. That's all I really care about.
"I don't give grades. I'm worried about the Giants. I don't care about some midseason, mid-term grades. Give me whatever you want. I don't care."