Given the amount of contact Tom Brady has been subjected to in recent weeks it would be understandable if the Patriots quarterback joined some of his teammates on the injury report – or at least wasn't exactly feeling his best. Not so says the 38-year-old Brady, despite being hit 32 times over the course of the last three games.
His interesting response to a question asking about how he's feeling highlighted his Wednesday press conference, and he also addressed a few other topics of note.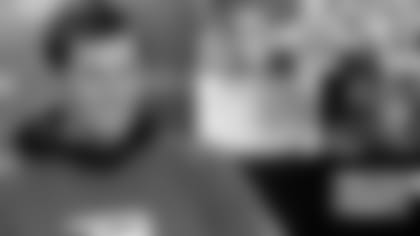 PRODUCE SECTION - It's no secret that the Patriots offensive line has struggled to keep the quarterback on his feet lately. Brady's been sacked 11 times over the last four games in addition to the hits he's absorbed. So how's he feeling as a result?
"I feel good. Fresh as lettuce."
I assume he meant a nice healthy head and not some wilted produce.
UNCOMMON TERRITORY -The Patriots hadn't lost back-to-back games after Thanksgiving since 2002, and these are the first consecutive losses of any kind for the team since Weeks 2 and 3 of 2012. Brady was asked how the team is responding after dropping contests to the Broncos and Eagles the past two weeks.
"It's believing in each other. When you face the adversity that we faced the last couple of weeks, nobody likes to lose games. I think all of our quality of life sucks when you lose games. But that's just the way it is. It should be important, it should hurt when you lose because we put a lot into it. I think obviously you don't abandon what the process is, because I think we've done a good job preparing and we just have to execute better. We have to do a better job playing, and then hopefully that results in wins. It hasn't been good enough the last two weeks. I think there are a lot of reasons for that and things we can do better, and hopefully this is the week for it."
ALL THAT STATS -As attention turned to Houston, Sunday's opponent, Brady was gushing about the Texans defense. The Texans have the best third-down defense in football while the Patriots have struggled mightily (15 of last 52) to stay on the field as of late. That doesn't seem like a great combination heading into Sunday night.
"It's third down but I think they're also [very good] on first and second down. That leads to long third downs. Nobody's good on third-and-eight-plus in the NFL. The coverage is too tight, the rush is too good ... if you make one or two of those in a game it's pretty good. I think they've forced teams into those situations more than anyone else in the league. They've done a great job of forcing negative plays on first down, whether it's negative plays in the run game, sacks, lowest completion percentage ... they have all the stats and we're going to have to do a good job. It's obviously a big challenge for us and we've got to figure out a way to move the ball enough, take care of it, score points when we get opportunities, but they certainly make it hard."