NFL players don't often have time to stop and enjoy holidays - even Christmas Eve - and that's one reason why Tom Brady was standing behind the podium at Gillette Stadium on Thursday for his weekly press conference with the media.
Although the briefing was short and didn't require too much time, Brady did offer some insight on a few topics of interest in and around New England.
We'll off a few items as part of today's Presser Points with Brady: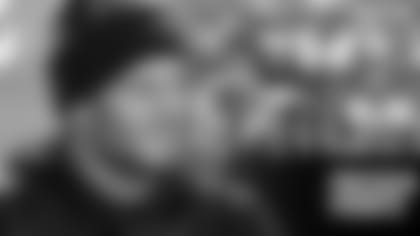 NOT TALKING THE BAIT -With the Patriots set to take on the Jets there has been some chatter emanating from the south regarding the relationship, or lack thereof, between Brady and his former teammates Darrelle Revis. Revis left New England after just one season and returned to his original team, the Jets, as a free agent during the offseason.
Reports out of New York seem to be trying to create a rift between Brady and Revis, insinuating the two did not shake hands after the team's first meeting, a 30-23 Patriots win back on Oct. 25. Brady was asked if Revis had done or said anything that might have left Brady unwilling to engage Revis following the game, but stuck to the high road.
"It was great having him as a teammate. He brings a lot to the defense that he plays on. I've played him a bunch of times - he played for the Jets, played for Tampa, played here and now back with the Jets - I've basically played against him every year in some form or fashion.
"He's just a great player. I think he does a lot of things really well. It's fun to watch him play. He has a very unique style. He certainly locks his man down. That's pretty impressive to do it for as many years as he has. That's not a simple scheme. It puts a lot of pressure on the corners. It's like having two tackles who you don't ever give any help to and whoever they go up against, they go up against. It's pretty impressive to see what he's accomplished this year, what he's accomplished every year. He's a great player.
So has Brady's opinion of Revis changed?
CAM FAN -With the Carolina Panthers rolling along at 14-0, Brady offered some thoughts about the team and specifically its MVP-candidate quarterback Cam Newton. Brady was asked if he's noticed what the Panthers have done and if Newton's style has caught his eye.
"Absolutely. They've been playing great. He's having an incredible season and they have a great football team. It's hard to get to 14-0. You have some games where you just don't play your best and they've still figured out a way to win those games. I think that's the mark of a great football team. Whether you have no losses or one loss or two losses those are very hard seasons to have because injuries always play a part and they've won without certain guys and I think that's also the mark of a great team.
"[Newton] has his own style and he's just had a great season run, pass. Like his game last week - I saw the highlights - it was awesome. It's fun to see guys play like that. Obviously the better players are in the league there's more attention and he's obviously one of the great young players."
WELCOME ABOARD -Brady was happy to talk about his newest teammate, Steven Jackson, and offered his thoughts on the running back from a distance.
"We played against him a few times when he was playing with the Rams and then the Falcons, I don't think he was active for that game but I've always watched from afar and seen how tremendous of a player he is, how professional he is. Hopefully he can add a lot to our team. We'll see how things pan out but he's come in here and worked hard. To rush for that many yards in this league is really hard to do. I think he's a real professional."
TAKING ON THE JETS -Finally, the conversation turned to the Jets on the field and Brady provided some thoughts on going against one of the defenses that has caused him the most trouble.
"They're playing really well. They were pretty good the first time we played them. We were playing a little bit different at that time also. They're pretty hot right now. They have a really good defense. They have a lot of guys who have been great. This defense has never really been a walk in the park for our offense. It's always been a big challenge. They've been well-coached, they're really well-coached this year. There are a lot of scheme things they do that are challenging to prepare for. It's tough but we're grinding through it, trying to get everyone on the same page and I'm sure we'll feel pretty good about our game plan once we get to the game."