It was Tom Brady's turn to take to the podium on Tuesday to discuss his team's upcoming divisional round showdown with the Kansas City Chiefs. Like Bill Belichick roughly an hour earlier, Brady had lots of complimentary things to say about Andy Reid's team, particularly the defense.
When asked if there was a special intensity inside him that comes with the playoffs, Brady downplayed such talk while instead focusing on the Chiefs.
"It's football. It's kind of what we've been doing all year," Brady began. "I just think the ramifications of a loss are a lot different. You really don't have next week to get it right. So, we've worked pretty hard to get to this point and we'll have to have our best week to beat the great team we're playing.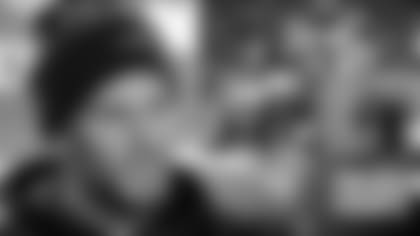 "I think they get a full dose of [my intensity] year-round. I would say I'm not the easiest guy to play with. There's a lot of high expectations and I try to put a lot of pressure on everybody to get the best out of us. You're always trying to build to something because you work really hard to get to this point. I don't think you just start working hard last week. You always have to work hard, and when you get that opportunity then you try to go out and take advantage of it."
The tenor of many of his answers during his six-minute briefing was similar to that - focusing on the Chiefs, taking advantage of the opportunity and getting in the proper frame of mind.
Fans remember the last time the teams met - a 41-14 pasting by Kansas City at Arrowhead Stadium last season - and that topic was broached once again.
LOOKING BACK -While he wouldn't say specifically what they learned, Brady admitted the team was well aware of that Monday night beatdown and had spent some time reliving in recently.
"I know we've all studied it. They played really well that night. We didn't play very well. Hopefully we can flip the script and take advantage of this opportunity that we have. It's going to take a great effort, they have a lot of good players - great front, great group of linebackers as good a secondary as we've faced - they're good at all levels, they have a good scheme, they put a lot of pressure on you and if you don't handle it then they take advantage of it."
GUESS WHO'S BACK -The overwhelming storyline out of Foxborough this week has been the pending return of Julian Edelman and Brady himself discussed the possibility of getting his trusted slot receiver back on the field. Interestingly, Brady took a more cautious approach, stressing the need to see what Edelman would be able to do after a two-month layoff.
"I think the more dependable, consistent players that are out there the better our offense is going to be. He's been one of them for as long as he's been here. Depending on what he can do we'll try to find ways to integrate him. Whoever's out there we're going to have to have confidence in, like I said there's no next week, so we're going to have to do everything you can do to be out on the field and help us win."
ON OUR TERMS -Brady was asked if there was a specific aspect of the Chiefs defense that was especially impressive. The quarterback talked about the need to prevent Kansas City from playing the game in the style that has worked so well for the Chiefs during their 11-game winning streak.
"Coach talks about the turnover margin that's been heavily in their favor, especially down the stretch. They do a great job of playing complementary football. They get turnovers and turn them into points. They're good in the kicking game. Then the defense can tee off. It's a snowball effect and the game's out of hand. That's what happened to Houston. Before you know it they have a 7-point lead on the opening kickoff and you already feel like, 'Man, we have to get back into this game.' You don't want to be behind 14-0 in the middle of the second quarter. That's not the way you want to play this team."
Speaking of Houston, did Brady reach out to his former backup Brian Hoyer for any advice on playing the Chiefs?