It's AFC Championship week so one press conference for Tom Brady isn't enough, and the quarterback took to the podium for the second time in as many days on Thursday at Gillette Stadium. Brady offered some thoughts on the difficulty of beating the Broncos in Denver, the support of his owner and even on his not-so-impressive running style.
Those were some of the highlights of his latest briefing, which he opened by explaining how tough it is to take on the Broncos at Mile High.
"I think it's all those things. The level of competition and the quality of their players and coaches is what makes it a great team and a great organization," he said of Denver. "They've been that way for a long time. So, they have a great tradition there and we've played a lot of good Bronco teams. [We've] beaten them a couple times, but they've beat us most of the time, so I'd like to get to that No. 3 in the win column this weekend."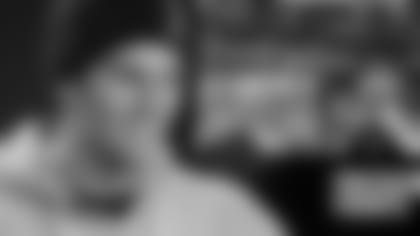 SILENT BUT DEADLY -The Patriots offense had great success using the hurry-up against Kansas City, but Brady explained about the challenges of doing so in hostile territory, and it all begins before the snap.
"Yeah, it's definitely silent count there. And I think a big part of it is just the verbal cadence and how that relates to where the tackles and tight ends are. The center can hear you, I'd say, pretty much the entire game when you're under center. But everybody getting off on the same count is really important.
"At home it's easy because it's verbal and the communication is pretty easy. When you go on the road, you still want everyone on the offense to go on the right rhythm and really jump the count, but you can only do that on a silent count, because no one can obviously hear me verbally when we're on the road."
When asked about shifting personnel and creating the proper alignments at the line of scrimmage, Brady continued to explain the differences on the road.
"It's really easy to just spit out a word as opposed to signal something, or you'd have to come up with thousands of signals for all of the things that we do. It's really when the play clock becomes an issue, and I think the adjustments at home are easier. I think that's why you have a little more margin of error at home, just with your communication, because I can switch protections, or I can switch an identification, or I can change a route, or I can change a formation really quickly. Whereas on the road, I don't think you really have that luxury."
WHEN YOU SAY BUD -No one is going to confuse Brady with a world-class sprinter but his near touchdown off a scramble last week had wide receiver Julian Edelman referring to the quarterback as a Clydesdale. Like the famous horses who parade around in those legendary Budweiser commercials, Brady doesn't exactly move at record-setting speeds.
"I probably looked like a Clydesdale when I was running in that Combine video 16 years ago, too. So, at least I haven't slowed down. At least I've maintained it [and] hopefully I've improved it a little bit."
On a serious note, Brady was asked about his mobility and the work he's done to extend plays over the years, something he's done tremendously well in 2015.
"It's definitely something that I've worked a lot at the last couple of years, because there was a point where I felt like that was becoming a real problem for me as a player - not being able to extend anything. So, I think that's been a big point of emphasis the last two or three years, was how to buy everybody more time. I think we've done a better job of that the last couple years than I did maybe four or five years ago.
"So, if it's to move to throw, I think that's always a good thing, because we're probably gaining more yards than it would be if I start running. But if I have to run, I think that could be a pretty frustrating thing for a defense, too, because they're saying, 'How could I let this guy run? Of all the things, this guy?'"
STARTS AT THE TOP -On Wednesday, special teams captain Matthew Slater explained how the common theme for the Patriots involved Brady, Bill Belichick and Robert Kraft. On Thursday, Brady was asked how the owner's leadership manifests itself within the team.
"It's obviously a huge impact on our team and our organization. His expectations for us and how he sets the tone for us, he sits in almost every squad meeting that we have [and] I think he's always got a pulse for how the team is doing, how the coaches feel about the particular week, how the players are feeling. He's always involved, so I would say he's very hands on. He used to come out to practice a lot more, but not as much lately. So, yeah, he really sets the tone for us."