Injuries are one of the main storylines these days in Foxborough for the newly-crowned AFC East champions. So it's probably no surprise that Tom Brady's weekly Wednesday press conference kicked off with a question about the subject.
Brady responded with a mix of honest emotion and a clear focus on the need for he and the remaining healthy players to continue to work toward the end goal.
"It's been disappointing for those guys. It's disappointing for all of us," Brady said of his injured teammates. "But we're still playing football. So the guys that are out there have to keep fighting, keep practicing hard, because we still have a lot of football ahead."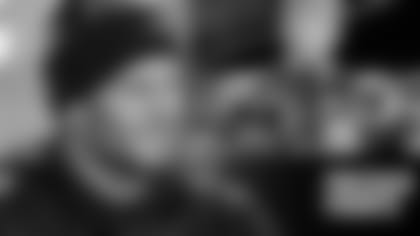 One of the areas hit hardest by injuries is the running back position. Dion Lewis landed on IR in November. LeGarrette Blount will reportedly join him there this week after suffering a hip injury Sunday night in Houston.
The topic of the remaining running backs and their roles were a bulk of Brady's short presser Wednesday morning in the Gillette Stadium work room that lasted less than five minutes and concluded with yet another round of questions about the quarterback's friendship with controversial presidential candidate Donald Trump.
1. James White in the spotlight: Second-year running back James White has seen his role grow incrementally in recent weeks. White had his second rushing score of the season on his only carry of the night in Houston. Two weeks ago he had 10 catches for 115 yards. His potential biggest play of the night against the Texans, though, was an impressive sideline catch wiped out by replay. But seeing Brady throw to White in that tough situation may be an example of the quarterback's growing trust in the young passing back.
"I think he's earned everybody's trust," Brady said. "Not just mine, he's done a great job for our team when he's been in there. He's very dependable, consistent. He made a great play the other night on that catch, to give him a chance to go up over the top of a safety. He runs it good. He's smart. He's been available. Whenever he's been called upon he's answer the bell. That's a really important position for us. It always has been over the years because we're such a passing-oriented offense. I think that role as a sub back is so critical and it's not just catching but it's also blitz pickup. It's really gaining the confidence of everybody that you know what to do, you know how to do it and you never know when your number is going to get called because (Rob Gronkowski) Gronk gets throws, Julian [Edelman] gets throws, Danny [Amendola] gets throws and then all of the sudden, bam, the sub back is there and he makes a play. It's such a critical role in the red area, on third down. James has really come through for us. It's been great to see."
2. Changing of the backs: Brady has seen his top two options – Lewis and Blount – go down to injury. This after an offense in which he lost trusted passing back Shane Vereen to free agency. That's meant more work for Brandon Bolden and White. It's meant the addition of Montee Ball to the practice squad and could reportedly lead to the signing of former Rams and Falcons start Steven Jackson. Brady said that he was to work to get comfortable with whichever back is lined up behind him on game day.
"You just get out there and you work with those guys and you see what they can do and what they're capable of and how Josh [McDaniels, Patriots offensive coordinator] always finds a way to incorporate them into the offense," Brady explained. "Then I get a decent idea of how Josh wants to incorporate them and you just go on the practice field and you work on those things. There are a lot of ball-handling issues, obviously all the handoffs to make sure those are all secure. Then building up the trust in the pass game that you can go to a guy that he's going to be dependable and catch it and do something with it. So you just have to see how the role evolves based on that particular player and then whatever they can do you just try to do as much as you can to work with them."
3. Trump talk continues: Brady has a long friendship with businessman, fellow golfer and now presidential candidate Donald Trump. A New York newspaper used Brady's interview from WEEI in Boston on Tuesday talking about Trump to put together a truly-tabloid Wednesday morning crass cover about the Patriots quarterback and controversial politician.
Brady was again asked about his friendship and support of Trump.
"I don't think about it much," Brady said of the criticism he's getting for the relationship. "This is a tough week. I have a lot of football stuff to think about. Hopefully we can go out and beat the Titans.
Does he regret opening the door for criticism by again talking about Trump on WEEI?
"Like I said, I'm just here to play football," Brady said with a laugh as he walked off. "Thanks guys."