With no first or second round picks in the 2017 NFL Draft several experts have offered up their predictions on what the Patriots may do with their two third round picks.  New England currently picks 8th (72nd overall) and 32nd (96th overall) in round three.
Following each expert pick is NFL.com analyst Lance Zierlein's overview of each prospect.
Mel Kiper Jr. from ESPN projects the Patriots selecting:
PICK 72: CARL LAWSON, OLB/DE, AUBURN
Kiper's Analysis:
"The Patriots traded out of the first round (with the Saints for Brandin Cooks) and second round (with the Panthers for Kony Ealy), but they added a second third-rounder in the trade with Carolina. Rob Ninkovich is a free agent in 2018, and the Patriots could find a replacement here. Lawson, a former freshman All-American, was seen as a potential Day 1 guy before injuries wrecked his 2014 and 2015 seasons. He returned with nine sacks last season and should be available in Round 3. "
- Mel Kiper Jr.
Prospect Overview:
"Linear player with natural power and aggressiveness, but a lack of flexibility could hamper his potential as an NFL rusher. Lawson's twitch shows up in short, controlled bursts, but he struggles to finish if the play isn't right in front of him. Lawson's ruffneck demeanor will appeal to teams looking for an aggressive edge-setter along a physical front, but his draft grade could vary quite a bit from team to team."
- Lance Zierlein of NFL.com
PICK 96: RYAN ANDERSON, OLB, ALABAMA
Kiper's Analysis:
"Anderson did it all for the Crimson Tide as a steady, complete defender."
- Mel Kiper Jr.
Prospect Overview:
"Well-schooled with a high football IQ and a history as a winner. His disciplined, assignment-based approach to the game should resonate with defensive coordinators. Lack of length and average athletic traits could put a cap on his draft stock, but he should be a safe pick and a long-time starter as an outside linebacker."
- Lance Zierlein of NFL.com
Todd McShay from ESPN projects the Patriots selecting:
PICK 72: TIM WILLIAMS, OLB/DE, ALABAMA
McShay's Analysis:
"Williams comes with plenty of off-field character baggage -- he admitted to failing multiple drug tests -- but he'd be worth the risk for New England at pick No. 72, given his first-step quickness off the edge."
- Todd McShay
Prospect Overview:
"Williams has explosiveness and pass-rush talent to create his own havoc as a pass rusher regardless of what is around him. Scouts say he is lighter than his listed weight and needs to prove he can play with increased toughness in order to reach his potential. Williams' career might be as a pass-rush specialist, but he's talented enough at that endeavor to become a dangerous rush linebacker in the NFL."
-Lance Zierlein of NFL.com
PICK 96: RAEKWON MCMILLAN, ILB, OHIO STATE
McShay's Analysis:
"McMillan improved in coverage throughout his career, but there are still questions as to whether he can be a three-down linebacker in the NFL. He does a nice job of sifting through traffic, and he has great straight-line speed (4.61 40), which shows up against the run."
- Todd McShay
Prospect Overview:
"McMillan issues standing his ground and leveraging his gap as an interior run defender and could end up outside in the pros. He might have benefited from playing alongside a slew of NFL talent, but he's active and plays the game with good instincts. He has the potential to become an average starter in the league."
-Lance Zierlein of NFL.com
Phil Perry from CSNNE.com projects the Patriots selecting:
PICK 72: TARELL BASHAM, DE, OHIO
Perry's Analysis:
"A player who resembles Kony Ealy in many respects. Both check in at 6-foot-4 and about 270 pounds. Both have 34-inch arms. Both tested similarly at their respective combines in the 20-yard shuttle and the jumps. Basham is not yet a polished pass-rusher, but he's a max-effort guy who earned himself Defensive Player of the Year honors in the MAC. When given an opportunity to play better competition -- against Tennessee during the season and then at the Senior Bowl -- his explosive power to get into the backfield and set a strong edge continued to stand out."
- Phil Perry
Prospect Overview:
"Basham has the strength and length to play as a 4-3 base end or as a 3-4 rush linebacker, but his pass rush approach will need to be sharpened as he lacks the flexibility to bend the edge and attack the pocket with athleticism alone. Basham may never produce a high sack total, but his alpha playing style will appeal to teams looking to groom a solid backup with starter's potential."
-Lance Zierlein of NFL.com
PICK 96: RAEKWON MCMILLAN, ILB, OHIO STATE
Perry's Analysis:
"The Patriots may be ready to find their next three-down 'backer to accompany Dont'a Hightower on a down-in, down-out basis. McMillan (6-foot-2, 240 pounds, 33-inch arms) would fit the bill in terms of what Belichick likes at the position size-wise, and his impressive 4.61-second 40-yard dash should help ease some concerns that he'll be unable to cover ground against NFL passing attacks. "
- Phil Perry
Prospect Overview:
"McMillan issues standing his ground and leveraging his gap as an interior run defender and could end up outside in the pros. He might have benefited from playing alongside a slew of NFL talent, but he's active and plays the game with good instincts. He has the potential to become an average starter in the league."
-Lance Zierlein of NFL.com
Chad Reuter from NFL.com projects the Patriots selecting:
Pick 72: CARL LAWSON, OLB/DE, AUBURN
Prospect Overview:
"Linear player with natural power and aggressiveness, but a lack of flexibility could hamper his potential as an NFL rusher. Lawson's twitch shows up in short, controlled bursts, but he struggles to finish if the play isn't right in front of him. Lawson's ruffneck demeanor will appeal to teams looking for an aggressive edge-setter along a physical front, but his draft grade could vary quite a bit from team to team."
-Lance Zierlein of NFL.com
PICK 96: HARVEY LANGI, ILB, BYU
Prospect Overview:
"Athletic with moldable traits. Former running back who has been bounced around on defensive side and should be able to unlock his athletic ability once he gets set at inside linebacker. Has enough upper body strength and footwork to play off blocks and work towards the ball. Good close-out burst to the sideline. Able to stay square to line of scrimmage for extended lateral slide thanks to twitch and power in feet. Has man cover potential in passing game. Aggressive working downhill with speed to shoot gaps."
-Lance Zierlein of NFL.com
PICK 72: D'ONTA FOREMAN, RB, TEXAS
Prospect Overview:
"Former three-star recruit who turned that a chip on his shoulder into a 2,000-yard junior season. Foreman has outstanding foot quickness and wiggle for a back his size, but will need to run behind his pads and with more aggression on the next level. Teams could be split on his draft value as some may covet his size and athleticism while others will be concerned about a lack of third down value. Ultimately he has the talent to be a good NFL starter, but he's still a work in progress."
-Lance Zierlein of NFL.com
PICK 96:  COOPER KUPP, WR, EASTERN WASHINGTON
Prospect Overview:
"Utilized as a slot receiver in college but could transition outside. Produced elite numbers against a lower level of competition but saved a monster game for Washington State early in the season. He is as natural a pass catcher as you will find with desired competitive drive on each snap. His transition to NFL-level cornerbacks will take time, but he has the ability to become an early No. 3 receiver and eventual starter."
-Lance Zierlein of NFL.com
Chris Burke from *SI.com *projects the Patriots selecting:
PICK 72: JALEEL JOHNSON, DT, IOWA
Prospect Overview:
"Active defensive tackle with the motor and athleticism to find production in the NFL. Johnson doesn't have the functional anchor that teams looking for a run-stuffer will be after. However, his effort, foot quickness and hand usage should create opportunities for him as a pass rusher. Johnson has the talent to become an eventual starter as a three-technique in a penetrating defensive front and could fight for rotational reps early on as a rookie."
-Lance Zierlein of NFL.com
PICK 96:  KENDELL BECKWITH, LB, LSU
Prospect Overview:
"Productive full-time starter over last two and a half seasons on talented LSU defenses. Has the size and spirit to play for teams expecting physicality from their inside linebacker, but his game comes with some athletic and coverage limitations. Before his injury, he could have come off the board on Day 2, but may see his stock fall into the third day now. He has starter's ability when healthy."
-Lance Zierlein of NFL.com
PICK 72: TEDRIC THOMPSON, S, COLORADO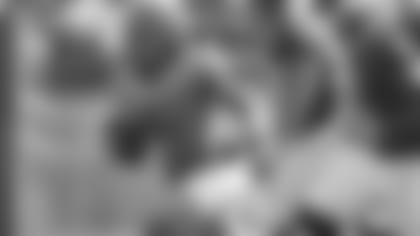 Prospect Overview:
"Thompson in an instinctive cover safety with strong ball skills and a history of production during his time at Colorado. Lacks physicality to operate around the box, but his football intelligence and playmaking skills will get him drafted and could give him a shot at eventually starting."
-Lance Zierlein of NFL.com
PICK 96: RYAN ANDERSON, OLB, ALABAMA
Prospect Overview:
"Well-schooled with a high football IQ and a history as a winner. His disciplined, assignment-based approach to the game should resonate with defensive coordinators. Lack of length and average athletic traits could put a cap on his draft stock, but he should be a safe pick and a long-time starter as an outside linebacker."
-Lance Zierlein of NFL.com
Doug Kyed from NESN projects the Patriots selecting:
PICK 72: TREY HENDRICKSON, OLB, FLORIDA ATLANTIC
Prospect Overview:
"More of a second-effort sack man than a quick-win specialist, but he did show some edge rushing ability at the Shrine Game practices that didn't flash as often on tape. His lack of length on the edge will be a turnoff for some, but he flashes enough to warrant a draft selection as a backup 4-3 defensive end who could continue to develop as a rusher with additional work."
-Lance Zierlein of NFL.com
PICK 96: ALEX ANZALONE, LB, FLORIDA
Prospect Overview:
"Anzalone's size, speed and athleticism will be tempting for teams looking for a linebacker who can play all three spots. However, concerns about his durability could cause some teams to shy away from him on the first two days of the draft. If he can stay healthy, he has the talent to become a solid three-down starter in the league."
-Lance Zierlein of NFL.com
R.J. White from CBS Sports projects the Patriots selecting:
Pick 72: RYAN ANDERSON, OLB, ALABAMA
Prospect Overview:
"Well-schooled with a high football IQ and a history as a winner. His disciplined, assignment-based approach to the game should resonate with defensive coordinators. Lack of length and average athletic traits could put a cap on his draft stock, but he should be a safe pick and a long-time starter as an outside linebacker."
-Lance Zierlein of NFL.com
Pick 96: RODERIC JOHNSON, OT, FLORIDA STATE
Prospect Overview:
"Long-limbed left tackle who has the physical traits that teams want from their blind-side protector, but who is missing some of the body control and balance that is needed to succeed at his position. Despite his balance inconsistencies, Johnson can be a powerful run blocker when he gets defenders framed up. Teams will have to decide if they want to play him on the left or right side, but an offensive line coach will need to try and correct issues with his pass sets and his footwork before he gets his shot."
-Lance Zierlein of NFL.com
PICK 72: TIM WILLIAMS, OLB/DE, ALABAMA
Prospect Overview:
"Williams has explosiveness and pass-rush talent to create his own havoc as a pass rusher regardless of what is around him. Scouts say he is lighter than his listed weight and needs to prove he can play with increased toughness in order to reach his potential. Williams' career might be as a pass-rush specialist, but he's talented enough at that endeavor to become a dangerous rush linebacker in the NFL."
-Lance Zierlein of NFL.com
PICK 96: JULIE'N DAVENPORT, T, BUCKNELL
Prospect Overview:
"Raw tackle lacking in technique but long on physical traits. Has been able to dominate against lower level of competition and his step up in competition during pre-draft workouts will either throw a wet blanket over his draft grade or send his stock soaring. Despite a lack of technique, his traits will have teams willing to draft and wait for him as a project. He will be a work in progress and might be forced to move to the right side."
-Lance Zierlein of NFL.com