As he approached a swarm of reporters on the side of the practice field, there were distant catcalls from teammates.
Darrelle Revis looked in their direction and just laughed them off.
The good-natured ribbing may be an early indication that New England new starting left cornerback is already ingratiating himself with his former AFC East rivals. He and the rest of the Patriots had just completed their first week of on-field spring practices, known as organized team activities (OTAs).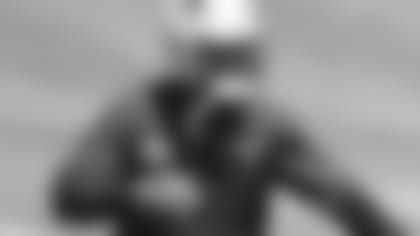 "It feels great," the erstwhile Jet said of being in Patriots gear. "I'm just taking my time, one day at a time. Just working. That's basically it. This is a new adventure for me. I'm just happy to be part of the Patriots organization. I've known them from playing in New York for six years. From the inside out, it's totally different. There are things you didn't expect about this organization, from top to bottom. You have to take your hat off to [owner Robert] Kraft for how this organization operates. It's a winning organization. I'm happy they've given me an opportunity to be part of it."
Revis saw considerable action throughout the nearly two-hour session, which took place under ideal conditions on this last Friday in May. In position, unit, and team drills, Revis ran around with no apparent lingering effects from his surgically repaired left knee (he tore the anterior cruciate ligament in September 2012, his last year with the Jets). Though he played last season in Tampa Bay, he admitted he wasn't at full strength in his brief tenure as a Buccaneer.
"Last year was a tough year, when I played in Tampa Bay. It was tough coming off the ACL. It was a long year for me personally, trying to recover. Now, I'm ready to go. It's fine, you know. It's great."
During OTAs, players are allowed only to wear protective padding on their elbows and knees, in addition to their helmets, but there is no extreme contact or tackling allowed during these spring workouts. So, what are Revis's goals in his first workouts as a Patriot?
"One is to get in shape," he chuckled. "Also, to learn the defense. It's different terminology, the program is run differently, and I'm just trying to adjust to Coach [Bill] Belichick's program. You have to take a step back. I'm trying to absorb as much as I can and try to get better."
Getting comfortable with the new system and all new teammates "could take a while," Revis conceded.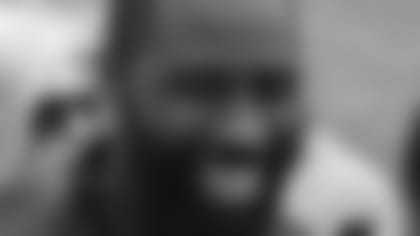 "This is the time when we can glue together, not just as a secondary, but also as a defense. And also as a team. I'm just trying to take this time to get to know the guys and for them to know me as well. I'm just trying to learn as much as I can and improve and get this defensive scheme down."
Though Revis is a bona fide NFL star – widely considered the best player at his position – he was demure when the topic of leadership came up. He said he wasn't "trying to step on anybody's toes" and that he's been leaning on the experience of players like safety Devin McCourty and second-year corner Logan Ryan to help him get up to speed on the Patriots defense.
He laughed when asked how well he's been gelling with New England's other free agent cornerback acquisition, Brandon Browner.
"I'm too busy with so much stuff on my plate. I've been trying to focus on what I need to focus on, and trying to worry about the things I can control."
He was more forthcoming, though, about his on-field relationship with QB Tom Brady, who said recently that he's already weary of facing such a formidable opponent on the practice field.
"There's always a defense and offense competition going on," Revis acknowledged. "I think both sides, what we're really trying to do is get better. It's good to have the same jersey on as Tom and everybody else.
"I love competition. I think that's why we play this game, is to compete every Sunday, go out there and execute your job, and try to win games. I never back down from every challenge."
In New York, Revis was known as a player who wasn't afraid to speak his mind – something that is often frowned upon here in Foxborough. He insisted, though, that he would be no different now that he's a Patriot and that it doesn't feel at all strange to be wearing Patriots colors, given all his years as a Jet.
"No, no, it's not. That's in the past, man. I'm on my career, my journey, and right now, I'm a New England Patriot. Yeah, I'm being my own guy. I'm going to be me. That's all I can say. I think Coach Belichick lets guys be who they are, and it's fine. I'll be myself and go with the flow."
If he's anything like his old self on the football field, that should satisfy his new employers. But when asked just how good this reshaped Patriots team can be in 2014, Revis offered a typically Patriot-like answer.
"Can't put any predictions on it. We're in the beginning stages of practice. Still got a lot of work to do. The good thing is we still have time to get better. When the preseason comes, we'll be ready to go."