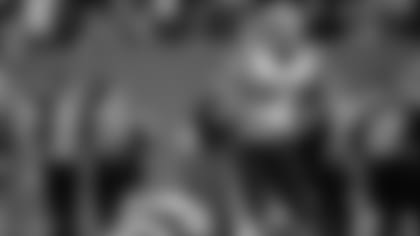 ROB GRONKOWSKI CONFERENCE CALL WITH BUFFALO MEDIA
Q: How does Julian Edelman not being available for this game affect you and the other skill players?
RG:It affects everybody on the offense. Julian is an unbelievable player. The way he plays the game of football is irreplaceable. He goes out there every practice, every game and plays 100 percent. You can't just replace him, but you can go out there, new guys stepping up, myself stepping up, just everyone as a whole, as an offense just stepping up and taking their game to another level without him there.
Q: What does playing on Monday Night Football mean to the Gronk Nation and the way you play the game?
RG:I mean it's Monday Night Football. It's once a year, sometimes once in a lifetime experience for players, and it's just an unbelievable atmosphere. Every Monday night you play, wherever it's at, the atmosphere, it's a football atmosphere. It's crazy. It's hectic. It's a lot of fun. It just means I can go out, show the type of player I am, what type of game I bring and just go out and execute and play hard.
Q: As a Buffalo native, are there any mixed feelings when you play them? Do you play extra hard? Do you feel bad for beating them?
RG:It's business. It's definitely a business game. Every time I play them, it's always exciting when you play against your hometown team that you grew up with always watching. So no matter how many times I play them, it's always exciting to play the hometown team where you grew up, but it's also another game. They're a very good team. They've got a lot of good players on defense. So personally, I've got to be prepared, mentally and physically ready when it comes Monday night.
Q: What are you seeing from Tom Brady right now?
RG:I'm seeing the same guy I've seen since day one, and you see him having this type of success because since day one I've ever seen him play, every time I practice with him, he's been having the same routine. He comes in, works hard. He's an offensive leader, goes out to practice with a purpose every single time – to get better, to have all the players around him get better, always studying film, in meetings and just the preparation and the way he goes about his job, he's been doing it in and out ever since day one I've ever seen him. So it's unbelievable how he does it, and he's definitely a true leader and a great leader to have.
Q: Do you see any reason why he can't play into his 40's?
RG:I don't see any reason why not. He's on top of his body, stays up on top of what he needs to do to always be ready every week. So he's a great guy to look up to physically, how he treats himself so he can always be ready for the following game.
Q: What do you see from Chandler Jones?
RG:Chandler is one of those players who comes in every single day to get better. He wants to be the best player he can possibly be, and you can just see it in his work ethic. He's out there on the field going full-speed in practice, working on new moves all the time. He's in the weight room working hard. He's a great guy to look up to, loves the game of football, loves playing and just wants to be the best player and teammate he can be.
Q: How big was your father and brothers' influence in terms of your passion for football?
RG:Just growing up in this family atmosphere, I would say [it was] definitely [a] big advantage. I always had brothers to play with, play against. I had their friends to go against. They were all older than me. I was experienced with playing guys two to four years older than me all the time growing up, so it's not like I was always the biggest one growing up. Everyone was always bigger than me at that time. And just my parents, they just did an unbelievable job. My mom was always there to get us to wherever we needed to be on time, always feeding us and my dad, just introducing us to the way to get better, introducing us to the weight room, how to get stronger and all that and making sure we were just on top of what we needed to be on top of to get better as a player.
Q: Do you guys ever discuss all of these injuries? How conscious are you of all of these obstacles you have to overcome as a team?
RG:It's definitely a lot of obstacles to overcome, and it's not easy to do. It's not like you just turn a switch on and someone replaces them just like that. Those guys are great players and they're going to be truly missed, but it takes time. Everyone has to come together, go out to practice, feel the chemistry out with each other and make sure everyone is paying attention, they know what they're doing going out to practice, making sure you're blocking the right guy, getting the right guy and working hard together so when Sunday comes, everyone is on the same page, we're executing as an offense and we can keep on doing what we've been doing.
Q: You gave an interview on CBS where you said that partying rejuvenates you. Do you really believe that or were you just joking around?
RG:I always put work first. I always put my job first. I always put football first, but at the same time, you've got to kind of live your life a little bit, have a little fun, have a balance just so you're not overwhelmed with the football side, you're not overwhelmed with going out and doing whatever you want. I just believe in having a balanced life and working hard and having fun at the same time.
Q: How much fun was it to make the snow day commercial?
RG:It was fun for a little bit. But I was there for a while, so sometimes you're sitting around on set. It gets a little boring, but other than that, meeting all the athletes and everything was definitely a good time and Nike did an unbelievable job with the outcome of everything, so it was awesome.
Q: You've got to get a guy from Buffalo in the snow day commercial.
RG:Yeah, I think LeSean McCoy was in it. He was in it, too.
Q: What did Rex Ryan do against the Patriots in his last couple of seasons with the Jets that made you struggle offensively?
RG:They're always tough. He always has a tough defense, always has good players who are playing hard. [It's] just different combos, switching up guys, getting jams at the line, just a lot of things that they do that they're very good at. They're very good at switching up their looks and being good at switching them up and coming out in whatever defense it is and being good at it every single time. So they're a good defense, and in order to execute against them, you've just got to come prepared and you've got to come ready to play.
Q: How do you think they're game planning for you?
RG:You can possible see anything. Definitely see what they did last game and take some notes from there, what they did well, and anytime, you've got to be ready for anything. A linebacker, safety, corner, whoever it is on me – I've got to be prepared for it, anyone, anytime. And you've also got to be prepared for the zone defense and where the holes are and all that.
Q: Are you guys on a mission to go undefeated after the summer that Brady has had?
RG:The only mission we're on right now is the Buffalo Bills and preparing to do our best and be mentally and physically ready when it comes Monday night in the face of a very competitive Buffalo Bills football team.