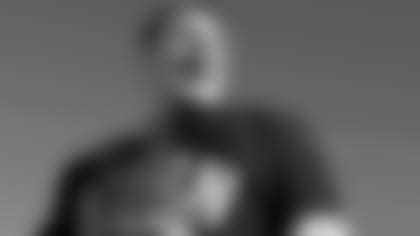 PATRIOTS TIGHT END ROB GRONKOWSKI
Q: Can you talk a little bit about the nice outfit you have on?
RG: Yeah, I got it from Jeremy Roenick. I always watched him growing up as a kid, being from Buffalo, being a [Buffalo] Sabres fan. He gave me a little jersey for the interview with a Winter Classic scarf so this is super cool. This might be my new jersey.
Q: Are you going to watch the Winter Classic tomorrow?
RG: We'll probably have practice or something because we practice every day, all day long, so we probably won't have time to watch the game.
Q: Would you be a defenseman in hockey?
RG: No, I'd be left wing. When I played defense is cool but I need the action so left wing obviously.
Q: Were you an aggressive hockey player?
RG: I was super aggressive, fights, goal scores, checks.
Q: Until what age did you play hockey?
RG: Until 9th grade and then I started playing basketball.
Q: How well could you skate?
RG: Pretty good. I'm alright now whenever I go back and play with my friends back home. I used to play with all the top dawgs growing up in Buffalo, but I don't have those skills really anymore.
Q: Were you able to try out the ice here at Gillette Stadium?
RG: No, we didn't get to try it.
Q: Did anybody you played with growing up make it to the National Hockey League?
RG: No, a couple of guys made it to Division One stuff. My one buddy got drafted out of high school but no one I grew up with is in the NHL now. But my brother's wife's brother is in the AHL. He was just drafted two years ago in the second round.
Q: How is your mindset going into this final regular season game?
RG: I feel good. Just like any other game we're taking on we've got to prepare, prepare hard, mentally, physically. We've been practicing hard. We've got another solid day tomorrow to go down in Miami, but we've got to be ready for when it comes to kick-off on Sunday.
Q: Does the early travel schedule this week change up anything for you?
RG: Yeah, it changes up where we sleep, where we're practicing, the weather.
Q: Does it change where you celebrate New Year's Eve?
RG: Yeah, in our room. Bed check.
Q: How important is it to secure the number one seed in the AFC?
RG: We're just worried about the Miami Dolphins and going out there and playing together and getting that win.
Q: What is it about the Dolphins defense that presents a challenge?
RG: They bring it every game. They're physical. They don't let up. They play together and just every single game they're ready to go so we've got to be ready to go. We know they're going to be ready to go this Sunday so [we've got to] go out and play our game.