The last time the Patriots defense took the field in a game, the results were unsatisfactory. New England was demolished in the AFC Championship Game at Denver when the Broncos offense had its way, marching up and down the field seemingly at will.
As training camp dawns for the 2014 campaign (Patriots practices begin Thursday in Foxborough), defensive end Rob Ninkovich sounds eternally optimistic that his unit will turn things around. One reason for his sanguine outlook is the expected return of some of Ninkovich's fellow co-captains from season-ending injuries: linebacker Jerod Mayo, defensive tackle Vince Wilfork, as well as starting d-tackle Tommy Kelly.
"We've got some of our guys back, you know. Last year was tough," said Ninko, "when we lost Mayo and Vince and Tommy. Those were big blows. Having those guys next to you definitely gives you more confidence."
Another is the addition of talent like cornerback Darrelle Revis, the league's best at the position and a player who's in his prime.
"We have new people coming in as well that give you some confidence. When you have a guy like Revis on your team, you have confidence he's going to go out there and shut down any receiver that he's on. It's definitely an exciting time for everyone… to put the sweat in together and get better as a whole unit."
Ninkovich had eight sacks last season, while starting right defensive end Chandler Jones registered 11.5. Not bad numbers at all, but they perhaps didn't come in the most crucial situations.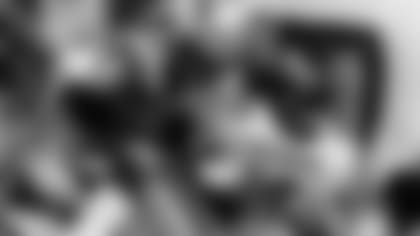 Last season, Ninko and Jones were on the field virtually every snap, and that may have worn them down as the year went on. Third-downs were an area of particular deficiency for the 2013 Patriots, as Ninkovich acknowledged.
"Whatever it is, I'm going to be out there playing hard. I'm not a guy to make any excuses, so, whatever amount of plays I'm out on the field for, I've got to be out there and I've got to play well.
"We've got to get off the field. That's huge. Some of the third-and-long situations, we weren't able to get off the field. I know third-and-long screens hurt us last year, too. Specifically that play. Third-and-long as a whole, we've got to do a better job."
For the 30-year-old Ninkovich, who claims he still feels young in his ninth NFL season, training camp and the preseason – the beginning of the NFL calendar – may not be the most glamorous time, but it is critical if he and his teammates hope to be playing at the end of it, in the playoffs.
"You know you have to go through [camp] to get to the ultimate goal, and that's having a winning season. This is the time that you put in the hard work. It all pays off. Being an older guy, I've been through the doubles and all the hard days before, so, I know what to expect. This is where you kind of set the tone for the season.
"Every year, there are always high expectations because we're one of the best teams in the NFL. For me, personally, there's always an expectation to do better than what I did the previous season. I'm always trying to improve and be a better football player. As everyone knows, when you get older, your speed and talent fades away, but your experience grows. I'd say my experiences here helped me be a better football player and more productive on the field.
"You look at last year," Ninko concluded, "and you definitely put that to bed, but you want to take some of the good things you did out there and improve on those, and you see the things you need to improve on and as a whole defense, you want to be better this season.
"Definitely, we're going to be a better defense," he predicted, "but we have to put the work in, and that starts today."
READ: Rob Ninkovich Bio & Stats
For the latest training camp practice schedule, including those sessions open to the public, check patriots.com daily, as dates and times are subject to change.