On a recent trip through London, Patriots owner Robert Kraft went through customs and was surprised to find that the official who screened him was a diehard Patriots fan. So dedicated was the young man that he showed Kraft the enormous Flying Elvis tattoo he had inked on his side.
Turns out the customs official, Rob Laver, became a fan of the team during the 1980s, when his father introduced him to the game on television. When the Patriots appeared in Super Bowl XXXI, Laver decided this would be his team.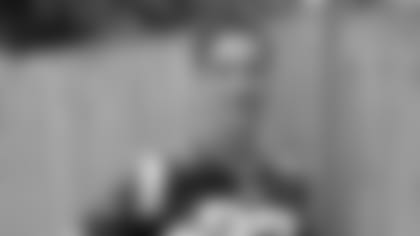 "I got my tattoo after the defeat to the New York Giants at Super Bowl XLII," Laver told PFW. "I realized that I had so much love for New England, even in defeat, that I wanted/needed the Patriots mark on me forever. I know it might be slightly odd that someone from the United Kingdom should have a New England Patriots tattoo, but to me the team means much more than just watching them on TV – I feel very proud to bare the Patriots logo on my skin."
For the past seven years, Laver has served in Her Majesty's Royal Air Force as a Senior Aircraftman. He was planning on attending the Patriots-Rams game in London in 2012, but at the last moment, his unit was called to active duty in Afghanistan – his second tour of duty there. A year earlier, he'd come to New England with his then fiancé (now wife) to celebrate their engagement and was hoping to attend a game at Gillette Stadium, but the team was on a bye that weekend.
Laver and his wife Holly now have three young boys, whom he hopes to take to Gillette one day to watch a Patriots game. He also wants to catch a pass from Tom Brady.
Although Laver still hasn't fulfilled either of those dreams just yet, getting to meet the team's owner was a highlight he says he'll always remember.
"What an incredible honor it was for Mr. Kraft to take the time to speak to me and even let me have my photo taken with him after his long flight; he truly is a gentleman and I shall cherish this day forever.
"Win, lose or draw there is no better team to support, in any sport, around the world."