The start of the season was not kind to Dave DeGuglielmo. First, he had to fill the considerable shoes of legendary offensive line coach Dante Scarnecchia, who retired after three-plus decades with the Patriots. Then he had to watch his troops struggle mightily in the first month of the season.
It didn't help that the group's best player, Logan Mankins, was shipped to Tampa Bay just before the start of the regular season. That left a void at left guard and the Patriots had serious trouble filling it. The results saw Tom Brady taking some big hits over the first four games and the group was at a crossroads as it prepared for the arrival of previously unbeaten Cincinnati in Week 5.
Then things changed. Veteran Ryan Wendell earned his first start of the season and stepped in a right guard. Dan Connolly, who started the first three weeks at center, manned the left guard spot for the second straight game, while rookie Bryan Stork opened at center for the second consecutive week.
Things seemed to improve dramatically as the Patriots rushed for 220 yards and racked up a season-best 505 total yards of offense – all while keeping Brady (sacked just once) upright and comfortable throughout the night.
So this week's Samsonite Make Your Case question is:Should the Patriots stick with Ryan Wendell at right guard moving forward? PFW's Paul Perillo says ...
Yes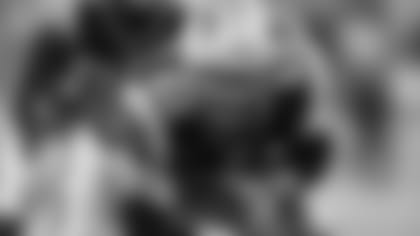 I won't even pretend to break down the individual play of each offensive lineman, especially when I'm not privy to the play calls and specific blocking assignments. But I do know enough to realize the effort of the offensive line as a group against the Bengals was a significant upgrade over the performance of any other game this season. So why would I want to change that?
Wendell seems to be the guy in question. The Patriots clearly sought a change at center after drafting three offensive linemen and trying several others (Jordan Devey, Marcus Cannon, Cameron Fleming) at guard over him. But Wendell has played extensively the last two seasons and his veteran presence clearly had a positive impact on the group as a whole. He was good enough to be part of lines that went to back-to-back AFC title games so he's good enough to play now.
Clearly the offensive line is going to be a topic in these parts all year, but rather than hope for a young player to emerge why not stick with proven veterans and allow them to establish some cohesion. That seems like the best course of action, and that means sticking with Wendell.
--PP No
Nothing against Wendell but I feel he lacks the size and strength to physically hold up at guard. That was a problem the last few years when he played center, and that's only going to be accentuated at guard.
Wendell is listed at 6-2, 300, which means he's about 35 pounds lighter than Marcus Cannon. That's a lot of size to sacrifice and I fear that Wendell will get pushed around by bigger, stronger defensive linemen, and the Patriots will see plenty of those just in their division games.
The offensive line was improved against Cincinnati but it was just one game against a team that has struggled to stop the run all season. Keeping Wendell as part of the mix will not magically solve the group's problems. He's just too small to make them all go away. Allow Cannon or Cameron Fleming to play through some mistakes and things will get better, and teams won't be able to push the Patriots around.
--AH
Now it's your turn to cast a vote in this week's Samsonite Make Your Case poll question.
http://polldaddy.com/poll/8365992/