It seems each week there's a controversial call in every NFL game and fans watching replays are infuriating when the flag thrown against their team turns out to be in error. These mistakes are particularly galling when they occur on significant plays that can potential impact the outcome of a game.
An example of one such controversial call came in the Patriots win in San Diego last week when Brandon Browner buried Ladarius Green with a high hit that drew a flag. Coughing up 15 yards on such a play is a steep price, but that paled in comparison when considering that Devin McCourty caught the deflected pass and returned the interception for a touchdown.
Instead of getting six points, the Patriots were forced to continue defending as the Chargers picked up a first down and 15 yards of field position.
It was a close call that could be argued either way, and whether it should have been a penalty or not is not today's issue. What PFW is concerned with, however, is the potential for such plays to be reviewed in the future.
This week's Samsonite Make Your Case question asks:Should unnecessary roughness penalties be subject to the replay process? We understand that player safety is a major concern in the NFL, and when there is a close call in that area, the officials are likely to err on the side of throwing the flag. But we also know there are plays that look like penalties at full speed that simply aren't when the play is shown via replay.
The entire idea of replay is to get the call right, especially on game-changing plays. Plays like Brandon Browner's - a 15-yard penalty that wiped out a turnover and touchdown for New England - are about as game-changing as you'll see. There is no need to have every penalty reviewed - no one wants to see holding penalties go under the hood - but when there is as much riding on a play as there was on the Browner hit there needs to be an avenue for review in order to get the call right.
Things happen too fast and on a razor-thin margin of error. We know the entire world is going to see a replay after a questionable call and many times immediately knows whether the flag was warranted or not. In key situations - or maybe even under simply the same current challenge system - unnecessary roughness calls and things of this nature need to be allowed for review to give the officials the same opportunities that everyone else is entitled to. They are too important to allow errors to continue to occur when there is simple solution.
--AH PFW's Paul Perillo says ...
No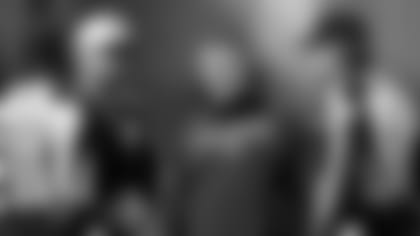 I don't like the idea of having penalties subject to review. In fact, I'm not all that enamored with the replay process at all at this point.
The constant delays in the game seem to do little but interrupt the flow. Referees check replays and sometimes determine that an error was made, and sometimes they even do so incorrectly. Other times they seem to have trouble seeing what everyone else determines in far less time. Adding penalties - even important ones - to this process would seem to be a step in the wrong direction.
Advocates of replay often use the phrase, "as long as they get it right." Well, I can think of countless circumstances when they don't - even after replay - and yet we still have to wait through the interminable delays. I don't want to check the tape to see if there was in fact helmet-to-helmet contact or not.
Use the replays to determine potential fines, but allow the men in stripes to call the game to the best of their ability. Adding penalties to the replay system doesn't work - which means the NFL will likely adopt it soon.
-PP
http://polldaddy.com/poll/8520548/