The Patriots may still be basking in the glow of their Super Bowl glory but the coaches and personnel department are already hard at work for 2015. The Combine, free agency and the draft are coming up on the horizon quickly but before the brain trust turns its attention to those elements the first piece of the puzzle will be the franchise tag.
Teams can begin using the designation beginning Monday and can do so until March 2. By franchising a player teams can prevent unrestricted free agents from hitting the open market, and in doing so agree to pay a one-year salary worth the average of the top-five salaries at the player's position (or 120 percent of his previous year's salary). Teams can continue negotiating on a long-term deal after using the tag until July 15.
The Patriots have a few high-profile free agents who would be candidates for the tag. Cornerback Darrelle Revis isn't one of them since he technically has a year remaining on his deal and therefore isn't a free agent. If the Patriots don't pick up his option by March 10, he would become a free agent at that point and therefore not eligible for the tag.
Safety Devin McCourty and kicker Stephen Gostkowski would appear to be the most likely candidates to be franchised, and this week's Samsonite Make Your Case questions asks: Which Patriots is most likely to be franchised?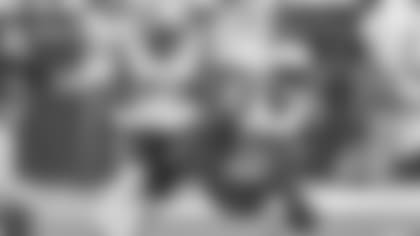 McCourty is the most obvious candidate for the Patriots franchise tag. He's clearly a guy who has a very important role with the team, both on and off the field. New England clearly wants to retain his services as the former first-round pick settles into the prime of his career.
He's also a guy who'd be likely to get a contract approaching $50 million and an annual average of $10 million on the open market. The franchise number for safeties is estimated to be in the range of $9.5 million. The tag would keep McCourty off the market, give the sides a chance to continue to work toward a long-term deal and allow the team to make other decisions without necessarily committing to McCourty on a contract that it may not be comfortable with.
New England can't franchise Darrelle Revis, who is under contract already for 2015. It doesn't really make sense to franchise Stephen Gostkowski, as the difference between what he's making now and even a market-setting deal among kickers is relatively minimal money. McCourty is probably asking for the moon and stars right now, based on his reputation and the going rate for a top-notch safety.
If the Patriots aren't ready or willing to meet that then the franchise tag is the way to go to try to keep New England's new-look pass defense together for at least one more season. Franchising McCourty just makes too much sense for it not to happen.
--AH PFW's Paul Perillo says ...
Stephen Gostkowski
Having a reliable kicker is no longer a luxury in today's specialized NFL; it's a necessity. Gostkowski is as reliable as they come, and he's coming off arguably the best year of his stellar career.
Gostkowski is valuable in terms of his distance, accuracy and also on kickoffs. That type of all-around ability should not be taken for granted and that's the main reason I feel the Patriots need to keep him around. The franchise number for all positions won't be known for another week or so, but the number for kickers should be quite manageable at around $3.75 million – more than reasonable for a player of Gostkowski's caliber.
Having replaced the legendary Adam Vinatieri, Gostkowski has proven to be a worthy successor who has excelled kicking in the unpredictable climate of New England and under the intense pressure of the postseason.
The ideal situation would be to work out a long-term deal, but until that happens, the Patriots need to make sure no one gets a chance to blow him out of the water in free agency. Franchising him all but eliminates that as a possibility.
--PP
Now it's your turn to cast a vote in this week's Samsonite Make Your Case poll question.
http://polldaddy.com/poll/8653154/